Crysis 3
Still one of our most punishing benchmarks, Crysis 3 needs no introduction. With Crysis 3, Crytek has gone back to trying to kill computers and still holds the "most punishing shooter" title in our benchmark suite. Only in a handful of setups can we even run Crysis 3 at its highest (Very High) settings, and that's still without AA. Crysis 1 was an excellent template for the kind of performance required to drive games for the next few years, and Crysis 3 looks to be much the same for 2015.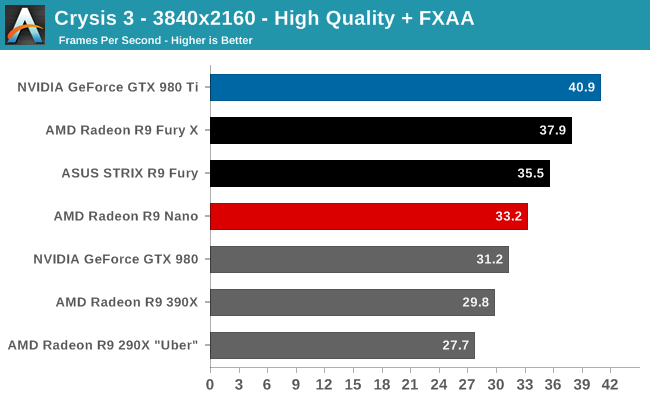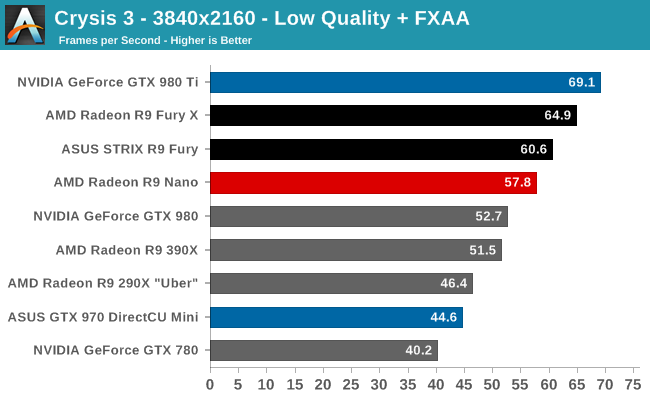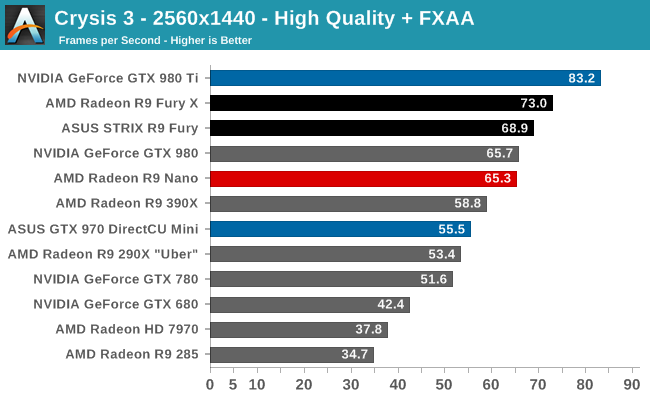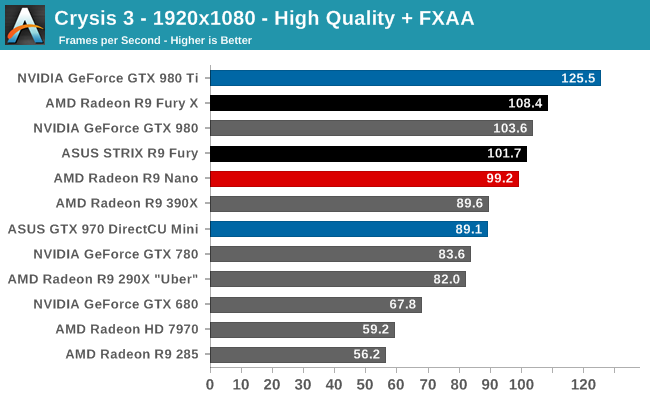 As with Battlefield 4, the R9 Nano solidly secures its place relative to the Fury lineup, delivering 90-95% of the performance of the R9 Fury X and R9 Fury respectively. This pushes the card's performance below 60fps even at 3840x2160 low quality, but it's more than enough for 2560x1440.
However once we do reach 2560, we find that the R9 Nano is now tied with the GTX 980 at just over 65fps. As we mentioned on the last page the GTX 980 is the biggest threat to the R9 Nano from an efficiency standpoint, and this is why. Limiting our scope to just mini cards however finds the R9 Nano comfortably ahead of the GTX 970 Mini.
Meanwhile Crysis 3 is a great example of why AMD is poking at themselves by comparing the R9 Nano to the GTX 290X. The card is little more than half the length of AMD's former flagship and yet delivers 22% better performance while drawing much less power (more on that later). In doing so AMD is clearly picking a low point to make their gains look better, but at the same time it shows that yes, AMD can in fact improve over R9 290X on performance, power, and noise all at the same time.