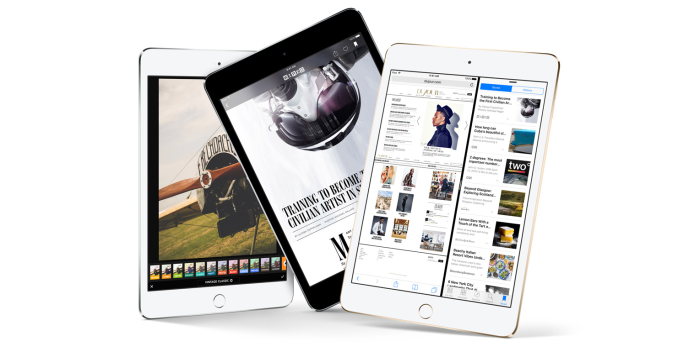 Today Apple held their fall launch event, and it was the biggest event that the company has held in quite some time. We got firm launch dates for iOS 9, watchOS 2, and OS X El Capitan. Apple also unveiled a slew of new products, including the iPhone 6s and 6s Plus, a brand new Apple TV, and the new iPad Mini 4 and iPad Pro. The latter two devices are what I'll be covering here, and you can check out all of their know internal and external specifications in the chart below.
Apple iPad Mini 4
Apple iPad Pro
SoC
Apple A8
Apple A9X
RAM/NAND
2GB LPDDR3 + 16/64/128GB NAND
?GB + 32/128GB NAND
Display
7.85" 2048x1536 IPS LCD
12.9" 2732x2048 IPS LCD
Network
WiFi only or 2G / 3G / 4G LTE (Category 4 LTE)
Dimensions
202.1 x 134.8 x 6.1 mm, 298.8g WiFi, 304g LTE
305.7 x 220.6 x 6.6 mm, 713g WiFi, 723g LTE
Camera
8MP Rear Facing with F/2.4 aperture, 1.2MP FFC
Battery
19.1 Wh
38.5 Wh
OS
iOS 9
iOS 9
Connectivity
2x2 802.11a/b/g/n/ac + BT 4.1, Lightning, GPS/GNSS (LTE SKU only)
Price
$399/$499/$599 16/64/128GB
$799/$949 32/128GB
Like the iPad Mini 3, the iPad Mini 4 only got a small amount of time during the keynote. Apple described it as a mini iPad Air 2, is true in most ways but not in all of them. The thickness has been reduced to 6.1mm, and the mass reduced to 298.8 grams for the WiFi model and 304 grams for the LTE model. It still has a 7.85" 2048x1536 IPS display, and based on a look at Apple's event it no longer appears to have a reduced color gamut. It also receives the 8MP iSight camera from the Air 2 with an F/2.4 aperture and 1.12 micron pixels.
While all of these attributes are what you'd expect from a small iPad Air 2, the one difference is that the iPad Mini 4 does not use Apple's A8X SoC. This is a noticable downgrade from A8X in both CPU and especially GPU performance. That isn't to say that A8 is slow, but it's not quite a small iPad Air 2 in every regard. Because Apple's marketing materials show that the iPad Mini 4 can do split screen multitasking it's almost a given that this is a version of A8 with 2GB of RAM.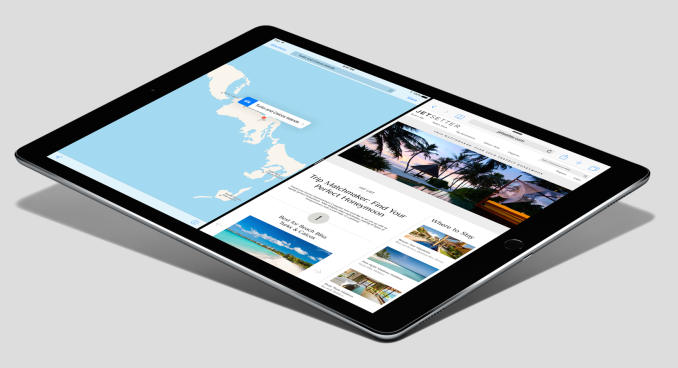 The star of the show at today's event was the brand new iPad Pro. The iPad Pro sports an enormous 12.9" 4:3 display with a 2732x2048 resolution. You may have noticed that the smaller axis has the same resolution as the large axis of the other iPads. This is so the iPad Pro can take advantage of iOS 9's multitasking features in order to show a full size iPad app with a slightly condensed iPad app on the side. A resolution of 2732x2048 is also impressive when you consider that it has a greater number of pixels than the 15" MacBook Pro with Retina Display.
Beyond the resolution, the iPad Pro's display uses the same photo alignment tech as the iPhone 6 and 6 Plus to achieve greater contrast. It's also uses an IGZO backplane which is necessary to reduce power consumption. Both the iPad Pro and the iPad Mini 4 have the anti-reflective coating that the iPad Air 2 uses, and both also have have a laminated display. Apple is also employing the use of an adaptive refresh rate to reduce display power usage when displaying static content. This hasn't been elaborated on very well, and it's not clear whether or not there's also panel self refresh support.
Of course, having a giant display isn't free. You naturally need to enlarge the size of the chassis, and pack in a larger battery to power it. The iPad Pro isn't very thick at 6.9mm, but it's quite hefty with a mass of 713 grams for the WiFi model and 723 grams for the LTE model. With a large chassis Apple was also able to make room for additional speakers. There are two pairs of stereo speakers on the top and bottom of the tablet, with the top speakers being dedicated to producing higher frequencies. The software can also detect based on your orientation which speakers are most likely to be covered, and can intelligently switch to using the correct two to product unmuffled audio.
Inside the iPad Air 2 is Apple's most powerful chip to date, the A9X. According to Apple A9X is 1.8x faster than A8X at CPU tasks, and 2x faster at GPU tasks. Given that A8X was already the fastest ARM SoC in a mobile device this is quite an accomplishment, and is likely the result of architectural improvements, higher clock speeds, and possibly the addition of a fourth CPU core. We'll have to wait until we get our hands on the iPad Pro before any of this can be confirmed though. Apple also noted that A9X is built on a new "transistor architecture" which means it's being fabricated on either Samsung's 14nm or TSMC's 16nm FinFet process.
Apple also noted that A9X sports 2x the memory bandwidth and 2x the storage performance of A8X. It's not clear what changes have been made to the flash storage, but it's reasonable to assume that the increase in memory bandwidth comes from a move to LPDRR4 memory.

With the iPad Pro comes two new accessories to boost productivity. The first is the Apple Pencil, which is a drawing pen not unlike what is offered with Microsoft's Surface Pro 3. To minimize latency, the iPad Pro scans for input at 240Hz when using the Apple Pencil. This is twice the rate of scanning that the Air 2 and iPad Pro normally use for input (the iPad Air 2 also scans at 120Hz which was not advertised). You can use the Apple Pencil to draw in apps like Mail and Notes, and third party applications like Microsoft's Office apps and Paper by FiftyThree are adopting support for it as well. Apple hasn't said anything about exactly how many pressure levels the Apple Pencil supports. The Apple Pencil costs $99, which I think is a bit steep when the tablet alone comes at quite a premium.
To recharge the Apple Pencil, you just remove the cap at the end and a lightning connector is exposed. You can then plug it into your iPad Pro to charge, with 15 seconds of charging providing 30 minutes of battery life. With a full charge the Apple Pencil will last 12 hours.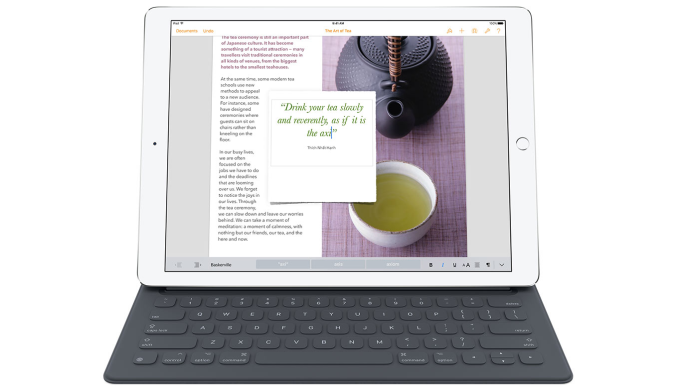 In addition to Apple Pencil, Apple has released a Smart Keyboard for the iPad Pro. This is essentially a Smart Cover that integrates a keyboard, and it's similar to the keyboard covers for Microsoft's Surface tablets. Also like the Surface, the keyboard connects to a small magnetic connector on the side of the tablet. It's worth noting that the original iPad actually had an official keyboard too, but it was more like Apple's Bluetooth keyboard with a 30 pin connector stuck onto it, and you used it with the tablet in portrait. The Smart Keyboard costs $169.
Apple's new iPad Pro has been announced now, but it won't be shipping until November. It's priced at The iPad Mini 4 is already available to purchase now. Like the iPad Mini 3, the Mini 4 is priced at $399 for 16GB, $499 for 64GB, and $599 for 128GB. Add $129 to any of those tiers to add LTE support. As for the iPad Pro, it's priced at $799 for 32GB, $949 for 128GB, or $1079 for 128GB with LTE.