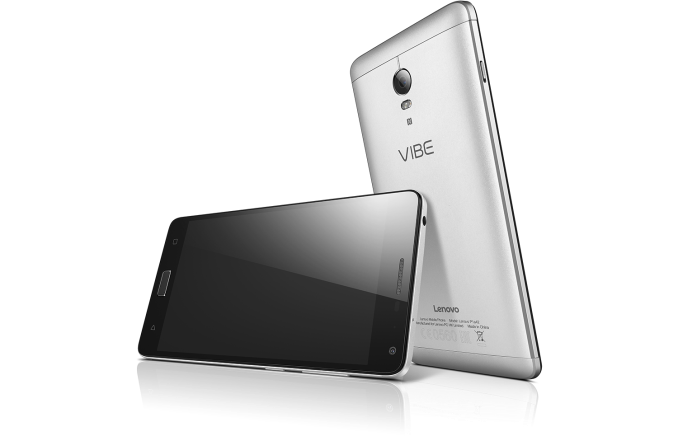 Lenovo has been making quite a number of announcements at IFA this year. We've seen a unique high end Android tablet, low end Android tablets, and really big phablets. Their last announcement relating to mobile is the launch of 3 new smartphones under the Lenovo VIBE brand. You can check out the specs for Lenovo's new smartphones in the chart below.
Lenovo VIBE Smartphones
Model
Lenovo VIBE S1
Lenovo VIBE P1
Lenovo VIBE P1m
SoC
MediaTek MT6752 1.7GHz
1.5GHz Snapdragon 615
MediaTek MT6735P 1GHz
RAM/NAND
3GB / 32GB NAND
MicroSD
2GB / 32GB NAND
MicroSD
2GB RAM, 16GB
NAND + MicroSD
Display
5.0" 1920x1080 IPS LCD
5.5" 1920x1080 IPS LCD
5.0" 1280x720 IPS LCD
Dimensions
143.3 x 70.8 x 7.8 mm
132g
152.9 x 75.6 x 4.6-9.9mm
189g
141 x 71.8 x 9.3mm
148g
Camera
13MP Rear Facing
8MP Rear Facing
5MP Front Facing
8MP Front Facing
2MP Front Facing
5MP Front Facing
Battery
2500mAh
5000mAh
4000mAh
OS
Android Lollipop
Connectivity
802.11b/g/n + BT 4.0, microUSB 2.0, GNSS
802.11a/b/g/n/ac + BT 4.1, microUSB 2.0, GNSS
802.11a/b/g/n + BT 4.1, microUSB 2.0, GNSS
SIM
Dual NanoSIM
Dual MicroSIM
It's difficult to figure out where some of these smartphones fit in the grand scheme of things. The Vibe P1 looks like Lenovo's phone for those interested in a large but not 6.8" PHAB large smartphone, while the VIBE S1 is a mid/high device and the P1m is the more low end device of the three. Both the P1 and P1m are characterized by very large batteries, while the Vibe S1 has a more typical 2500mAh battery.
The internal hardware of the three VIBE smartphones varies greatly. The VIBE S1 and P1m use MediaTek SoCs, while the P1 opts for Qualcomm's Snapdragon 615. The P1 also sports 802.11ac WiFi, while the other two devices are limited to 802.11n. All of them have support for dual SIMs, which is something of a necessity for phones aimed at markets in Asia.
It's not likely that these smartphones will make their way to North American markets, but it's always interesting to see what kind of devices get sold in different markets. Like all of Lenovo's launches today, the VIBE S1, P1, and P1m will be going on sale this holiday season.