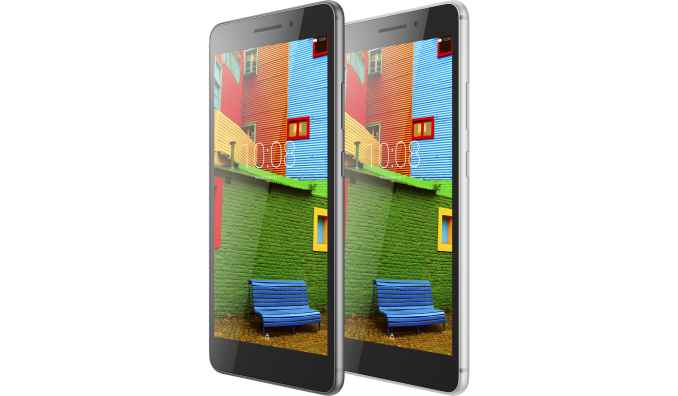 Today Lenovo has made a number of announcements relating to their mobile device business. We've seen two new low end tablets, and a very strange but also very interesting high end Android tablet using an Intel Airmont SoC. While their tablets fill in the spaces for very large screens, the new Lenovo PHAB and Lenovo PHAB PLUS are positioned to sell to buyers looking for something larger than 6" but not quite at the size of the 8, 9, and 10" tablets on the market. Below you can view all the known specifications for Lenovo's new PHAB phablets.
Lenovo PHAB
Lenovo PHAB PLUS
SoC
Qualcomm Snapdragon 64bit Quad Core
Snapdragon 615
1.5GHz 4x Cortex A53
1.1GHz 4x Cortex A53
RAM
1GB
2GB LPDDR3
NAND
16GB NAND + microSD
32GB NAND + microSD
Display
7" 720p IPS
6.8" 1080p IPS
Network
2G / 3G / 4G LTE
2G / 3G / 4G LTE (MDM 9x25 Category 4 LTE)
Dimensions
8.9mm thick, 250g
186.6 x 96.6 x 7.6mm, 229g
Camera
13MP Rear Facing
13MP Rear Facing
5MP Front Facing
5MP Front Facing
Battery
4250 mAh (16.15 Whr)
3500 mAh (13.3 Whr)
OS
Android 5.0
Android 5.0
Connectivity
2.4 GHz 802.11b/g/n +
BT 4.0,
USB2.0, GPS/GNSS
2.4 GHz 802.11a/b/g/n/ac +
BT 4.0,
USB2.0, GPS/GNSS
SIM
2x MicroSIM
MicroSIM + NanoSIM
Launch Price
$179
$299
Both the Lenovo PHAB and the Lenovo PHAB PLUS are quite large devices. I was under the impression that once you got to 7" you started calling your device a tablet, but with the PHAB including cellular capabilities it looks like Lenovo has decided to brand it as a phablet despite its size. It's also interesting to note that unlike Apple and Samsung's naming scheme, the "plus" in PHAB PLUS doesn't mean that the display is bigger; in fact it is actually slightly smaller.
The Lenovo PHAB is obviously the low end model out of these two devices. Its 7" display has a resolution of only 1280x720, which is quite low for a 7" device, although there's not much more than one can expect at $179. Lenovo doesn't specify exactly what the SoC is, but from it being a 64bit Snapdragon quad core in a low-end device with 1GB of RAM it's pretty safe to assume that it's the 1.2GHz implementation of Snapdragon 410, which has four Cortex A53 cores.
As for the designs of these two phablets, the normal Lenovo PHAB has a polycarbonate shell which comes in black, white, red, and blue. Unfortunately I wasn't provided with images of it. As for the PHAB Plus, it has a metal unibody and comes in either platinum (silver) or gunmetal (grey) finishes.
Like the tablets that Lenovo has also launched today, there's no exact date for when the Lenovo PHAB and PHAB PLUS will be made available. Lenovo states that they will be available during this year's winter holiday season, with the PHAB priced at $179 and the PHAB PLUS priced at $299.