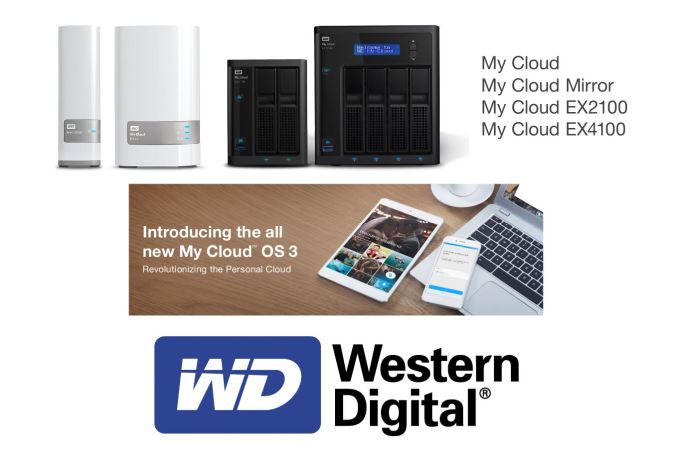 Western Digital markets their NAS lineup under the 'Personal Cloud' category. This is further sub-divided into three markets, the 'Consumer Series' (the MyCloud units), 'Expert Series' (the EX units) and the 'Business Series' (the DL units). At IFA 2015, WD took the opportunity to announce some updates to their NAS units. On the hardware side, there is a refresh of the My Cloud Mirror (2-bay version) with an updated internal platform. On the software front, the next major version of My Cloud OS (v3) with plenty of interesting features is being made available for download.
In the conference call to discuss this announcement, WD presented plenty of interesting facts - 50% market share amongst 1- and 2-bay NAS units in the US and 30% amongst all consumer NAS units in the EMEA regions. Surprisingly, they also indicated that more than 1.6M My Cloud and My Cloud Mirror units have
been sold so far (and more than 5M My Cloud App downloads).
My Cloud OS 3
The number one feature that My Cloud OS 3 brings to users is the 'Sync' capability. It works similar to Dropbox. In the NAS market, it can be thought of as an equivalent feature for Synology's Cloud Station or QNAP's QSync.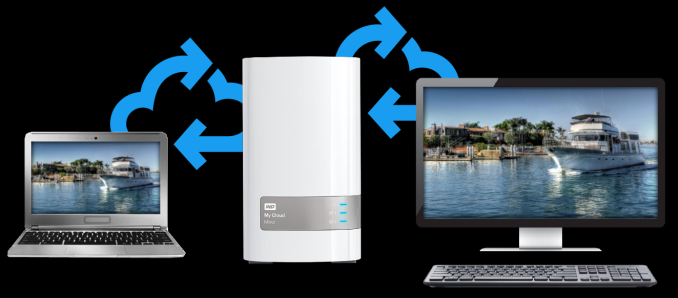 Sync allows data in a given PC's folder to be mapped on to a sync folder on the WD My Cloud NAS. The data here can be automatically kept synchronized with a folder on another PC that also has the WD Sync program running. The Sync program also allows for versioning on the synced files.
My Cloud OS 3 continues the ease of use of the cloud access from an external network - either through port forwarding or a relay connection via WD's servers. The My Cloud mobile app can also backup photos and videos from an iOS or Android device to the My Cloud NAS.
My Cloud OS had decent support for multimedia - photos and videos could be streamed like an album. OS 3 brings in a completely new feature 'My Cloud Albums' - it is possible to share a particular folder on the NAS with a group of friends.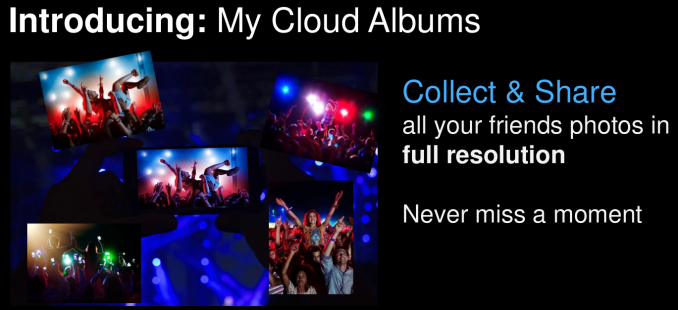 The settings on the mobile app with everyone in the group can be configured to upload all photos taken withing a particular timestamp into the shared common folder.
WD is also launching a developer program with two approaches. A My Cloud API is being provided to access content on a My Cloud device. A My Cloud SDK can be utilized to write an application that can run on a My Cloud device using Docker.
A list of partners is also being announced for the My Cloud OS:
Milestone Surveillance - The Arcus VMS is being supported on the My Cloud devices with two free camera licenses (more can be purchased via the WD store)
PLEX - This media server app has already been available on My Cloud for quite some time.
Adobe - For the cloud-based subscription to Creative Suite, Adobe is allowing users to store media locally on a My Cloud device instead of going to the cloud for that purpose.
My Cloud OS 3 will be made available for download on September 21st.
My Cloud Mirror Gen 2
The My Cloud Mirror has been one of the popular members of the Consumer series, and WD is bumping up the specs of this 2-bay NAS today. The Gen 2 device is based on a Marvell ARMADA 385 dual-core 1.33 GHz solution sporting 512 MB of RAM. External features include a single GbE link and two USB 3.0 ports. The unit comes factory-configured in RAID-1. This is a step up from the ARMADA 370 single-core 1.2 GHz solution in the Gen 1 version.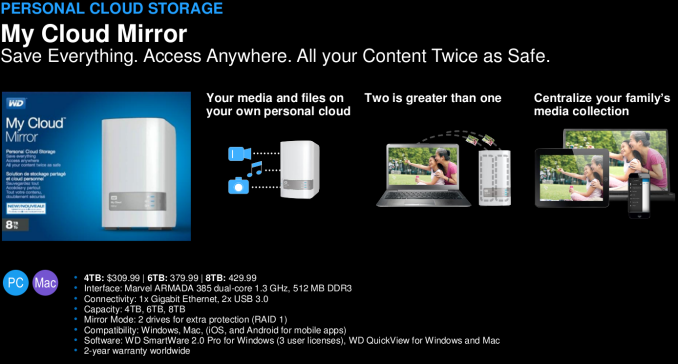 The units are available for pre-order now, and in stores on September 30th. The 4TB, 6TB and 8TB units come in at $310, $380 and $430 respectively. WD also includes 3 user licenses for SmartWare 2.0 Pro with the My Cloud Mirror Gen 2.
It is heartening to see Western Digital put efforts and focus into the NAS market. They may have a lot of catching up to do to be technically on par with vendors such as QNAP or Synology. However, their channel presence as well as the focus on not overwhelming the lowest common denominator customer bodes well for their continued success in the consumer NAS space.
Source: Western Digital