"Per Core" Integer Performance: 7-Zip
The profile of a compression algorithm is somewhat similar to many server workloads: it can be hard to extract instruction level parallelism (ILP) and it's sensitive to memory parallelism and latency. The instruction mix is a bit different, but it's still somewhat similar to many server workloads. Testing single threaded is also a great way to check how well the turbo boost feature works in a CPU.
We ran this benchmark on the POWER8 a few months ago, but there are several reasons to do this again. First of all, we can now use GCC 4.9.2, which has specific support for POWER8 (-mcpu=power8). It is good to note that POWER8 is not a radical new design compared to POWER7. So we only expect modest gains from the compiler.
Secondly, last time we ran on top of PowerKVM, inside a virtual machine. Although that should not make a big difference either - as the benchmark runs almost completely (99%) in user modus and thus runs at 100% - it's still worthwhle to rule out the influence of the virtual machine.
So we recompiled the 7-Zip source code on every machine with the -O3 optimization with GCC 4.9.2.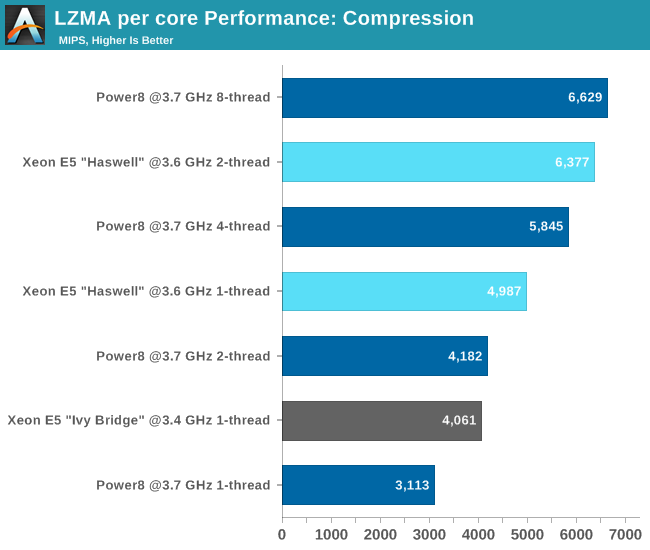 It is important to note that Intel is extremely aggressive with Turbo-boost on the Xeon E5-2699v3. Running code on one core causes the 2.3 GHz Xeon to boost to 3.6 GHz. As a result, the typical clockspeed advantage of the POWER8 was minimized to a measly 90 MHz, with the POWER8 CPUs boosting from 3.425 GHz to 3.690 GHz.
We found that the POWER8 needs more than one thread to deliver good performance: with one thread we only achieve 62% of the performance of a Haswell core at the same speed. Using the mcpu=power8 compiler flag did little more than boost the performance by 1-3%, which is within the margin of error of this benchmark. So your (occassional?) single threaded code will fare badly on POWER8.
Once you fire off 8 threads however, the POWER8 CPU outperforms the hyperthreaded Haswell core slightly (4%).
How about decompression which is even more (IPC) unfriendly to our brainiacs?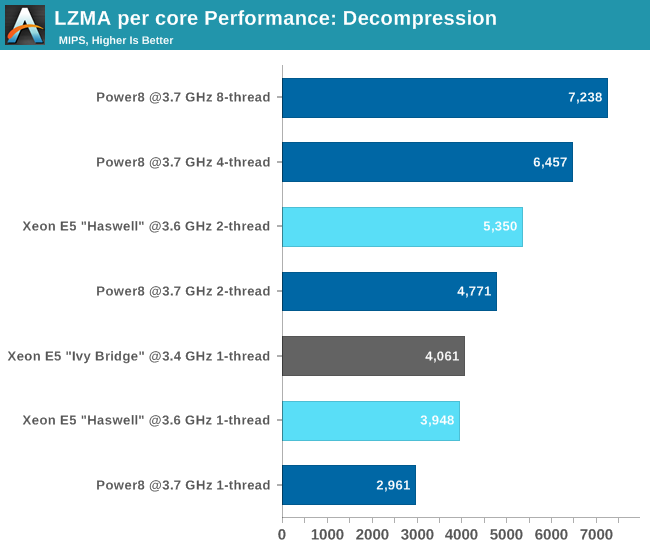 With a single thread, performance of a POWER8 core is about 25% slower than a Haswell core. The Haswell core is still clearly better in extracting Instruction Level Parallelism out of this ILP-unfriendly code. However, let there be no mistake about the integer crunching power of POWER8: it delivers 35% higher performance than the hyperthreaded Xeon E5, core per core, clock per clock (give or take a few MHz).
Compression depends more on the datacache and OoO engine. It is remarkable that the Haswell core with its smaller L1-datacache does a lot better than the POWER8. The many unpredictable branches of the decompression code underutilize these very wide modern cores, and as a result the SMT-8 capable POWER8 outperforms the dual-threaded (SMT-2) Haswell. Notice that running two threads instead one thread on the POWER8 offers 61% better performance. Running 8 threads delivers 2.4x higher performance, a clear indication that the POWER8 CPU has a very wide integer execution engine, but can only deliver if enough threads are active.