Taking a Closer Look At IBM's S822L
The S822L was mounted in the Xeon server dominated racks inside our experimental datacenter. The build quality of both the rails and server were apparent, a "locking mechanism" made sure the server was easy to mount without a screwdriver and was kept firmly at its place.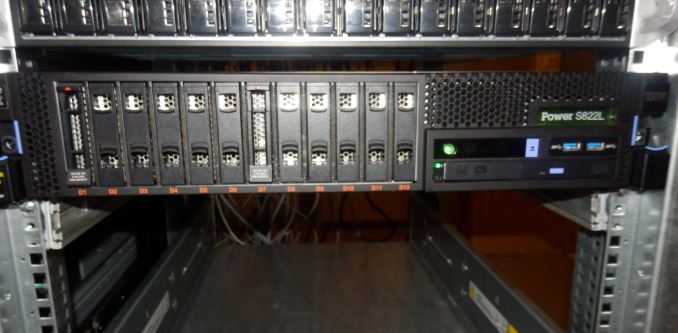 The system booted by using the Flexible Service Processor (FSP), which is comparable to the Baseboard Management Controllers as they are both components that allow you to manage and monitor your server thanks to the IPMI specification. The main difference with Xeon system is that the FSP and its related firmware and software is the only way you can control your system. There is no "BIOS" screen or BIOS configuration setup, everything has to be configured and booted via the FSP software. You could say that the "BIOS" and "BMC management software" are now integrated into one central firmware.
To power on the S822L, you have to access the FSP using the open-source IPMItool. Once the server is booted up, the "petitboot" bootloader of OPAL (the OpenPOWER Abstraction Layer firmware) takes over. It scans all bootable instances (disks, network, optical, etc.) for operating systems, and is similar to the GRUB bootloader. From there, you can install Linux like you would on an x86 system.
The cover was covered with a lot of interesting service information about the upgrading and replacing the hardware.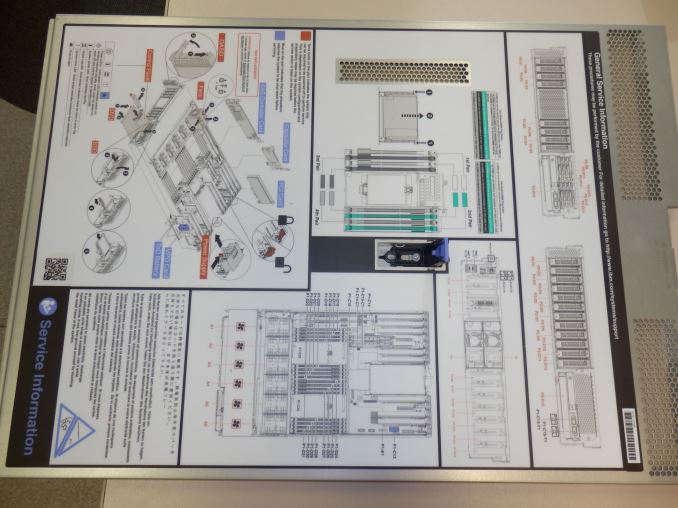 Once we removed the cover, lots of expansion slots became visible.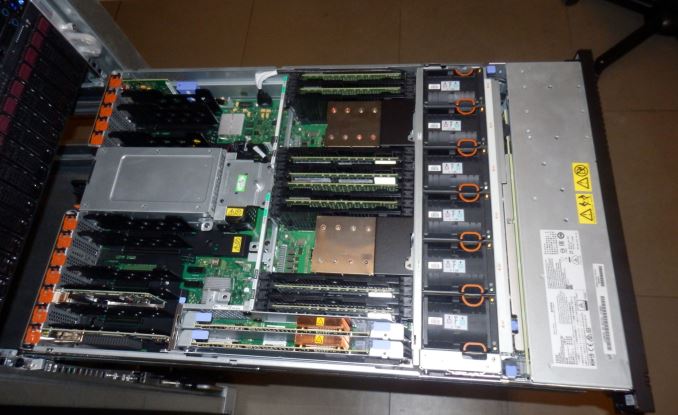 No less than nine hot plug (!) low profile PCIe Gen 3 slots are available. Four of them are x16, ready for some GPU action. Five are x8. Only one of the PCIe slots is used for the standard quad-gigabit Ethernet adapter. We also had one Emulex FC card installed.
Also installed were two PowerPC based SAS RAID controller(s), capable of RAID-6 and all common RAID levels, which connectto a dual backplane that offers 12 Small Factor Form (2.5 inch) drives. These drives can be SAS SSD or hard disks, which is a reliable but rather expensive storage choice. A DVD drive was also present, which allowed us to install Linux the old-fashioned way.

At the back we find two hot-swappable PSUs, four gigabit Ethernet interfaces, two USB 2.0 ports, an HMC dual-gigabit interface (an HMC is a hardware applicance that can manage several IBM servers) and one system port.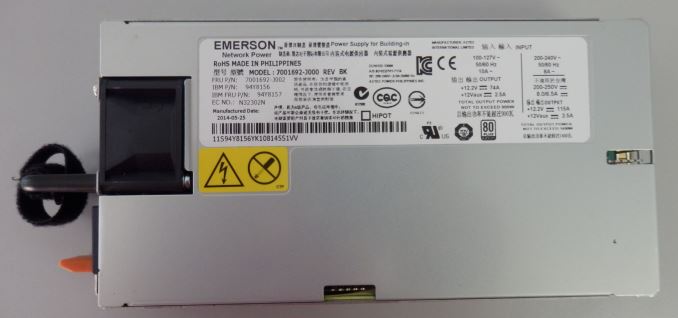 The server is powered by two redundant high quality Emerson 1400W PSUs.