Performance Metrics - I
The ECS LIVA x2 was evaluated using our standard test suite for low power desktops / industrial PCs. The performance metrics are determined using a mixture of artificial benchmarks and a few real world programs.
Futuremark PCMark 8
PCMark 8 provides various usage scenarios (home, creative and work) and offers ways to benchmark both baseline (CPU-only) as well as OpenCL accelerated (CPU + GPU) performance. We benchmarked select PCs for the OpenCL accelerated performance in all three usage scenarios. These scores are heavily influenced by the CPU in the system. The Celeron N3050 performs better than the Bay Trail CPUs in the earlier LIVA models. However, even though it should be better theoretically compared to the Celeron N3000 in the ASRock Beebox, we see the Futuremark benchmarks favour the latter. This could be due to a couple of reasons - the Beebox has a storage subsystem (mSATA SSD) that performs much better than the eMMC in the LIVA x2. In addition, the Beebox uses dual-channel (2x64) DDR3L memory, while the LIVA x2 appears to use LPDDR3 uses 4x x16 (1x64) DDR3L memory chips at the same frequency. While LPDDR3 using a smaller sized memory bus can save power over DDR3L, not taking advantage of the full memory bus width of the SoC definitely leads to some loss in performance.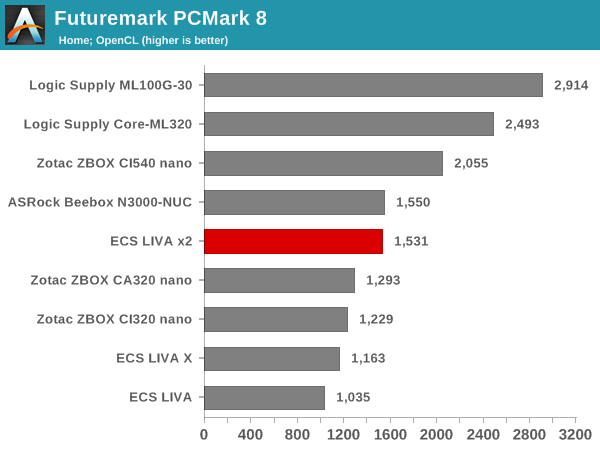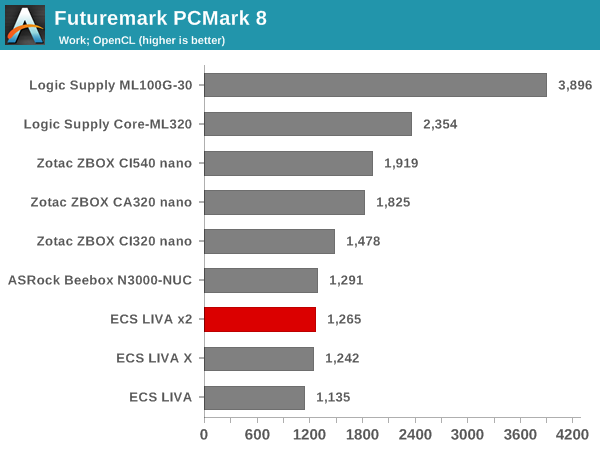 Miscellaneous Futuremark Benchmarks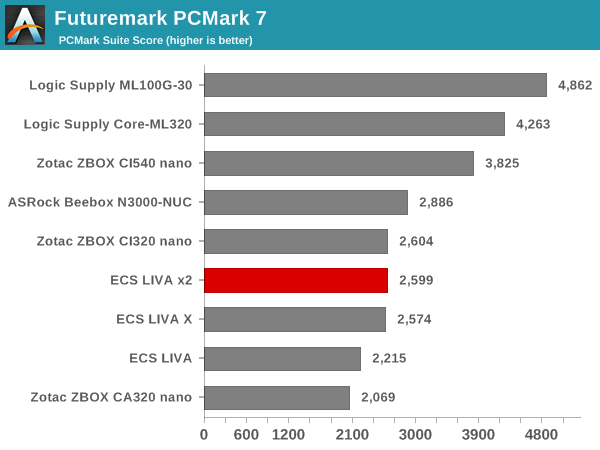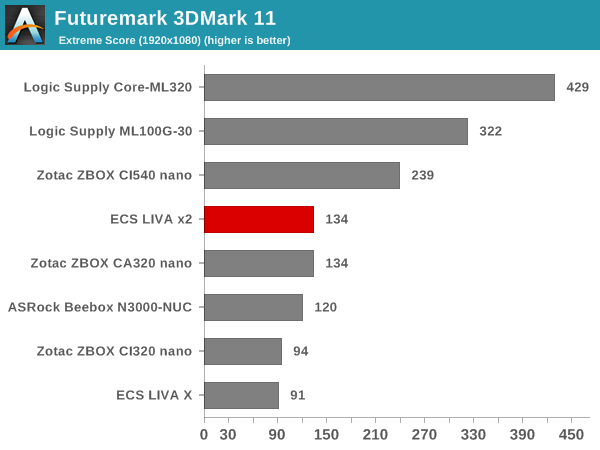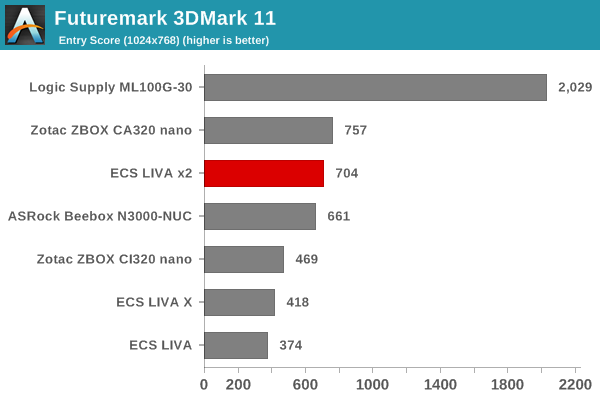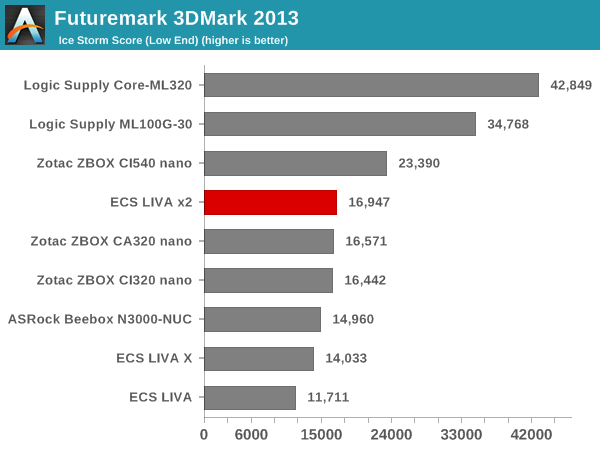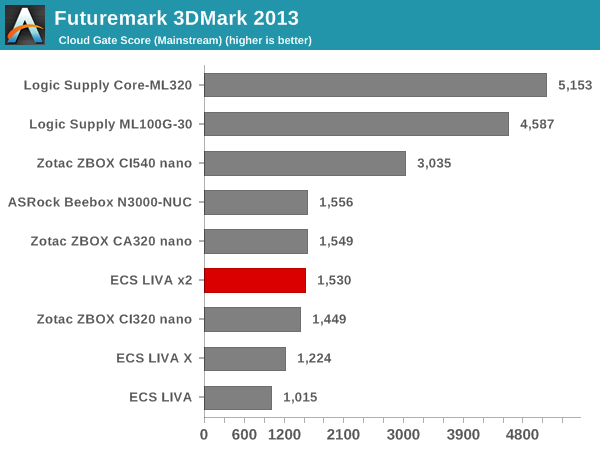 The LIVA x2 manages to score higher than the Beebox in all of the 3DMark benchmarks except the Cloud Gate workload that is part of 3DMark 2013. The higher clocks in the Celeron N3050 (compared to the Celeron N3000) might be at play here.
3D Rendering - CINEBENCH R15
We have moved on from R11.5 to R15 for 3D rendering evaluation. CINEBENCH R15 provides three benchmark modes - OpenGL, single threaded and multi-threaded. Evaluation of select PCs in all three modes provided us the following results.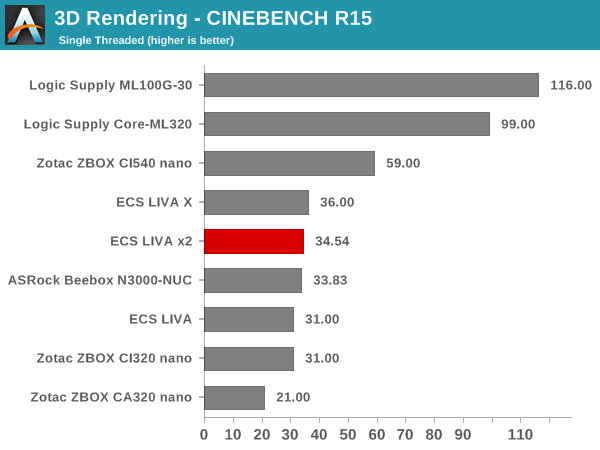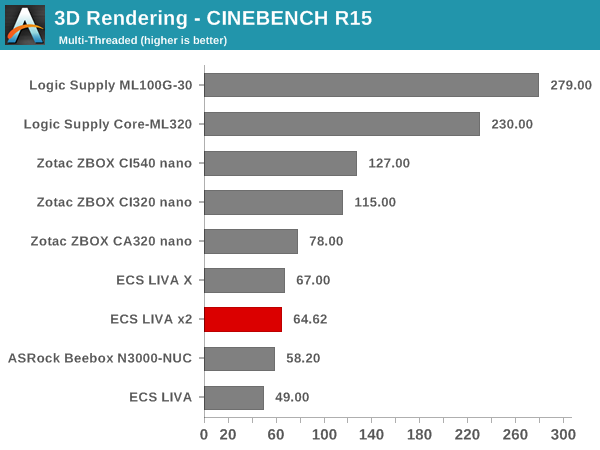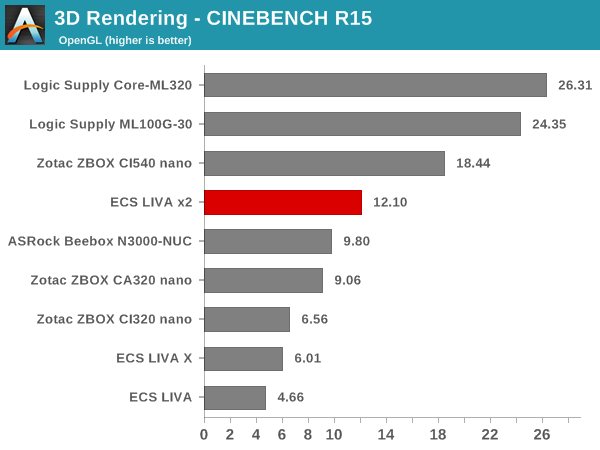 CINEBENCH comfortably brings out the effects of the higher clocks in the LIVA x2's SoC compared to the one in the ASRock Beebox. Other comparison numbers reflect the fact that the performance of the CPU cores in the Core series processors is much better than the Silvermont / Airmont cores.