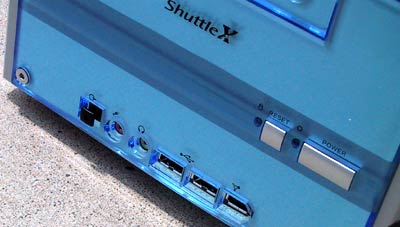 The front is fairly simple with power and reset switches and two lights - blue for power and orange for drive accesses. The lower part of the fascia has cutouts for optical SPDIF audio output, a microphone input, a headphone jack, two USB 2.0/1.1 ports and an IEEE-1394a (Firewire) port.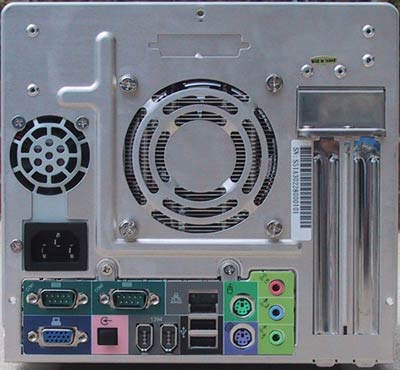 Click to Enlarge
Spinning the box around, we see a good number of ports; starting with the top row (from left to right) we have two serial ports, a 10/100 Ethernet jack and a PS/2 mouse port. On the very right there's the usual set of 1/8" analog audio connectors that can be remapped to give you analog 5.1 channel outputs. Moving on to the bottom row of connectors, you can pick out (from left to right) a VGA connector, an optical SPDIF output, two IEEE-1394a (Firewire) connectors, two USB 2.0/1.1 ports and finally a PS/2 port for a keyboard. We would like to see more USB ports on the rear, especially considering that the chipset supports two more than are used by the SS51.
The two slot cutouts on the right are indicative of what we're going to see on the inside of case in terms of expansion.
However, as is the case with most things, the beauty of the SS51 lies on its inside and is only hinted at by its stylish exterior. It's time to dissect the SS51.