648 North Bridge - A Mild Improvement
The main improvement the SiS 648 North Bridge offers over the 645DX is its support for AGP 8X. With SiS putting so much effort behind their AGP 8X compliant Xabre GPU it makes perfect sense for them to migrate all of their chipsets to AGP 8X versions.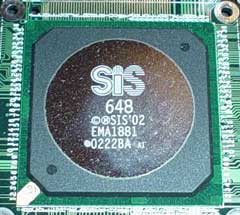 Other than the AGP 8X controller, the North Bridge remains relatively unchanged from the 645DX. The memory controller only officially supports DDR266 and DDR333 however it should work fine with DDR400.
According to SiS, a DDR400 version of the chipset will be out later this year, most likely after much heavier validation with DDR400 memory.
The 648 North Bridge supports both 400MHz and 533MHz FSB frequencies.
| | | | | | | |
| --- | --- | --- | --- | --- | --- | --- |
| North Bridge | Intel 845E | Intel 845G | Intel 850E | SiS 645DX | SiS 648 | VIA P4X400 |
| AGP Controller | 4X | 4X | 4X | 4X | 8X | 4X |
| Memory Controller | 64-bit DDR266 | 64-bit DDR333* | 32-bit PC1066*** | 64-bit DDR333 | 64-bit DDR400** | 64-bit DDR400 |
| Memory Bandwidth (Max) | 2.1GB/s | 2.7GB/s | 4.2GB/s | 2.7GB/s | 3.2GB/s | 3.2GB/s |
| FSB Interface | 400/533MHz | 400/533MHz | 400/533MHz | 400/533MHz | 400/533MHz | 400/533MHz |
| South Bridge Link | HubLink | HubLink | HubLink | MuTIOL | MuTIOL | V-Link |
*DDR333 is unofficially supported by this chipset, official support will come with the 845GE and 845PE
**DDR400 is unofficially supported
***PC1066 is unofficially supported