Final Thoughts
3D XPoint has a lot to chew on. There hasn't been an announcement this big in the memory industry since the invention of NAND in 1989 and while DRAM and NAND have improved and scaled a lot over the decades, 3D XPoint is really a new class of memory. It's fast, durable, scalable and non-volatile, whereas DRAM and NAND each only meet two of these criteria. It fills the niche between DRAM and NAND by taking the best characteristics of both technologies and creating a memory unlike anything we have seen before.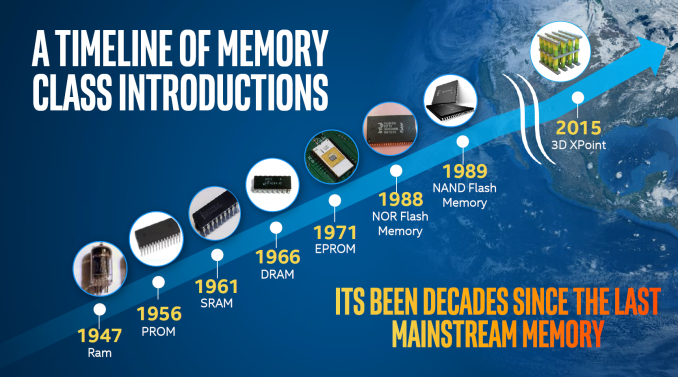 The significance of the announcement isn't just the new memory technology, but that it's actually in production with volume shipments scheduled for next year. Intel and Micron have succeeded in bringing a concept from a lab to an actual fab, which is by far the most difficult part in any new semiconductor technology. Something that works well in a lab may not be mass producible at all, but Intel and Micron made the necessary investments to develop new material compounds and surrounding technologies to turn 3D XPoint into a real product. It will be interesting to see how the other DRAM and NAND vendors respond because the memory industry is one where you don't want your rivals to have something you don't for an extended period of time.
However, it's clear that 3D XPoint isn't a true DRAM or NAND successor and Intel and Micron aren't trying to position it as such. DRAM will still have its market in high performance applications that require the latency and endurance that 3D XPoint can't offer. Our early cost analysis also suggests that 3D XPoint isn't as dense as planar NAND, let alone 3D NAND, but by having the ability to scale both vertically and horizontally 3D XPoint may have the potential to replace 3D NAND in the long run.
Looking further into the future, 3D XPoint isn't the only technology Intel and Micron are cooking. If the two stay on schedule, we should be hearing about their other new memory technology in roughly two years. As 3D XPoint seems to be more suitable as a 3D NAND replacement, the second new technology might be one that is capable of taking DRAM's place in the long run.
All in all, it's impossible to think of all the possible applications that 3D XPoint will have in the future because it's a technology that hasn't existed before. I don't think it's an overstatement to say that 3D XPoint has the potential to change modern computer architectures and the way we see computing, but that transition won't happen overnight and will likely require competing technologies from other vendors to fulfill the demand. What is clear, though, is that Intel and Micron are leading us to a new era of memory and computing next year.