Case - Antec Value Line KS388 - $80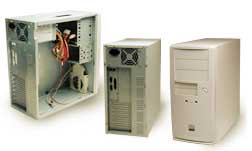 When deciding what case we wanted our value SOHO setup to go into we decided to go with a case manufacturer we knew we could trust. Antec has consistently produced some of the best cases out there. The company's Value Line of cases made a perfect fit for the value system we are attempting to build.
The KS388 series case features a total of six drive bays (of which three 5.25" and two 3.5" are front accessible), seven expansion slots, rounded metal edges, and a 300 watt AMD certified power supply. We chose to go with an ATX spec case even though our motherboard would fit fine in a microATX case. We did this because although going with a microATX case may save you a bit of money, the price differential isn't worth being locked into such limited expansion.
Sound card - Integrated nForce APU - "free"
nForce motherboards come with the most powerful integrated audio solution to date. Powered by an integrated version of Parthus' MediaStream DSP, the Audio Processing Unit (APU) in the nForce's Media and Communications Processor (MCP), the integrated audio in the nForce will not disappoint. As an added bonus, the chipset version in our ASUS A7N266-VM motherboard is the 220-D meaning that it also includes support for real time Dolby Digital Encoding.
Check our our NVIDIA nForce 420/220 review for more information on the nForce's integrated audio solution.
Speakers - Generic - $20
Since we are trying to build a value SOHO machine there is no reason to go with a fancy speaker set. Sure, inexpensive generic speakers will not do the integrated nForce audio justice but it will keep the price of the system down. Check out your local computer store to see what speakers they have in this price range: they may not be high fidelity, but they will play back those Windows sounds just fine. Upgrading to a quality set of speakers will raise the price of the computer by at least $50 or more.
Ethernet - Integrated nForce - "free"
The integrated ethernet solution in the nForce chipset will work as well as the majority of add-in PCI network cards on the market. Adding an external PHY and ethernet port to the motherboard is not very costly, so a good number of nForce motherboards come with ethernet standard. Going with the integrated solution also allows us to save a PCI slot from use.
Hard drive - Western Digital WD400BB 40GB - $65
Since hard drive speed ends up making a fairly big difference in terms of over all system performance, we decided to go with a fairly fast hard drive in our value SOHO machine. The Western Digital WD400BB is one of the faster 7200RPM hard drives on the market today for the price and have proven to be more reliable than the IBM Deskstar series hard drives.
For those wanting more space, the 60GB version of the WD400BB costs only about $20 more and the 80GB version is only about $15 more than that. Performance of the larger drives remain the same. The only thing different is the density of the platters.
CD-ROM/CD-RW/DVD-ROM - Name brand 40X - 50X CD-ROM - $30
Our optical drive recommendation today remains identical to the recommendation that we made a year ago in our value SOHO machine. The only difference this time around is the price, which has fallen about $10. Again, we suggest going with a brand name CDROM drive, not just the cheapest one available. We have seen no-name CDROM drives choke when trying to read less than perfect discs and not perform as advertised even under ideal situations. Try going with Acer, ASUS, Creative Labs, Toshiba, or Teac.
OS - Microsoft Windows XP Professional - $275
Windows XP Professional should be the clear operating system choice for those wanting to get work done. The OS offers great stability and performance while maintaining compatibility with almost every application imaginable. Those looking for an alternate OS could go with a recent Linux build for a fraction of the cost.
Bottom Line: $600 (without software)