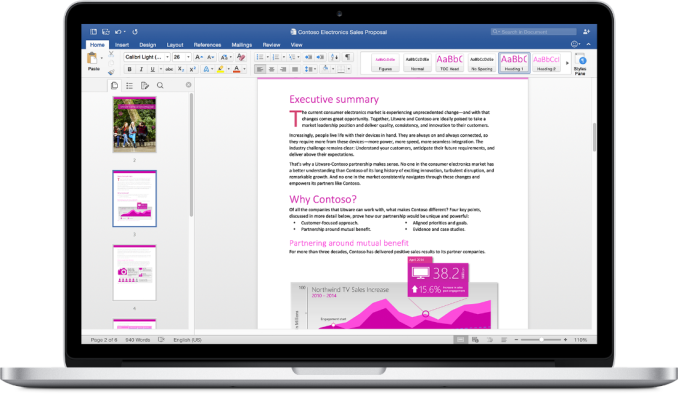 The last major release of Microsoft Office for Mac was the 2011 edition. Due to Microsoft's naming and release timing, the release of Office 2011 actually took place in late 2010. While Microsoft has made updates to Office 2011 over the years, such as the addition of Retina display support in 2012, the applications in the software suite still look quite dated due to their use of pre-Yosemite OS X interface elements. Today, Microsoft is bringing Office for Mac visually and functionally up to par with the versions on other platforms with the release of Office 2016 for Mac.
Microsoft states that users who use Office on a Windows PC or an iPad will feel right at home with the new apps on OS X, and I'm inclined to agree. The interface doesn't try to fit in with other parts of OS X with transparency like the previous version did with older OS X design principles, but with Office being such a ubiquitous program I appreciate Microsoft keeping the interface mostly the same across all computers, tablets, and smartphones.
In addition to the new interfaces for core Office apps like Word, Excel, Outlook, and PowerPoint, Microsoft is now including OneNote as part of the application suite. Since there was such a long gap between the original release of Office 2011 and the release of OneNote for Mac, OneNote has been offered as a separate application up until this point.
Office 2016 for Mac is available now to Office 365 subscribers, and in September it will be available for purchase as a standalone product without the need for a subscription.
Source: Microsoft Office Blog