Testing results, maximum fan speed (12 Volts)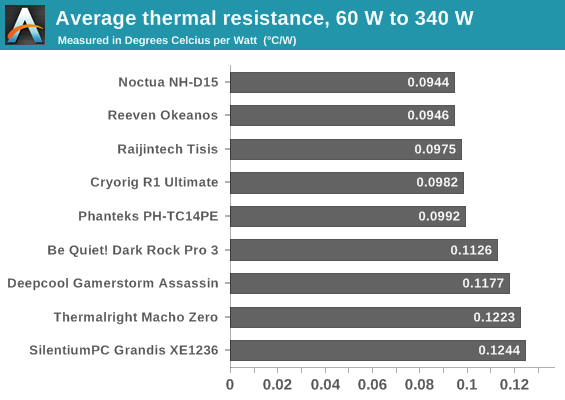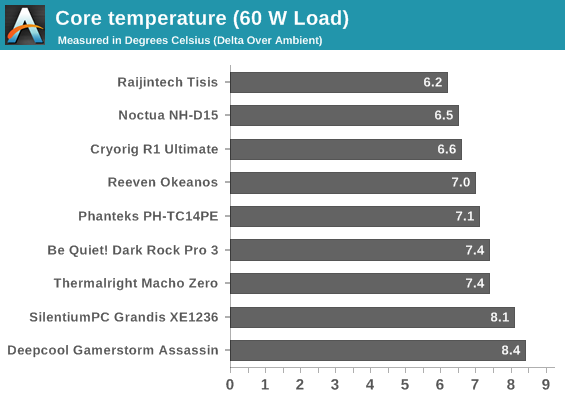 Core Temperature, Constant Thermal Load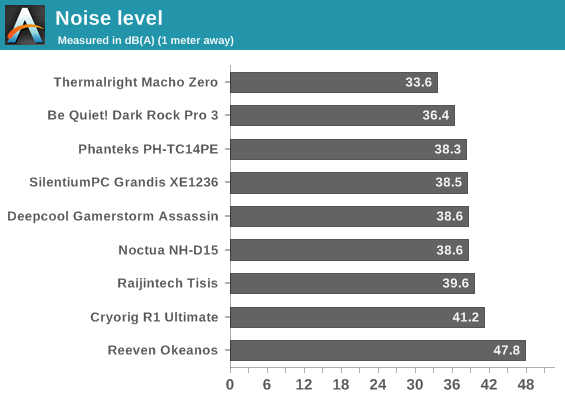 *Note: When the cooler has two different fans, the fan speed of the faster fan is recorded.
We should start by noticing that one should be extremely careful when reading the performance charts. Even though some of the coolers are of similar design or size, their performance differs greatly. Similarly, coolers with similar thermal performance may have great differences in size, acoustics and or price.
Without a doubt, the grandest example of this warning is the Okeanos. Reeven's offering outpaces nearly every other cooler, comparing directly with Noctua's and Cryorig's finest, when tested at our maximum load and has the best average absolute thermal resistance. However, this is not due to excelling technology or design. On the contrary, the Okeanos is simpler and smaller than most of the coolers in this review. This achievement is simple brute force through high speed fans, which places the Okeanos far behind any other offering on acoustics.
Not unexpectedly, the thermal performance charts are being led by the Noctua NH-D15, the Cryorig R1 Ultimate and the Phanteks TC14PE. These are the best coolers of the most renowned manufacturers, so one would expect interative designs over time to yield benefits. The performance differences between these three offerings, thermal and acoustic alike, are very small. Raijintech's Tisis is the surprise of this review, with similar thermal and acoustics performance to that of the best coolers. The Tisis also has the best low load performance, where the charts shift greatly.
The Dark Rock Pro 3 from Be Quiet! offers lower noise levels but falls a little behind on thermal performance. Not the same can be said about Deepcool's offering, the Assassin, which does not match the thermal performance of the best coolers but is neither quieter nor notably cheaper. The performance gap is rather small but the Assassin is at a disadvantage. The Grandis falls even further behind in terms of thermal performance while the noise levels are similar, but SilentiumPC designed it to be more budget-friendly than other offerings, not to compete with the elite on terms of raw performance. Thermalright's Macho Zero is also an inconsistency in this review, as this cooler is not meant to provide maximum thermal performance and hits the bottom of our absolute thermal resistance charts. On the other hand, the Macho Zero paired with the TY147A is by far the quietest cooler in this review, being whisper-quiet even while the fan is spinning at maximum speed.