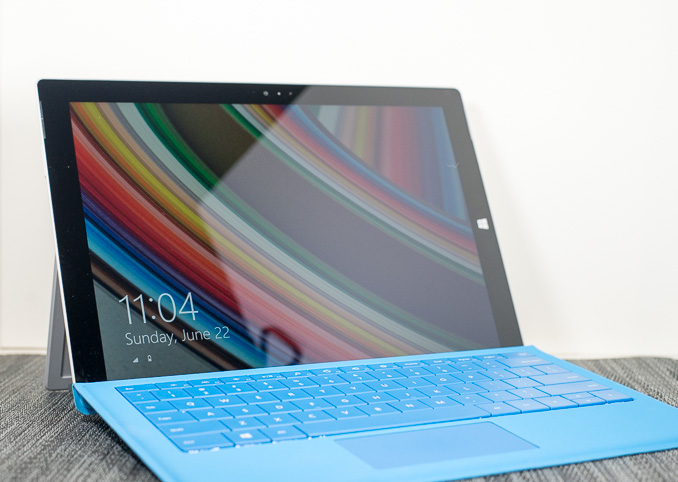 This weekend Microsoft introduced a new model of the Surface Pro 3. Like the existing two Core i7 models, this new version uses Intel's Core i7-4650U CPU. At $1299 in the United States, the new model is significantly cheaper than the next Core i7 model, which starts at $1549. In fact, it's the same price as the high end version of the existing Core i5 model. With this new introduction, the Surface Pro 3 lineup is now as follows.
Microsoft Surface Pro 3 Configuration Options (Core i3 Omitted)
Configuration
$999
$1299
$1299
$1549
$1949
CPU
Intel Core i5-4300U
Intel Core i5-4300U
Intel Core i7-4650U
Intel Core i7-4650U
Intel Core i7-4650U
TDP
15W
15W
15W
15W
15W
Cores/Threads
2/4
2/4
2/4
2/4
2/4
Frequency Base/Max Turbo
1.9/2.9GHz
1.9/2.9GHz
1.7/3.3GHz
1.7/3.3GHz
1.7/3.3GHz
GPU
Intel HD 4400
Intel HD 4400
Intel HD 5000
Intel HD 5000
Intel HD 5000
GPU EUs
20
20
40
40
40
GPU Frequency Base/Max Turbo
200/1100MHz
200/1100MHz
200/1100MHz
200/1100MHz
200/1100MHz
Storage
128GB SSD
256GB SSD
128GB SSD
256GB SSD
512GB SSD
RAM
4GB
8GB
8GB
8GB
8GB
In addition to the models above, Microsoft still offers a version at $799 with an Intel Core i3-4020Y CPU, 4GB of RAM, 128GB of storage, and Intel HD 4200 graphics.
The sacrifice you make with the less expensive Core i7 model is that it only comes with 128GB of internal storage, while the Core i5 version at the same price has 256GB of storage. However, you move up from Intel's HD 4400 graphics to HD 5000 graphics, which bumps the number of GPU EUs from 20 to 40. The Core i7 has a lower base frequency at 1.7GHz vs 1.9GHz on the Core i5, but it can turbo up to 3.3GHz which will outperform the Core i5's 2.9GHz in bursty workloads. Moving to the Core i7 also gets you 4MB of total CPU cache, instead of the 3MB in the Core i5.
The intended audience for this new model seems to be users who want more CPU and GPU power, but are able to survive within 128GB either by leveraging cloud storage or simply by not having many programs and files that they need to store. With this new model the Surface Pro 3 line has now expanded to six different versions. While there's still no option with 16GB of RAM, Microsoft now offers a different model to suit almost everyone's preferences.
Source: Thurrott.com