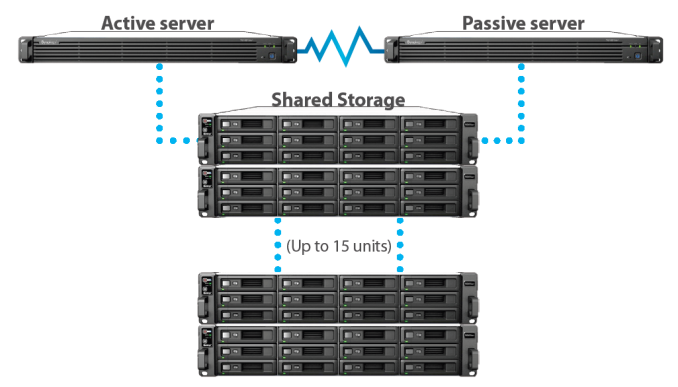 Synology is no stranger to high-availability (HA) systems. Synology High Availability is touted as one of the features that differentiate Synology's NAS units from other vendors' for small business and enterprise usage. Put simply, Synology HA allows two NAS units (same model) to be connected to each other directly through their LAN ports, while also being connected to the main network through their other LAN ports. One of the NAS units is designated as the active unit, while the other passively tracks updates made to that unit. In case of any failure in the active unit, the other one can seamless take over without any downtime.
Synology is now extending this concept to a high-availability cluster. The products being introduced today are the RackStation RC18015xs+ compute node and the 12-bay RXD1215sas expansion unit.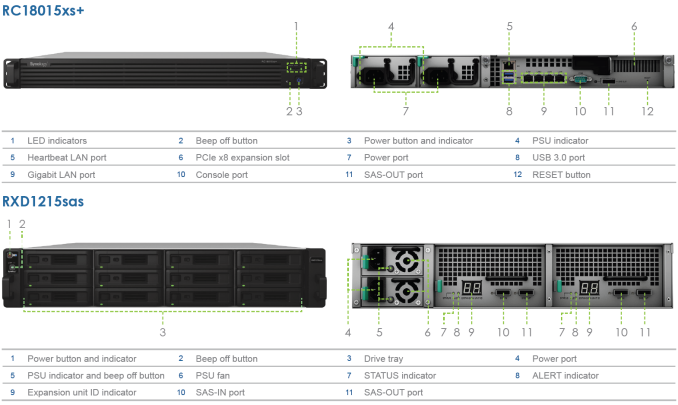 Unlike Synology's traditional RackStation products, the compute node doesn't come with storage bays. They are just 1U servers sporting a Xeon E3-1230 v2 (4C / 8T Ivy Bridge running at 3.3 GHz) CPU. The specifications of the RC18015xs+ are provided below.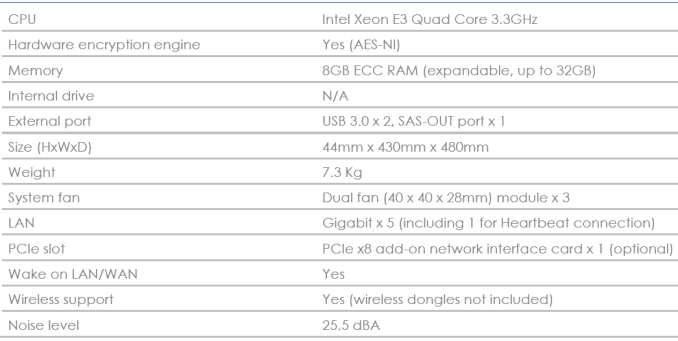 The PCIe 3.0 x8 slot allows for installation of 10 GbE adapters, if required. The compute node is priced at $4000. The expansion unit comes with the following specifications, and it is priced at $3500.

In order to set up a high-availability cluster, two compute nodes and at least one expansion unit is needed (as shown in the diagram on top). The operation of the cluster and high-availability features are similar to Synology HA. Performance numbers are of the order of 2,300 MBps and 330K IOPS using dual 10G adapters. All DSM (v5.2) features such as SSD caching and virtualization certifications are available. High-availability is also ensured with redundancy of hardware components (PSUs / SAS connectors / fans etc.).
The other important aspect of today's announcement is the usage of btrfs for the file system. As of now, the only COTS NAS units with btrfs support in this market segment have been those from Netgear and Thecus. So, it is heartening to see Synology also adopting it. btrfs brings along many advantages, including snapshots with minimal overhead and protection against bit-rot. The unfortunate aspect is that it is currently only available in this high-availability cluster solution. We hope it becomes an option for other NAS models soon.
Coming to the pricing aspect, we see that consumers need to buy two compute nodes and one expansion unit at the minimum, bringing the cost of a diskless configuration to $11500. This is pretty steep, considering that Quanta's cluster-in-a-box solutions (with similar computing performance) can be had along with Windows Server licenses for around half the price. Synology's products have always carried a premium (deservedly so for the ease of setup and maintenance), so it is not a surprise to see the pricing strategy here.
Source: Synology