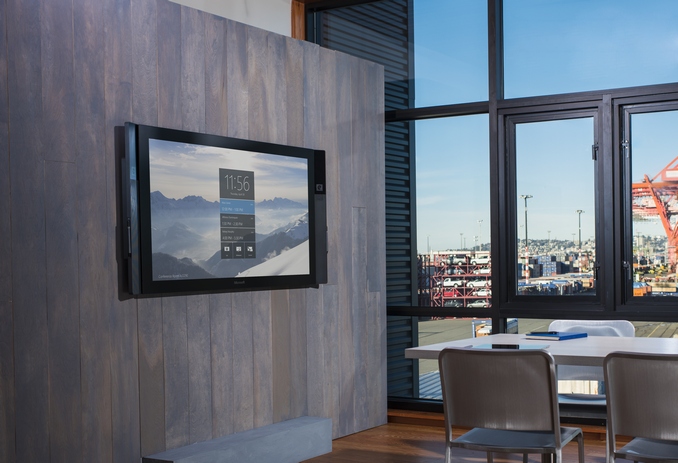 Today Microsoft announced more news regarding the Surface Hub, which is their large-screen collaboration device. Built specifically for the business conference room, the Surface Hub packs some impressive features inside.
The first bit of news though is that the Surface Hub will be available for pre-order starting on July 1st, and shipments will begin in September. It will initially be available in twenty four markets, with the United States, Canada, Australia, Austria, Belgium, Denmark, France, Finland, Germany, Ireland, Italy, Japan, Luxembourg, the Netherlands, New Zealand, Norway, Portugal, Qatar, Singapore, Spain, Sweden, Switzerland, United Arab Emirates and the United Kingdom all getting first dibs on this new device. The prices will seem steep to anyone who does not often furnish a conference room, with the smaller 55-inch model being offered for $6999, and the 84-inch model will sell for $19,999.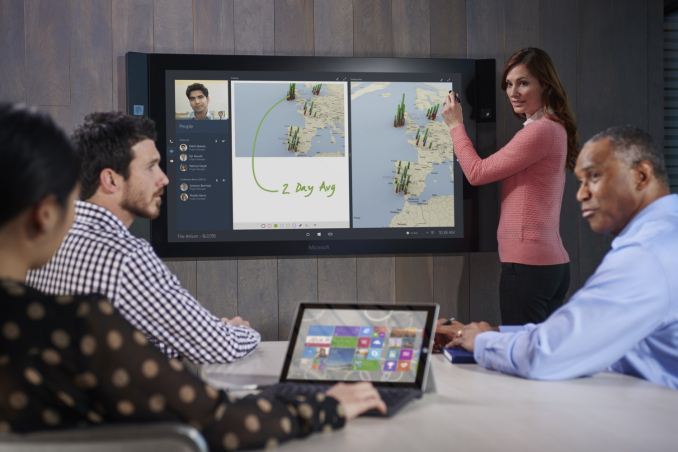 That is not inexpensive at all, but it should actually be less expensive that some of the other conference room solutions, and yet pack in technology that they can't offer. Here is a table of the listed specifications:
Microsoft Surface Hub
Surface Hub 55"
Surface Hub 84"
Dimensions
H: 31.75" (806.4 mm)
W: 59.62" (1514.3 mm)
D: 3.38" (85.8 mm)
H: 46.12" (1171.5 mm)
W: 86.7" (2202.9 mm)
D: 4.15" (105.4 mm)
Weight
105 lbs (48 kg)
280 lbs (127 kg)
CPU
Intel Haswell (4th Gen) Core i5
Intel Haswell (4th Gen) Core i7
GPU
Intel HD 4600
NVIDIA Quadro K2200 640 CUDA Cores
RAM
8 GB
8 GB
Storage
128 GB SSD
128 GB SSD
Display
55" 1920x1080 @ 120 Hz
1300:1 Contrast Ratio
100-point Multi-touch
Three Simultaneous Active Pens
Projective Capacitance optically bonded sensor
84" 3840x2160 @ 120 Hz
1400:1 Contrast Ratio
100-point Multi-touch
Three Simultaneous Active Pens
Projective Capacitance optically bonded sensor
Networking
Wired 1 Gbps
Wireless 802.11ac
Bluetooth 4.0 LE
NFC Reader
Miracast Enabled
Ports
Internal PC
(1) USB 3.0 (bottom) + (1) USB 3.0 (side access)
(2) USB 2.0
Ethernet 1000 Base-T
DisplayPort Video Output
3.5mm Stereo Out
RS232 Serial Port
RJ11 Connector for system level control

Alternate PC
(2) USB 2.0 type B output, connection for:
Camera
Sensors
Microphone
Speakers
Touchback™
(1) DisplayPort Video Input

Guest PC
DisplayPort Video Input
HDMI Video Input
VGA Video Input
3.5mm Stereo Input
(1) USB 2.0 type B Touchback™ Output
Sensors
(2) Passive Infrared Presence Sensors
Ambient Light Sensors
Speakers
(2) Front Facing Speakers
Microphone
High Performance, 4 Element Array
Cameras
(2) 1080p @ 30fps
Price
$6,999
$19,999
The first notable aspect is the displays, which both feature optically bonded projective capacitance sensors to minimize reflections. Both models also can support an insane 100 points of concurrent multi-touch, and three simultaneous pen inputs. The 55-inch model is a 1920x1080 panel, and the 84-inch is a 3840x2160 resolution, and both have a refresh rate of 120Hz. The touch digitizer is also 120Hz, and according to Microsoft it makes the experience much more akin to an analog counterpart.
These will not be just displays to project to either. Powering the Surface Hub is a custom version of Windows 10, which is run on a Haswell Core i5 on the smaller model and a Core i7 on the larger one. The 84-inch model also jumps from integrated graphics to the NVIDIA Quadro K2200, which is a Maxwell based GM107 GPU with 640 CUDA Cores. Both Hubs come with 128 GB of SSD storage and 8 GB of RAM, as well as Gigabit Ethernet and 802.11ac, with Bluetooth 4.0 LE, NFC, and Miracast available.
They will also feature two front-facing stereo speakers, a four element microphone, two 1080p cameras each, as well as passive infrared presence sensors and ambient light sensors.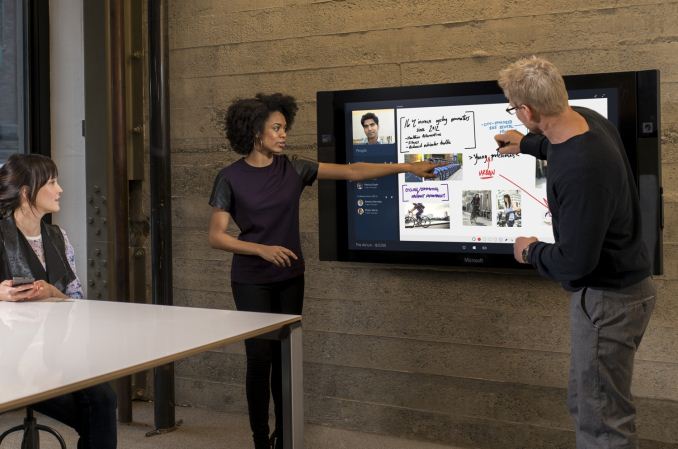 I think the steep price is going to keep these devices closely locked to their target audience of conference and meeting rooms. It would be very cool to have an 84-inch Windows 10 powered Smart TV, but for $20,000 it would be a tough sell.
I've asked a couple of questions to Microsoft to get some more details about this device though, including its ability to handle HDMI 2.0 inputs and a few other things, so once I hear back I'll update the post.
Source: Microsoft