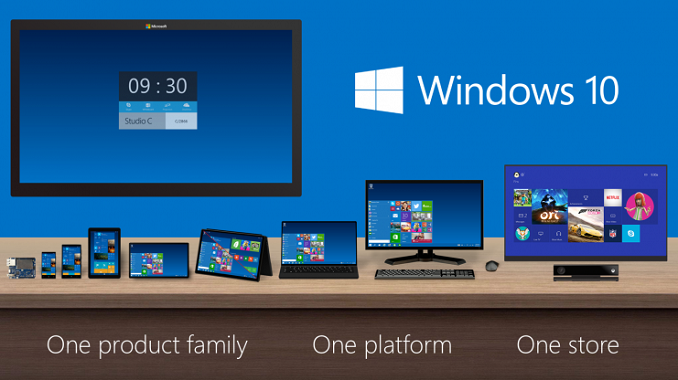 Today Microsoft formally announced the release date for Windows 10, the latest version of their Windows operating system. Up until this point, all Microsoft had said was that they were aiming for a summer release. Today's post on the official Windows blog states the release date for Windows 10 has now been set for July 29, less than two months from now.
According to the blog post, Microsoft will be simultaniously launching Windows 10 around the globe to some 1.5 billion Windows users that currently reside in over 190 different countries, making it the widest Windows has ever been released at once. Windows 10 is Microsoft's chance to win back users who didn't embrace the changes made in Windows 8, and they have a lot riding on its success. Offering it as a free upgrade to existing Windows users will certainly help in gaining adoption.
Even with the free nature of the upgrade, the promise of a July release date for such a monumental update is quite a bold move on Microsoft's part. The less than optimal state of the current Windows 10 testing builds means that Microsoft has a great deal of work ahead of them as they squash bugs and improve the stability of Windows 10 in the two months between now and release. As a user who is keen on upgrading from Windows 7 to Windows 10, I really hope they succeed.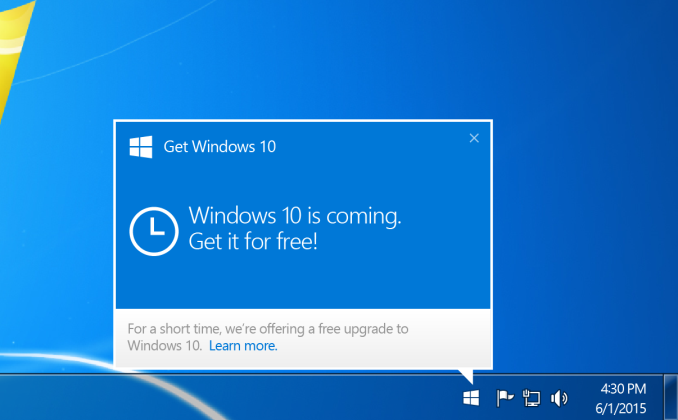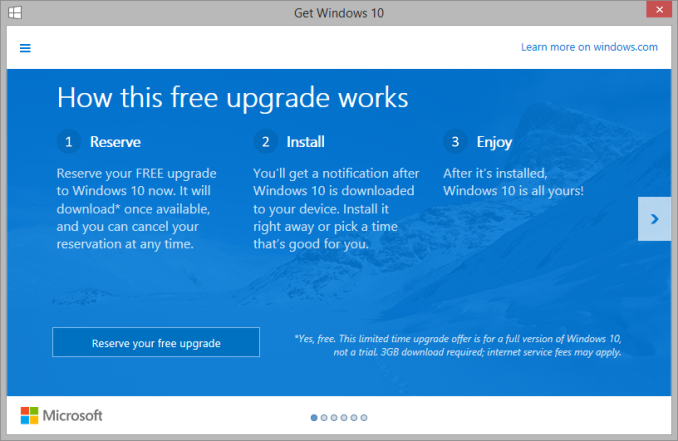 Finally, Microsoft has revealed a few more details about how Windows 10 distribution will work. Starting today, users can "reserve" Windows 10 on Windows 7/8.1 machines. Reserving Windows will in turn flag a machine for pre-loading, with Microsoft distributing most of Windows 10 ahead of time as to get it in to customers' hands more quickly to better balance the expected load on their server backend. According to Microsoft's FAQ, reserving/pre-loading Windows 10 only downloads it, and users will still manually confirm the installation, or for that matter users can cancel the reservation entirely. Pre-loading has not started yet, and while Microsoft doesn't say when it will start, I expect it won't be until very near July 29th.
Windows 10 Upgrade Paths
Win10
Win7
Win8.1
Windows 10 Home
Windows 7 Starter
Windows 8.1 (Core)
Windows 7 Home Basic
Windows 8.1 (Country-Specific)
Windows 7 Home Premium
Windows 8.1 w/Bing
Windows 10 Pro
Windows 7 Professional
Windows 8.1 Pro
Windows 7 Ultimate
Windows 8.1 Pro for Students
Windows 10 Mobile
N/A
Windows Phone 8.1
Along with detailing the reservation process, Microsoft has also confirmed the upgrade paths for various versions of Windows. As expected, all Pro/Ultimate versions of Windows 7 and 8.1 will get upgraded to Windows 10 Pro, while all other versions of desktop/tablet Windows will get upgraded to Windows 10 Home. And of course, Windows Phone 8.1 devices will upgrade to Windows 10 Mobile.
Source: Microsoft (via re/code)