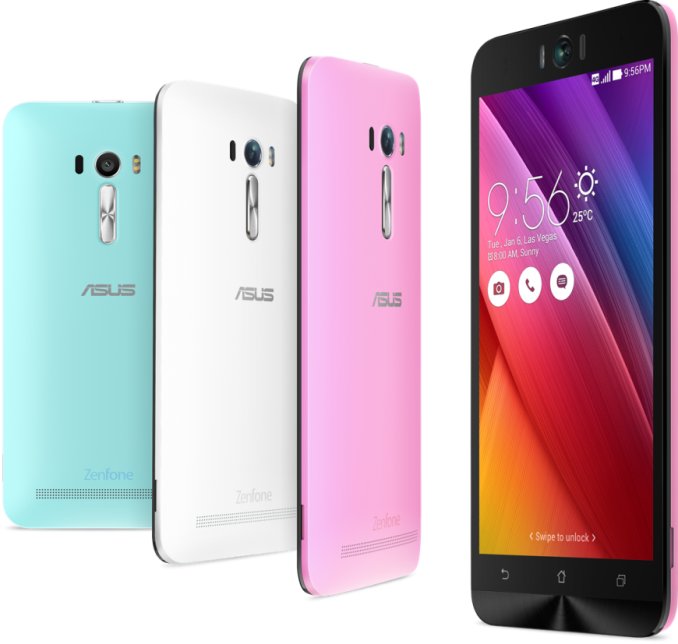 ASUS has been making waves in the industry lately with their powerful but low priced ZenFone 2. ASUS's second generation of ZenFones is another chance for them to break into markets like North America and Western Europe. Part of their strategy appears to be a consolidation of the number of models they offer, and another aspect is rethinking the naming of their devices. The first generation of ZenFones were mostly named with a number on the end which signified how large the screen was. This type of naming doesn't scale very well when you update phones every year, and it isn't very good for naming models that target a specific niche.
Today's announcement is one of those devices. The ZenFone Selfie is a device for users who like to take selfies, and as such it has a large degree of focus on the device's front camera and the software features that assist it. Of course, even when a device is focused on Selfies, making sure the other aspects hold up is still very important. To get an idea of how the ZenFone Selfie stacks up on paper I've listed its specifications below.
ASUS ZenFone Selfie
SoC
Qualcomm Snapdragon 615, 4 x Cortex A53 at 1.7GHz + 4 x Cortex A53 at 1.0GHz,
Adreno 405 GPU
Memory and Storage
?
Display
5.5" 1920x1080 IPS LCD
Cellular Connectivity
2G / 3G / 4G LTE (Qualcomm MDM9x25 UE Category 4 LTE)
Dimensions
?
Cameras
Facing: 13 MP 1/3.2" Toshiba sensor with F/2.0 aperture, laser autofocus, 28mm focal length
Front-Facing: 1/3.2" Toshiba sensor with F/2.2 aperture, laser autofocus, 24mm focal length
Battery
?
Other Connectivity
?
Operating System
Android 5.0 Lollipop
Unfortunately, ASUS's press release is somewhat light when it comes to specifications. In terms of its design, it looks almost exactly the same as the ZenFone 2. What we do know is that the ZenFone Selfie sports the same 13MP Toshiba camera sensors on the front and back, with the rear sensor having a wider aperture and a longer focal length than the front sensor. Both sensors are stated to be 1/3.2", although it's likely that they're advertised as 1/3.07" sensors with 1.12 micron pixels. The rear camera also sports laser autofocus like the ZenFone Zoom and the LG G3 / G4.
Beyond the cameras we have Qualcomm's Snapdragon 615 CPU which has eight Cortex A53 cores split into two clusters. One cluster runs at 1.7GHz and is intended for more CPU intense workloads, while the 1.0GHz cluster is for lighter workloads. The display has the same specifications as the ZenFone 2, being a 5.5" 1920x1080 IPS panel. Currently the amount of RAM and NAND included is unknown, as is the capacity of the battery, and the specifications for WiFi, GNSS, and other connectivity features. The dimensions of the phone are also unknown, but one can get a decent idea of the specs from the display size, photos, and ASUS's advertisement that the bezels on the long edges of the display are 3.3mm wide. Once more information becomes available, I'll update this article to reflect it.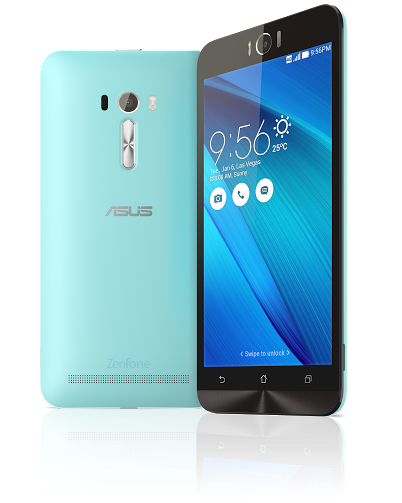 On the software side, the ZenFone Selfie supports a number of features to appeal to users. ASUS is advertising the front camera's 88 degree field of view, which can span up to 140 degrees when their selfie panorama mode is used in the camera. Features like "beautification" mode are also back, and that's all I have to say about that.
At launch the ZenFone Selfie will be available with seven different color options for the back cover. The pastel-like finishes are available in white, pink, aqua blue. There will also be black, gold, grey, and red metallic back covers, much like those available now on the Zenfone 2.
Like the two ZenPads that ASUS also launched today, the price and availability of the ZenFone Selfie are not yet known. Based on its SoC, I would imagine it has to undercut the ZenFone 2 on price, even with the higher resolution front camera. Once I get word on the price and what countries the ZenFone 2 will be available in I'll update that here as well.