Crysis 3
Still one of our most punishing benchmarks, Crysis 3 needs no introduction. With Crysis 3, Crytek has gone back to trying to kill computers and still holds "most punishing shooter" title in our benchmark suite. Only in a handful of setups can we even run Crysis 3 at its highest (Very High) settings, and that's still without AA. Crysis 1 was an excellent template for the kind of performance required to drive games for the next few years, and Crysis 3 looks to be much the same for 2015.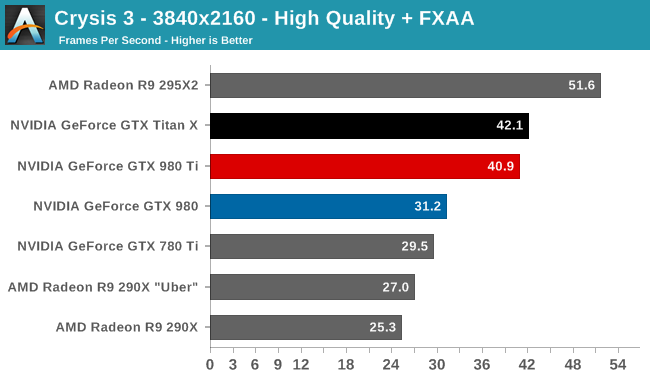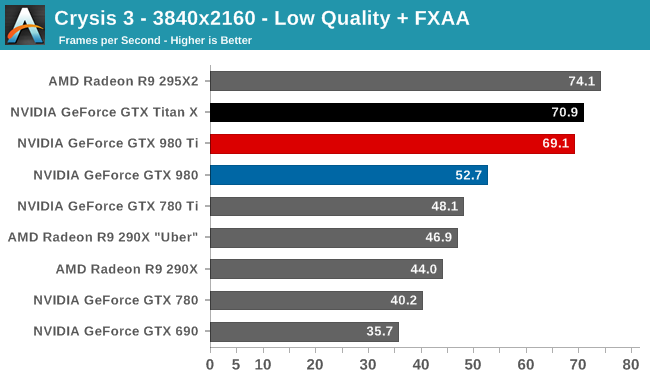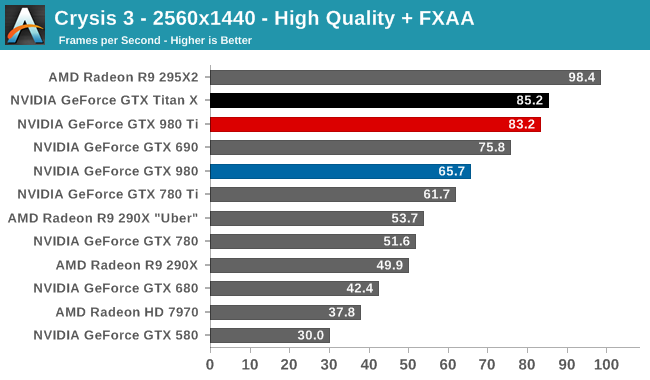 Once more we find the GTX 980 Ti and GTX Titan X virtually tied. Across all settings and resolutions the GTX 980 Ti stays within 97-98% of the Titan's performance. Consequently GTX Titan X is ever so marginally better, but not enough to make any real difference.
This also means that GTX 980 Ti continues with its very strong lead over the GTX 980. Once more we're looking at a 26-31% performance advantage for the latest member of the GTX 900 series, in-line with its price premium.
Meanwhile on an absolute basis, as one of our most punishing games this is also a good reminder of why even GM200 cards can't quite pull off high quality 4K gaming with a single GPU today. Even without MSAA and one step below Crysis 3's Very High quality settings, the GTX 980 Ti can only muster 40.9fps. If you want to get to 60fps you will need to drop to Low quality, or drop the resolution to 1440p. The latter will get you 83.2fps at the same quality settings, which again highlights GTX 980 Ti's second strength as a good card for driving high refresh rate 1440p displays.