Battlefield 4
Kicking off our benchmark suite is Battlefield 4, DICE's 2013 multiplayer military shooter. After a rocky start, Battlefield 4 has since become a challenging game in its own right and a showcase title for low-level graphics APIs. As these benchmarks are from single player mode, based on our experiences our rule of thumb here is that multiplayer framerates will dip to half our single player framerates, which means a card needs to be able to average at least 60fps if it's to be able to hold up in multiplayer.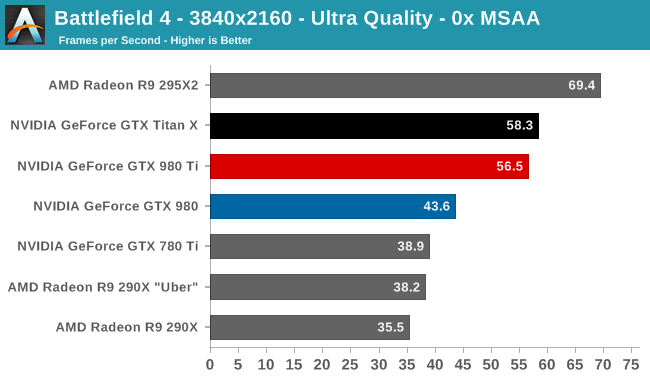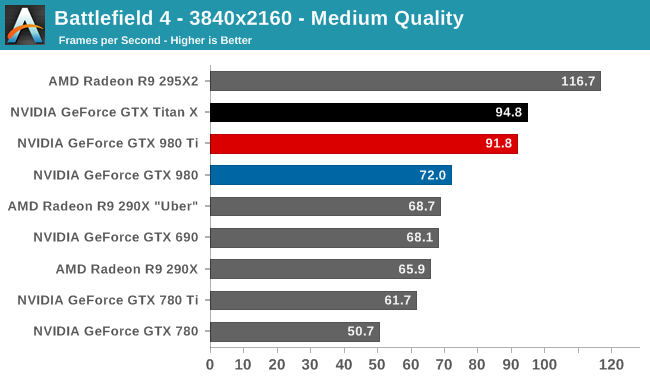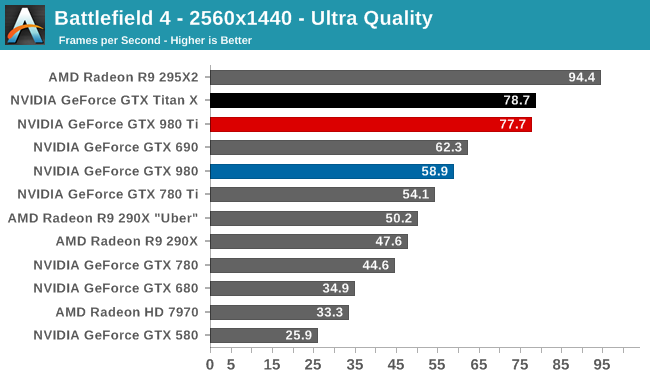 Battlefield 4 is going to set the pace for the rest of this review. In our introduction we talked about how the GTX 980 Ti may as well be the GTX Titan X, and this is one such example why. With a framerate deficit of no more than 3% in this benchmark, the difference between the two cards is just outside the range of standard run-to-run experimental variation that we see in our benchmarking process. So yes, it really is that fast.
In any case, after stripping away the Frostbite engine's expensive (and not wholly effective) MSAA, what we're left with for BF4 at 4K with Ultra quality puts the 980 Ti in a pretty good light. At 56.5fps it's not quite up to the 60fps mark, but it comes very close, close enough that the GTX 980 Ti should be able to stay above 30fps virtually the entire time, and never drop too far below 30fps in even the worst case scenario. Alternatively, dropping to Medium quality should give the card plenty of headroom, with an average framerate of 91.8fps meaning even the lowest framerate never drops below 45fps.
Meanwhile our other significant comparison here is the GTX 980, which just saw its price cut by $50 to $499 to make room for the GTX 980 Ti. At $649 the GTX 980 Ti ideally should be 30% faster to justify its 30% higher price tag; here it's almost exactly on that mark, fluctuating between a 28% and 32% lead depending on the resolution and settings.
Finally, shifting gears for a moment, gamers looking for the ultimate 1440p card will not be disappointed. GTX 980 Ti will not get to 120fps here (it won't even come close), but at 77.7fps it's well suited for driving 1440p144 displays. In fact and GTX Titan X are the single-GPU cards to do better than 60fps at this resolution.