Overclocking
Finally, no review of a high-end video card would be complete without a look at overclocking performance.
From a design standpoint, GTX 980 Ti already ships close to its power limits. NVIDIA's 250W TDP can only be raised another 10% – to 275W – meaning that in TDP limited scenarios there's not much headroom to play with. On the other hand with the stock voltage being relatively low, in clockspeed limited scenarios there's still some room for pushing the performance envelope through overvolting. And neither of these options addresses the most potent aspect of overclocking, which is pushing the entire clockspeed curve higher at the same voltages by increasing the clockspeed offsets.
GTX Titan X by comparison ended up being a good overclocker, and while we'd expect GTX 980 Tis to use slightly lower quality chips as part of the binning process, it should still overclock rather well.
GeForce GTX 980 Ti Overclocking
Stock
Overclocked
Core Clock
1000MHz
1250MHz
Boost Clock
1075Mhz
1326MHz
Max Boost Clock
1202MHz
1477MHz
Memory Clock
7GHz
8GHz
Max Voltage
1.187v
1.23v
Overall we're able to get another 250MHz (25%) out of the GTX 980 Ti's GPU, and another 1GHz (14%) out of its VRAM. This pushes the GTX 980 Ti's clockspeeds up to 1326MHz for the standard boost clock, and 1477MHz for the maximum boost clock. The card is heavily TDP limited at this point, so it's unlikely to sustain clockspeeds over 1400MHz, but working clockspeeds in the 1300MHz range are certainly sustainable. Meanwhile interestingly enough, this is actually a slightly better overclock than what we saw with the GTX Titan X; the Titan was only able to get another 200MHz out of its GPU and 800MHz out of its memory. So GTX 980 Ti ends up being the better overclocker by 50MHz.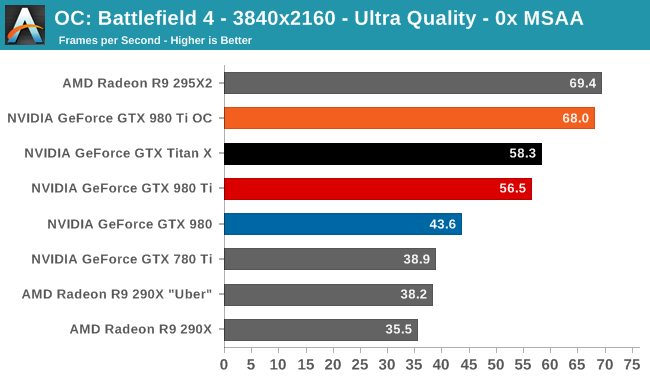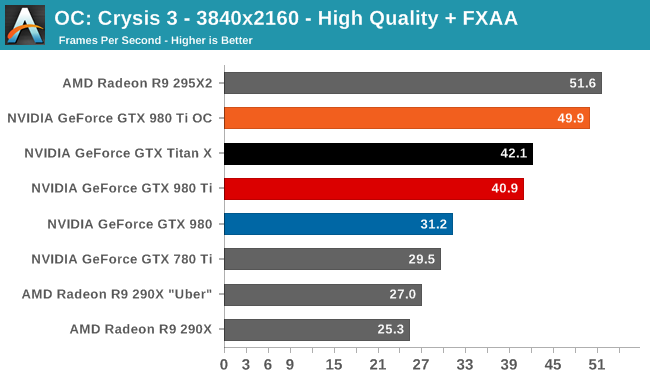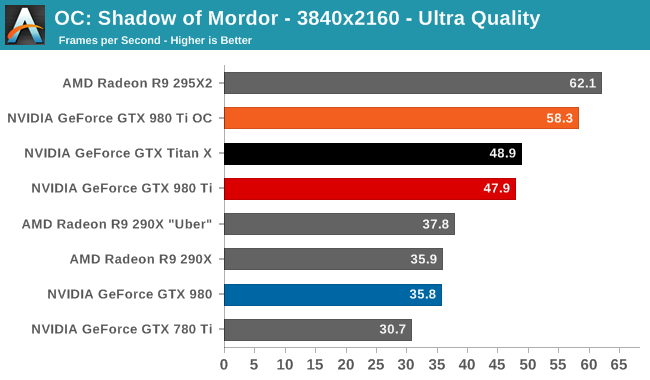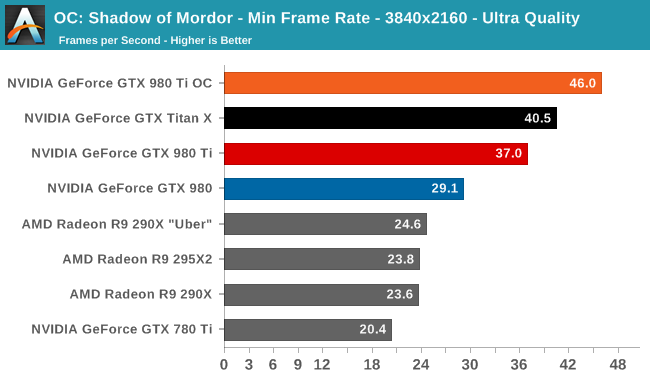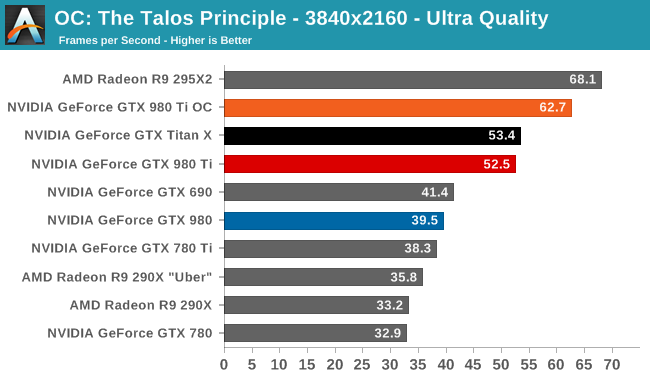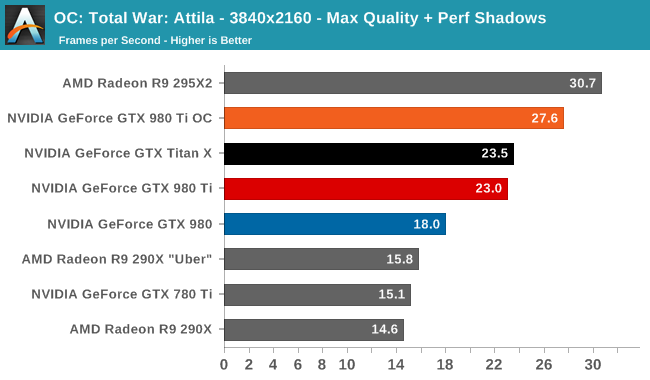 The gains from this overclock are a very consistent across all 5 of our sample games at 4K, with the average performance increase being 20%. Though not quite enough to push the GTX 980 Ti above 60fps in Shadow of Mordor or Crysis 3, it is enough to crack 60fps on Battlefield 4 and The Talos Principle.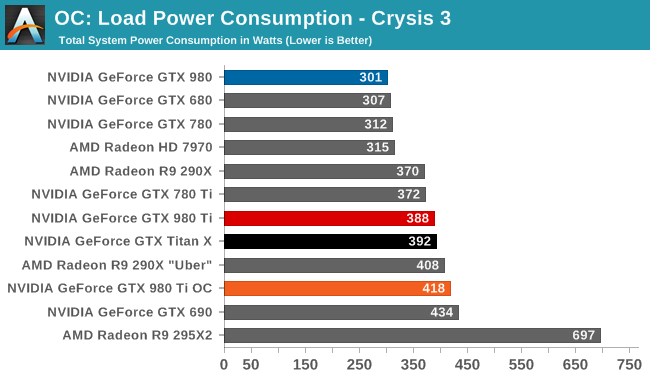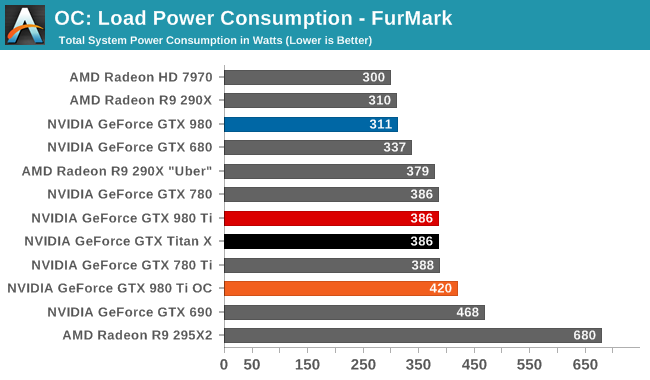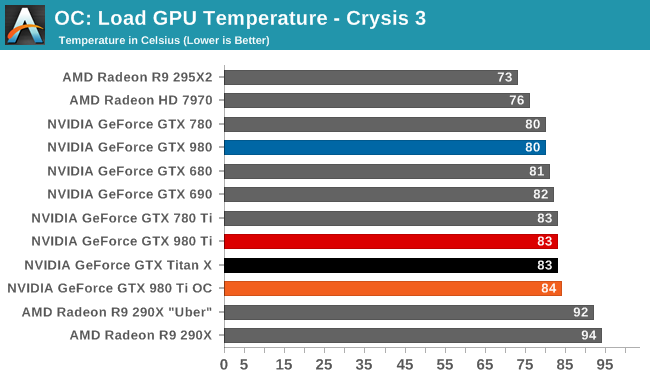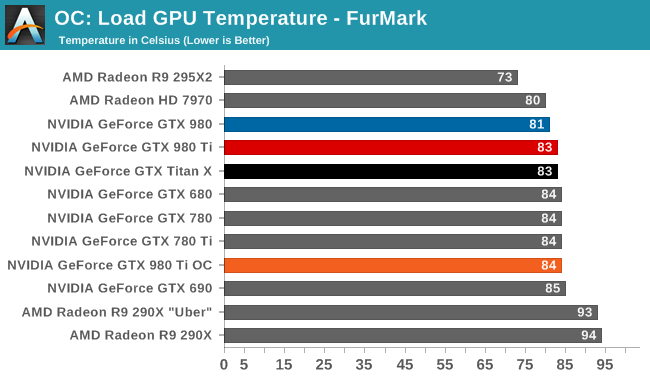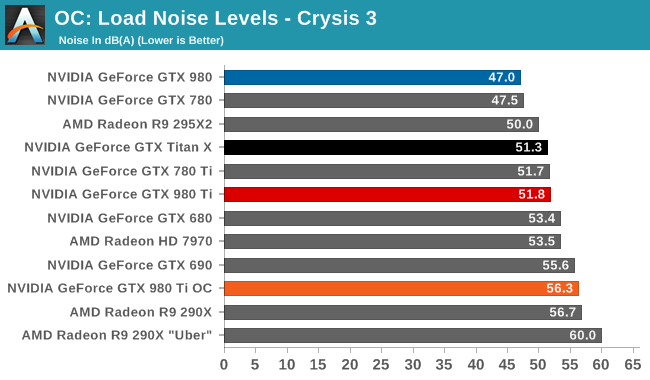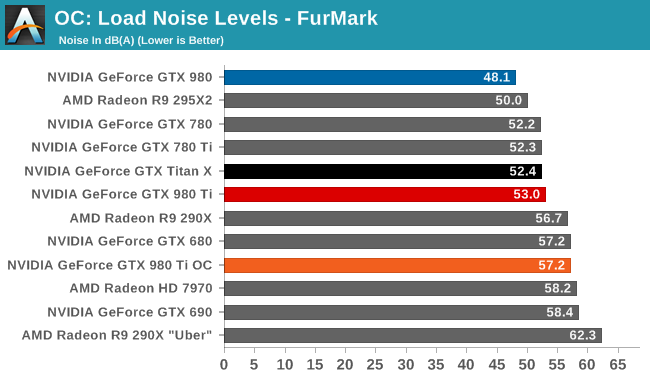 The cost of that 20% overclock in terms of power and noise is similarly straightforward. You're looking at an increased power cost of 30W or so at the wall – in-line with the 25W increase in the card's TDP – while on the noise front the GTX 980 Ti is pushed out of its sweet spot. Card noise levels will increase by around 4.5dB(A).