Synthetics
As always we'll also take a quick look at synthetic performance. Being a virtual copy of the GTX Titan X, GTX 980 Ti should perform very similarly here, just as we've seen in our gaming tests.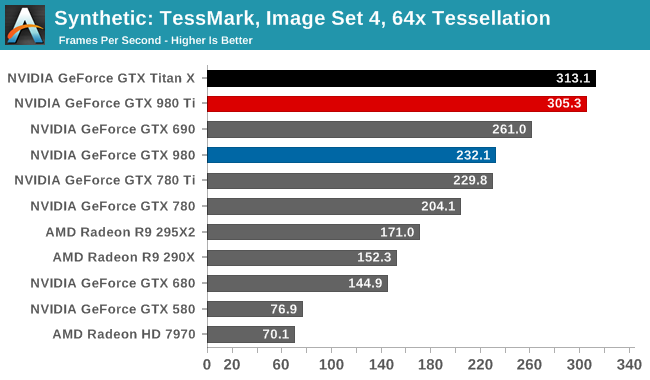 Compared to GTX Titan X, GTX 980 Ti does technically lose 2 Polymorph Engines as a result of losing 2 SMMs. However as with our games, this doesn't really hinder GTX 980 Ti, leading it being within a few percent of GTX Titan X on tessellation performance.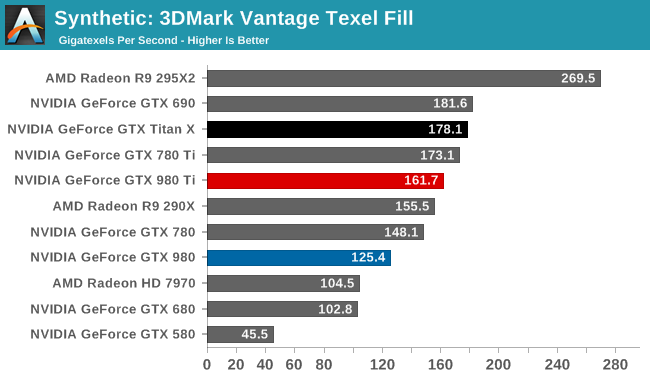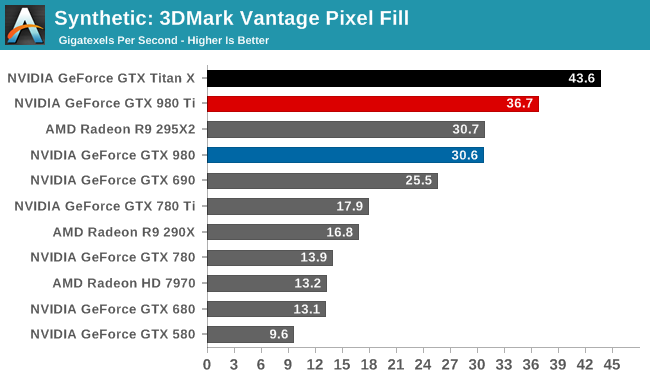 As for texel and pixel fillrates, the results are both as-expected and a bit surprising. On the expected side, we see the GTX 980 Ti trail GTX Titan X by a bit, again taking a hit from the SMM loss. On the other hand we're seeing a larger than expected drop in the pixel fill rates. GTX 980 Ti loses some rasterization throughput from the SMM loss, but a 15% drop in this test is much larger than 2 SMMs. Just to be sure we checked to make sure the ROP/MC configuration of GTX 980 Ti was unchanged at 96 ROPs, so while we can explain 10% or so (GTX 980 Ti doesn't have its clockspeed advantage in such a short test), we're at a loss to fully explain the last 5%. The short run time of the test also makes it more varaible than other tests, so that may be the last 5%.
Though in either case, despite what 3DMark is telling us, we aren't seeing any signs of GTX 980 Ti struggling at 4K versus GTX Titan X. So if there is a meaningful difference in pixel fillrates, it's not impacting game performance.