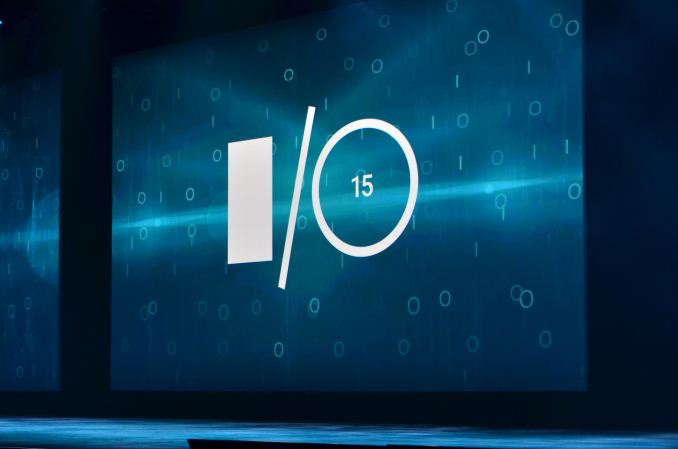 11:34AM EDT - This is Joshua Ho here on text, a cursory check of press WiFi and LTE uploads suggests that photo upload is unlikely
11:37AM EDT - We'll be posting images from the live streram to compensate, hopefully.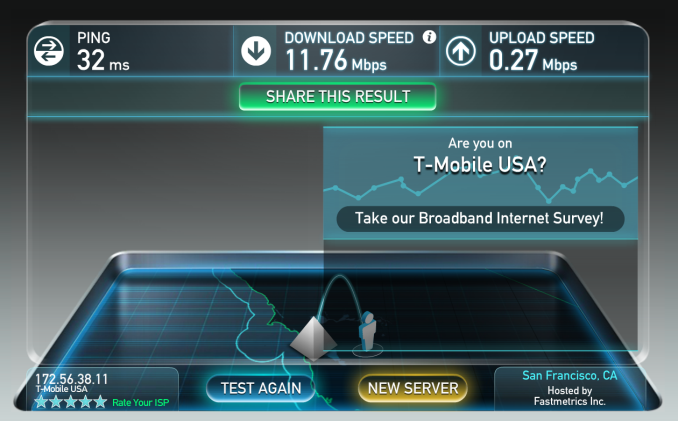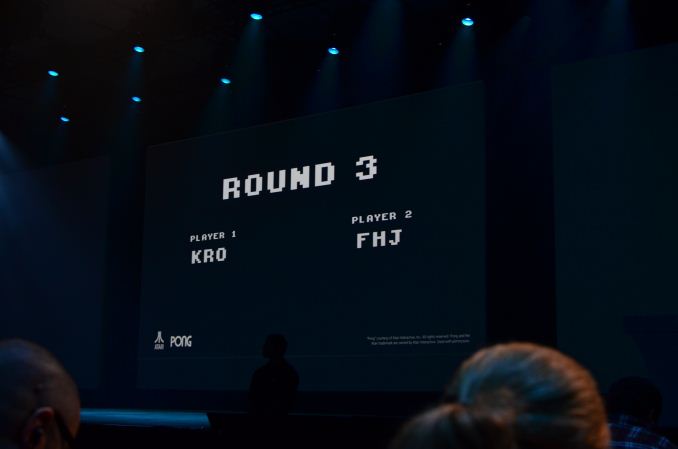 11:57AM EDT - AT&T LTE reports about 8 Mbps up, hopefully that holds
11:58AM EDT - For some reason some pong just happened, not sure what that was for
12:00PM EDT - Currenntly waiting on the keynote address, around half an hour to go until start
12:02PM EDT - We can probably expect to see Android M, with the M dev preview going online soon after the keynote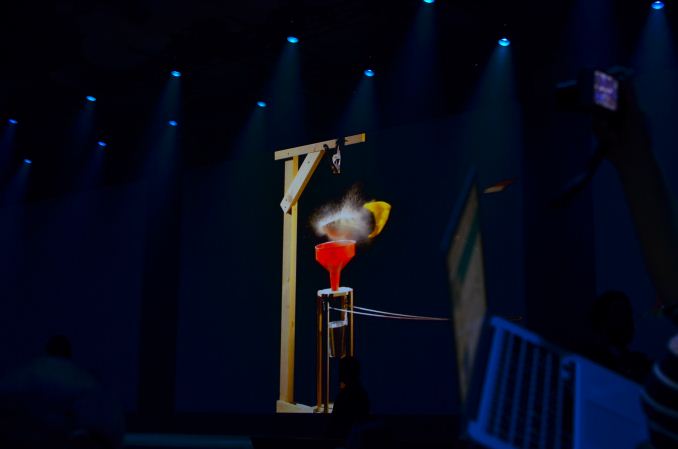 12:14PM EDT - Some sort of rube goldberg machine? Probably not relevant but neat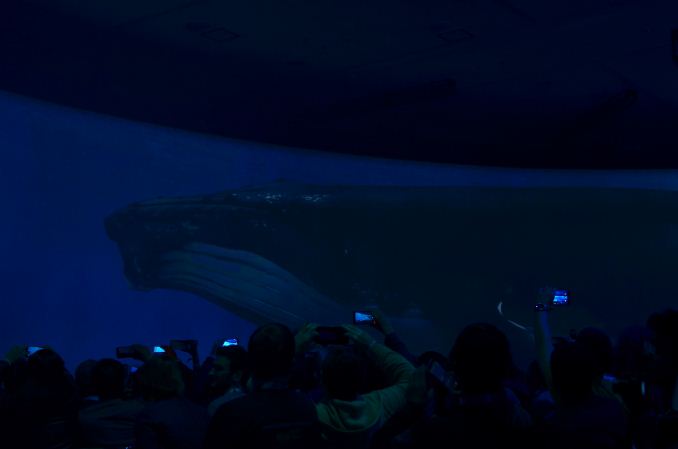 12:15PM EDT - Also, a whale.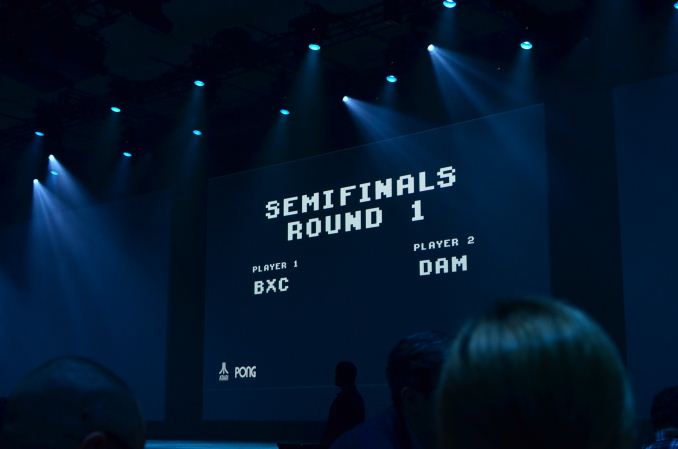 12:16PM EDT - Also, more pong.
12:34PM EDT - There's more pong going on, presumably we're about to start the keynote after this.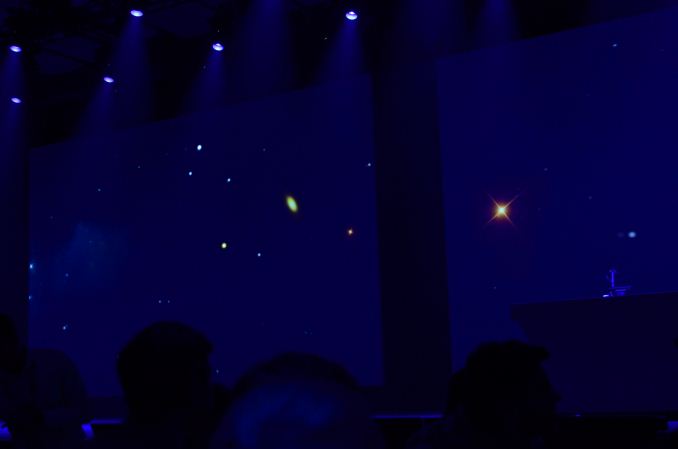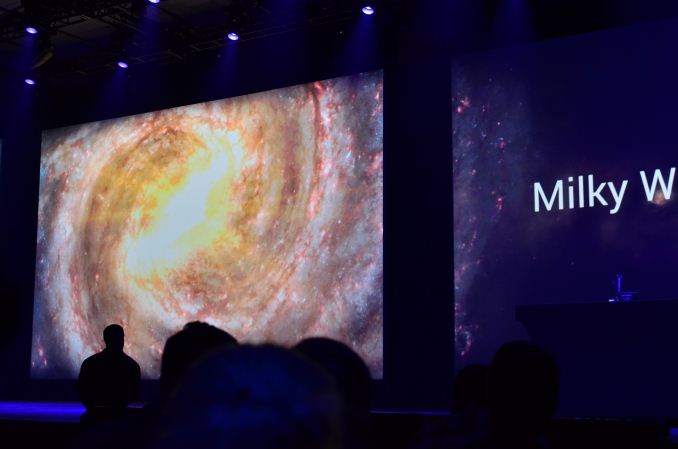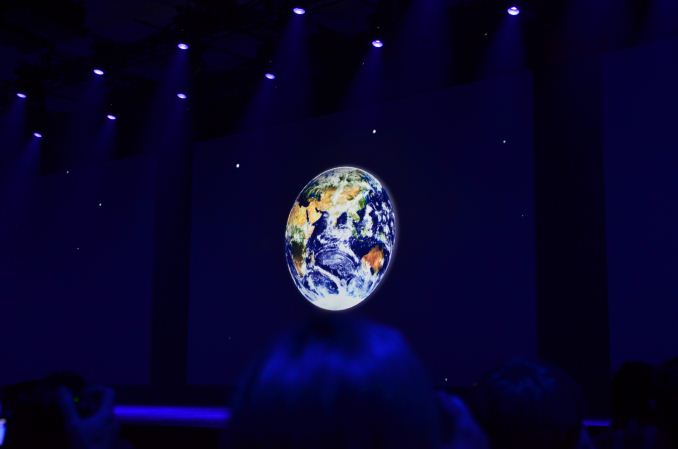 12:37PM EDT - Now that we're done with a flythrough of the universe presumably this is when the actual keynote starts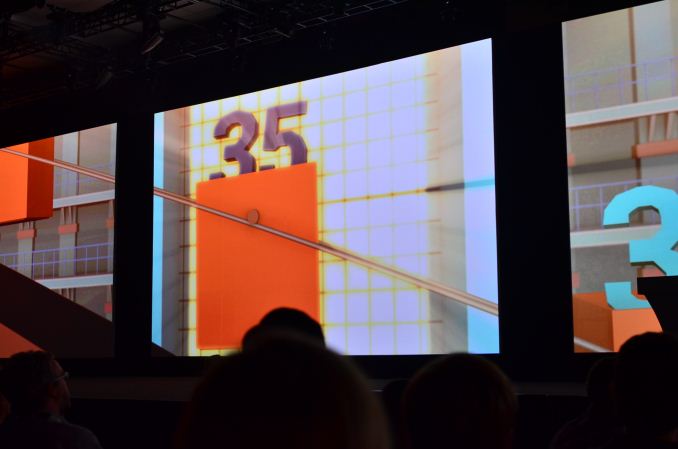 12:38PM EDT - Appears to be a countdown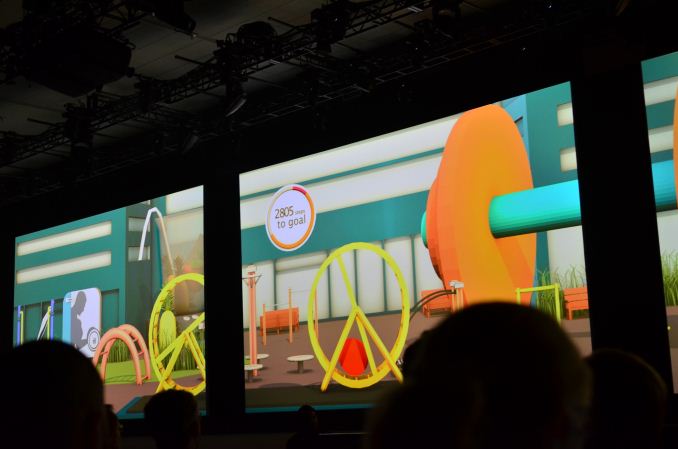 12:40PM EDT - Presumably Android Wear will be a focus here as well judging by the animation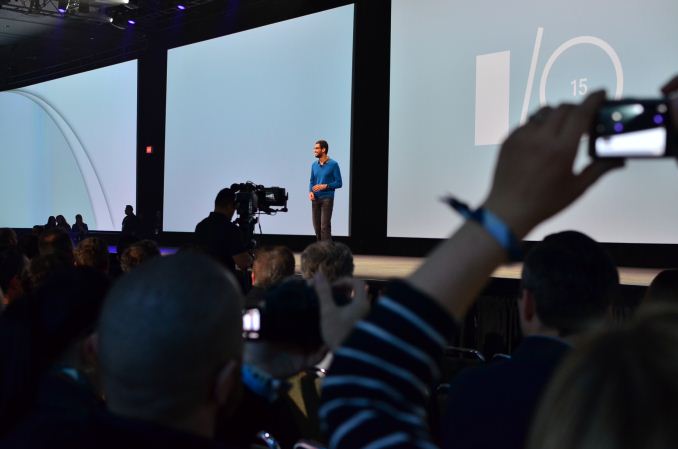 12:42PM EDT - Sundar Pichai takes the stage, over 2M watching the livestream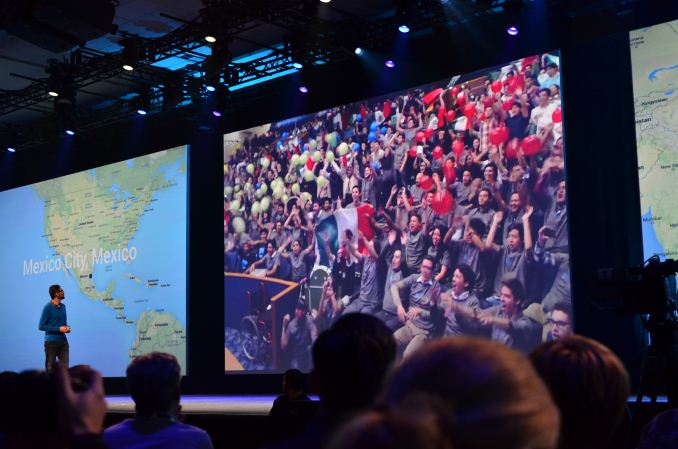 12:42PM EDT - Various livestream sessions shown on stage right now, seems to be done using Hangouts
12:43PM EDT - Now discussing how mobile is important, how it targets everyone in the world
12:43PM EDT - Google Search worked the same for everyone in the world, which is what made it so powerful if there was a PC and connectivity
12:44PM EDT - GMail was designed to solve mail issues, YouTube and Maps to deal with real world interests, Chrome to solve web browser issues, Android to solve issues in mobile.
12:44PM EDT - Over a billion users across multiple products
12:45PM EDT - Focusing on computing platforms and Android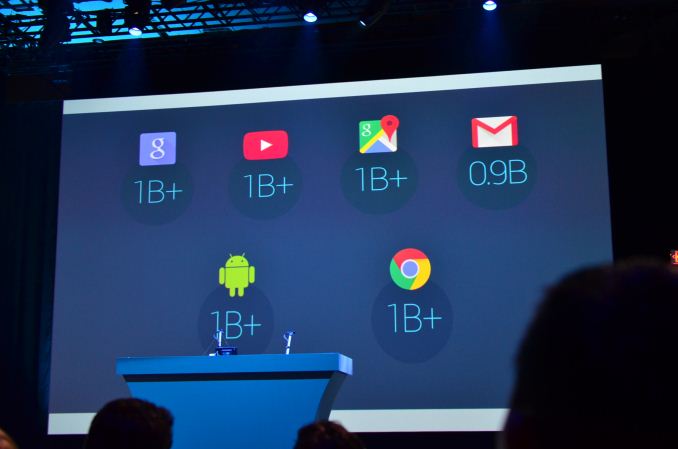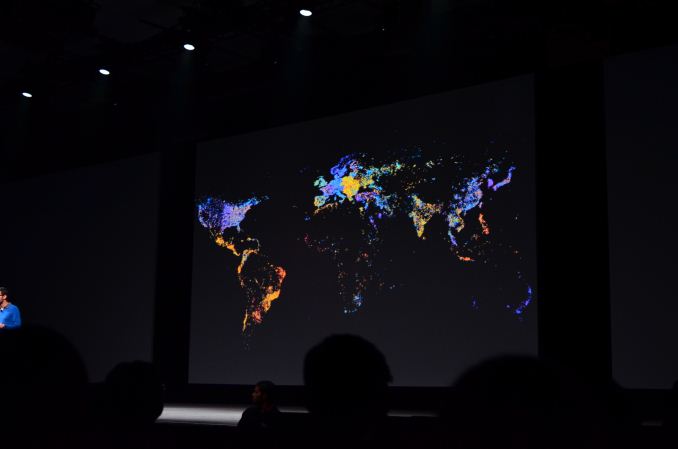 12:46PM EDT - The goal of Android is to be together but not the same because there are so many price points for Android to hit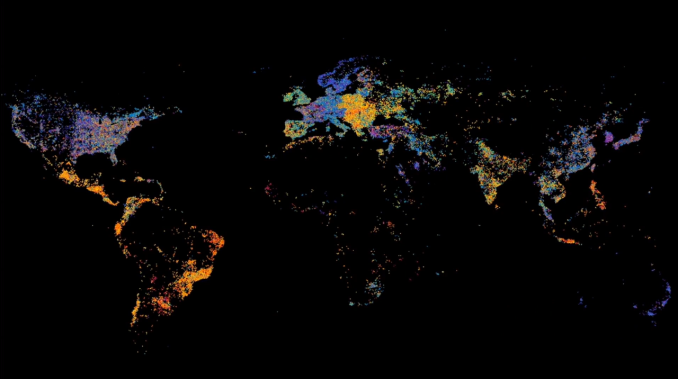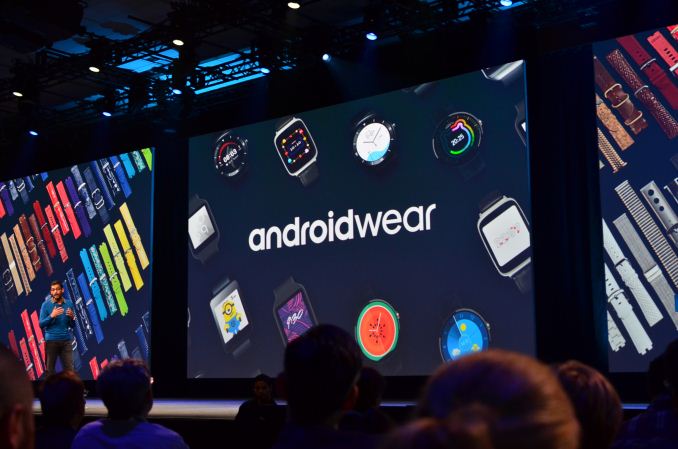 12:47PM EDT - Android Wear started with two models, today over 7 models. Software is evolving.
12:47PM EDT - Android Auto will also be a topic today
12:47PM EDT - As will be Android TV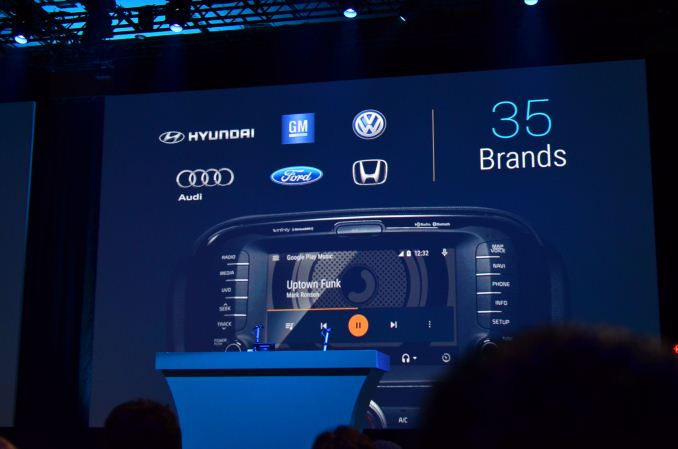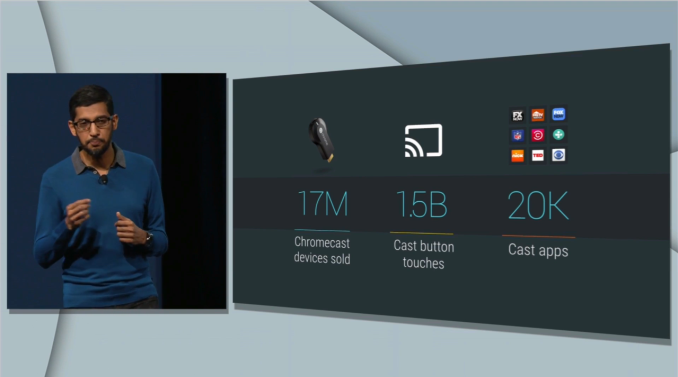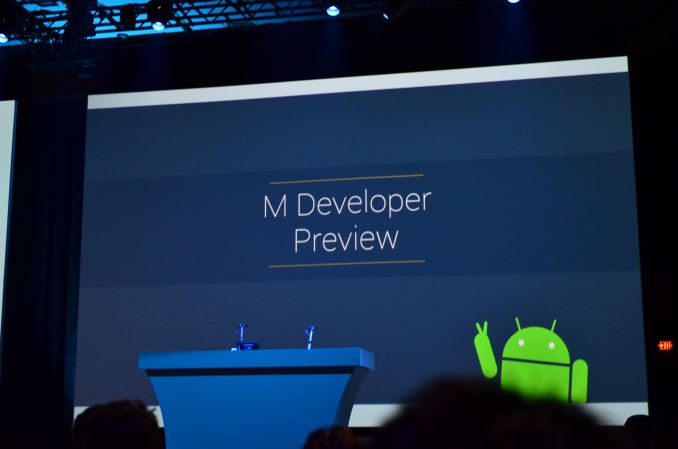 12:50PM EDT - M Developer Preview is happening. Focus will be on quality and polish.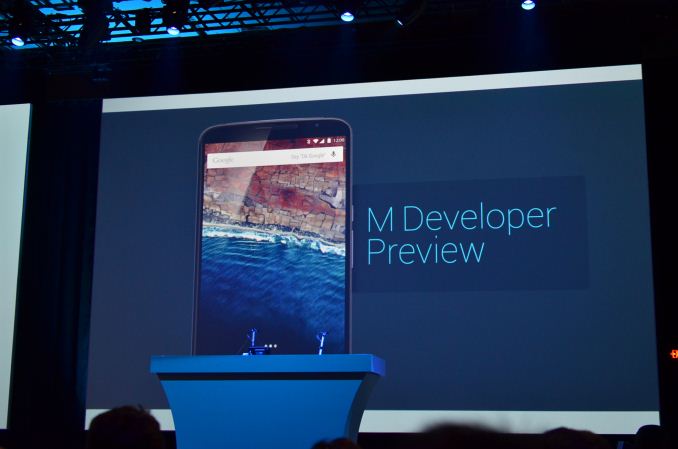 12:50PM EDT - Six key areas of improvement in M
12:51PM EDT - Rethinking app permissions with control over apps
12:51PM EDT - There are now fewer permissions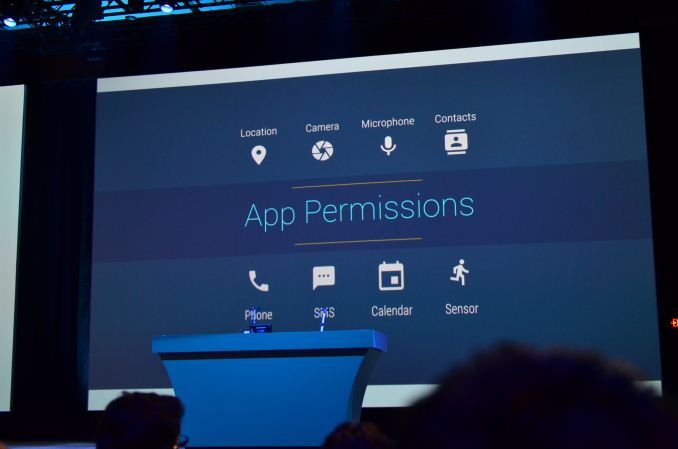 12:52PM EDT - Apps will only ask for permission the first time the app uses the permission without need to approve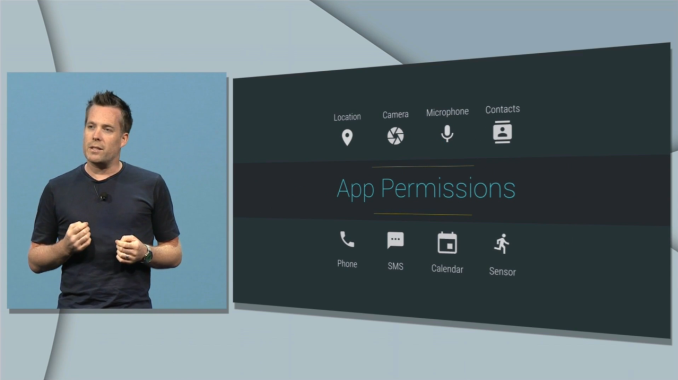 12:52PM EDT - You can change permissions after you grant or deny them as well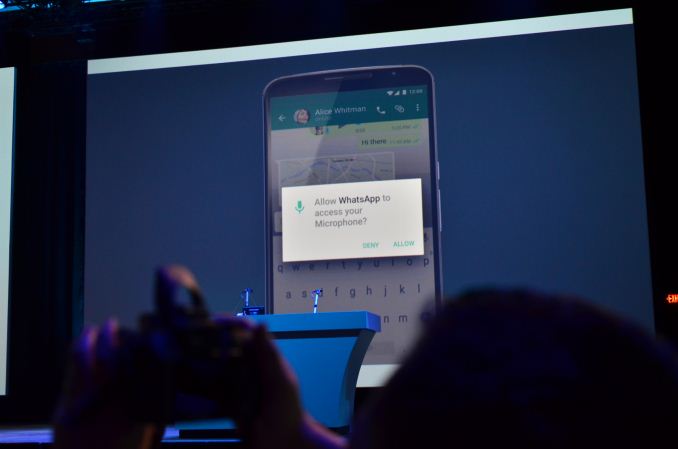 12:53PM EDT - Older applications won't be affected by these changes unless updated to M SDK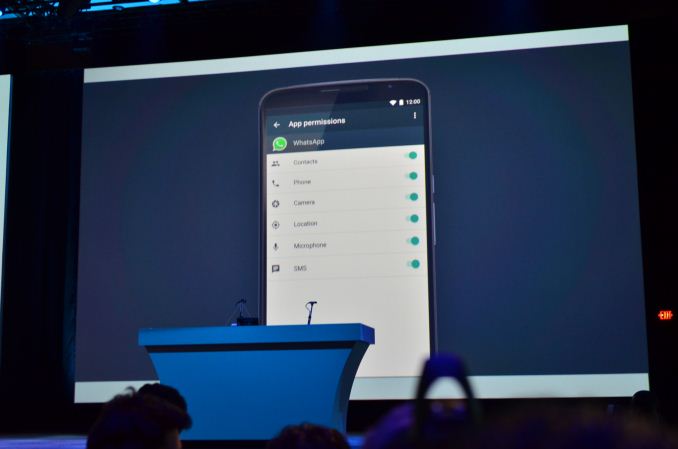 12:53PM EDT - Next is web experience, Google has noticed a change in how users consume web content
12:54PM EDT - Chrome custom tabs let you embed Chrome into apps with seamless UX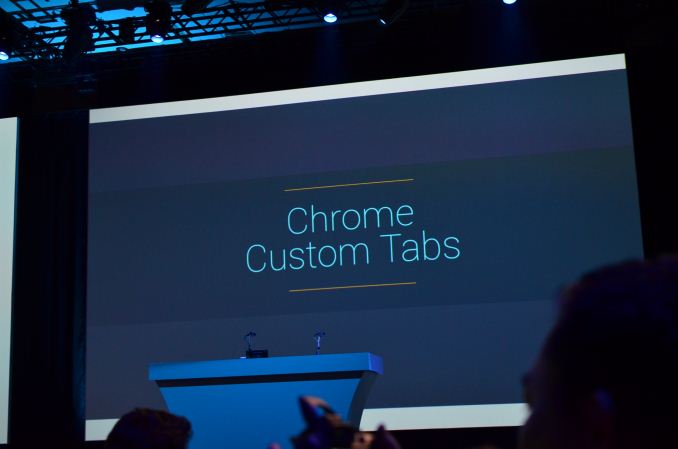 12:55PM EDT - The app can adapt the UI to its own use but it's still chrome, Pintrest is used as an example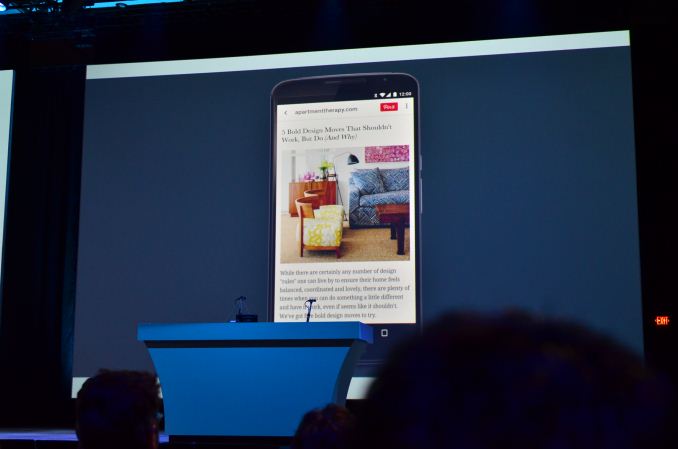 12:55PM EDT - All of your user passwords are saved, auto fill is available, and it's available on the Chrome Dev channel and mass release Q3 this year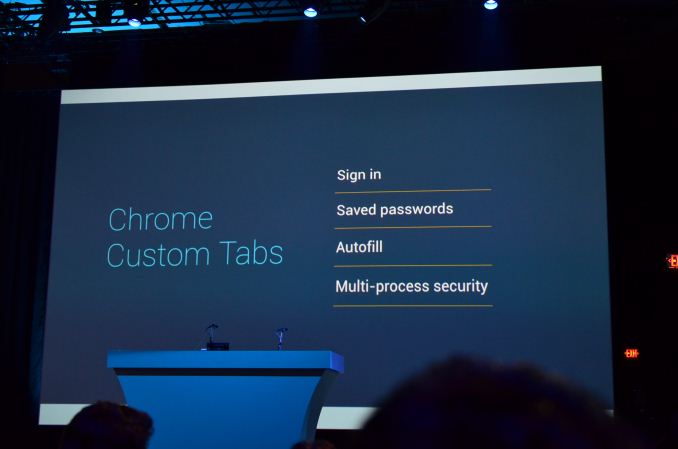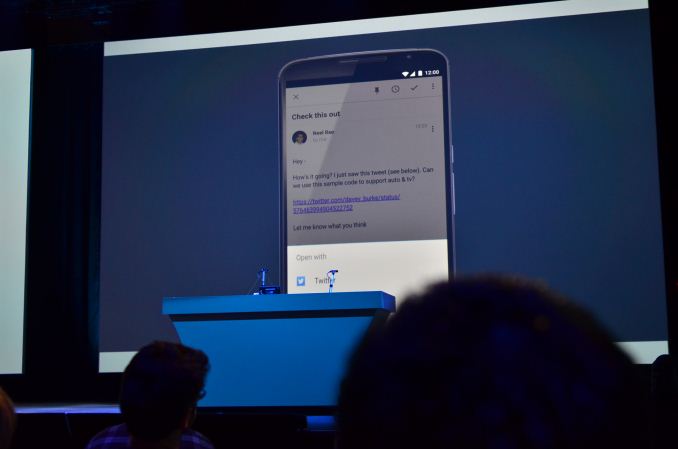 12:57PM EDT - App links is up next, appears to improve intents system. Eliminates the disambiguation dialog for twitter links, etc.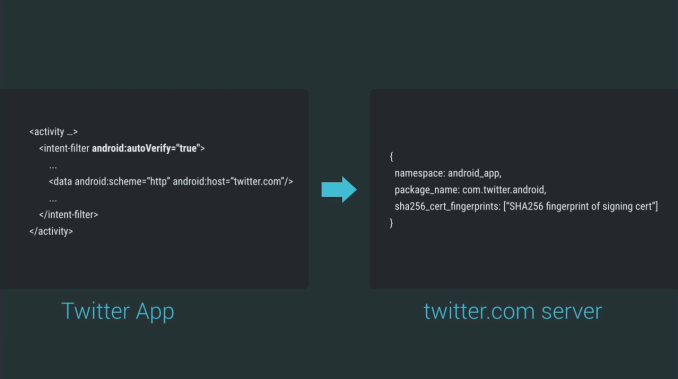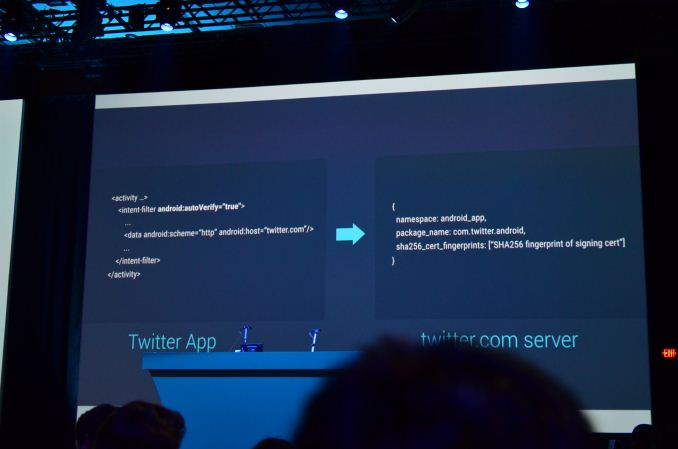 12:58PM EDT - Has to be added to app manifest to ensure that you own the links.
12:58PM EDT - Android Pay is up next, focused on security, simplicity, and choice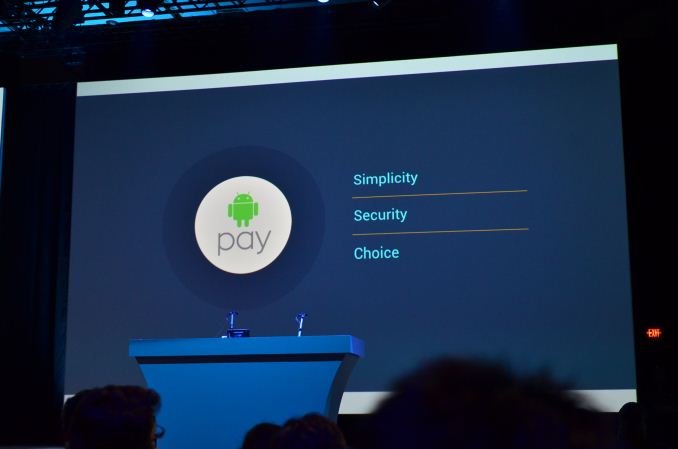 12:59PM EDT - No mention of global support yet, which would be the real coup
01:00PM EDT - Android Pay is supposed to get better with M with fingerprint authentication.
01:00PM EDT - This appears to be a rebranding of Google Wallet, with expanded support to allow all apps to use Android Pay for payments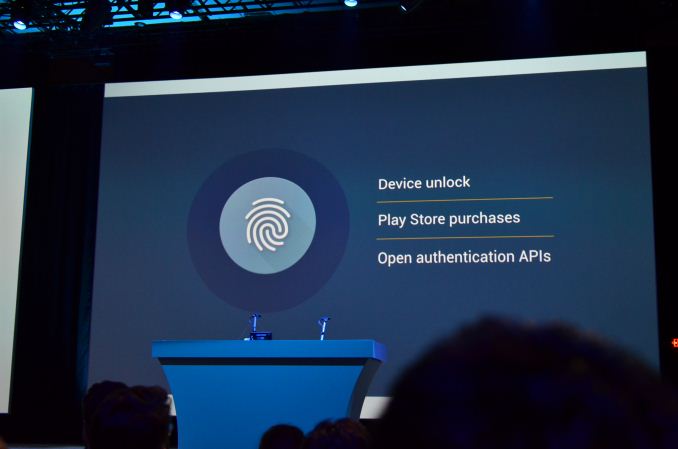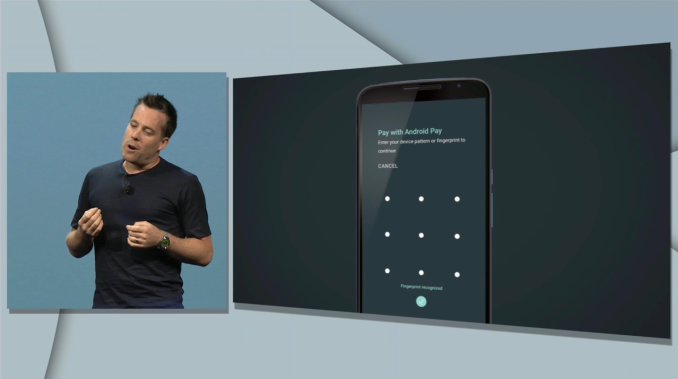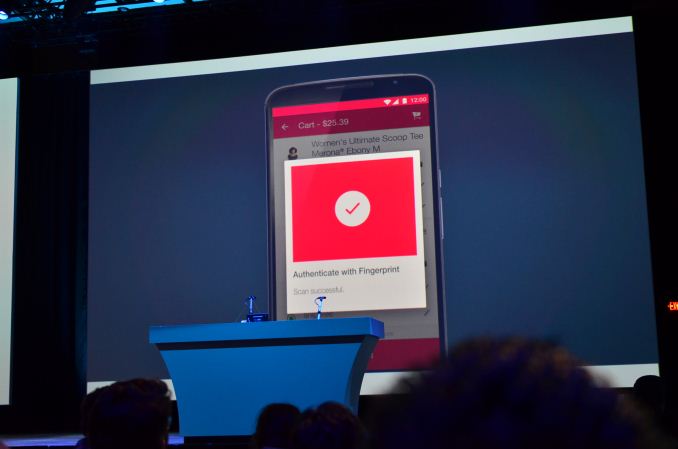 01:02PM EDT - Power and charging is up next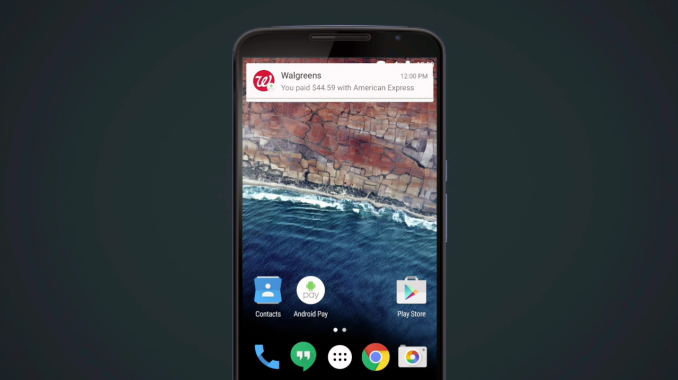 01:02PM EDT - Doze is the first new feature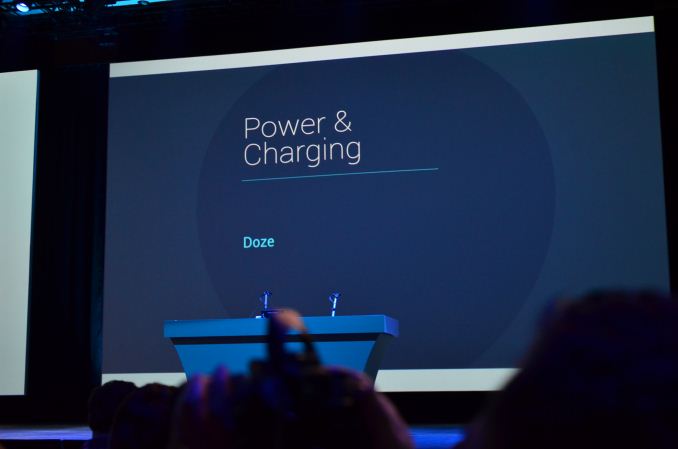 01:03PM EDT - With M, Android uses significant motion detection to determine when you haven't used the device for a long time and will step back on sync schedules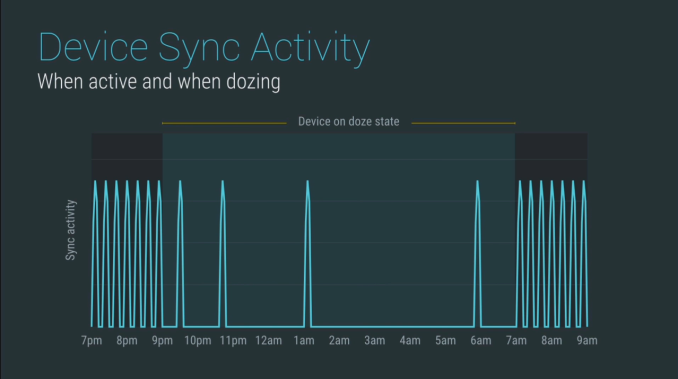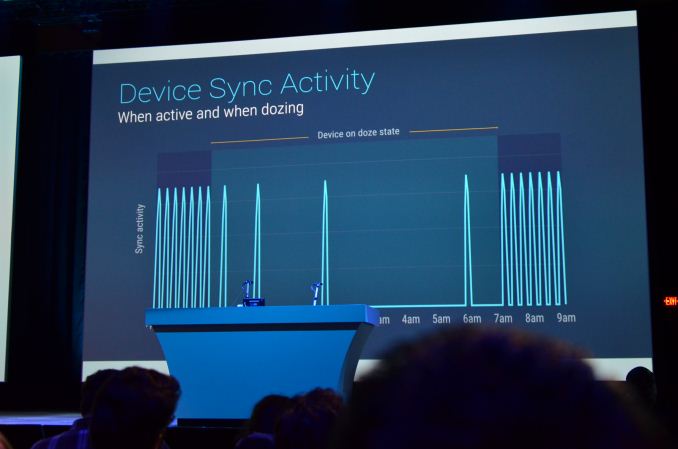 01:03PM EDT - Nexus 9 with this Doze feature can get up to 2x standby time. USB Type C brings fast charging as well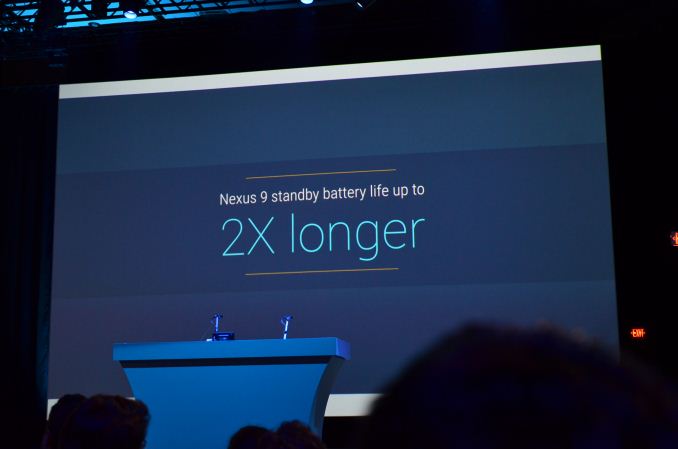 01:04PM EDT - Android M brings USB Type C settings for bi-directional use. Also working with OEMs to bring phones with C.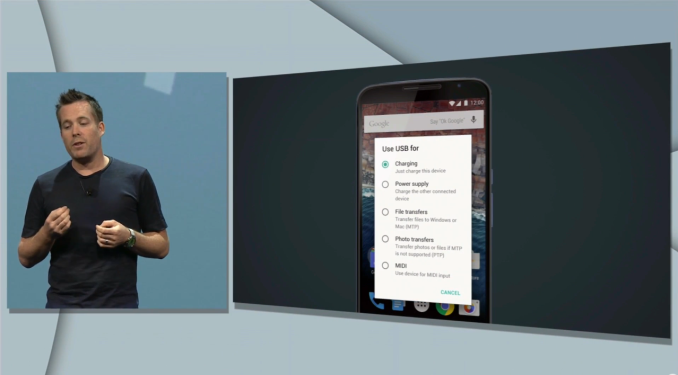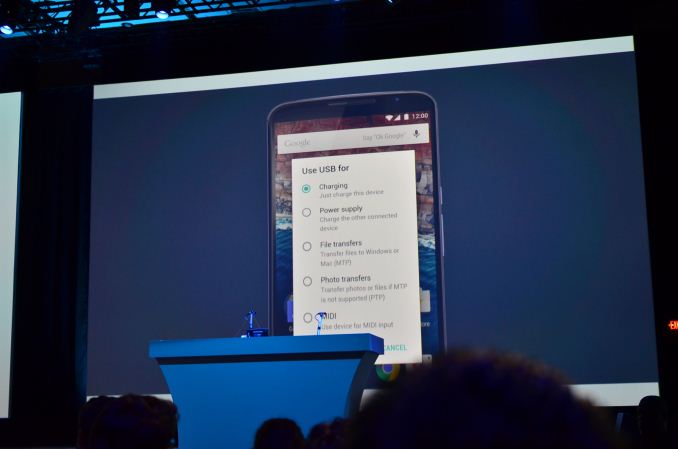 01:05PM EDT - Silent mode is back???
01:05PM EDT - No, doesn't seem that way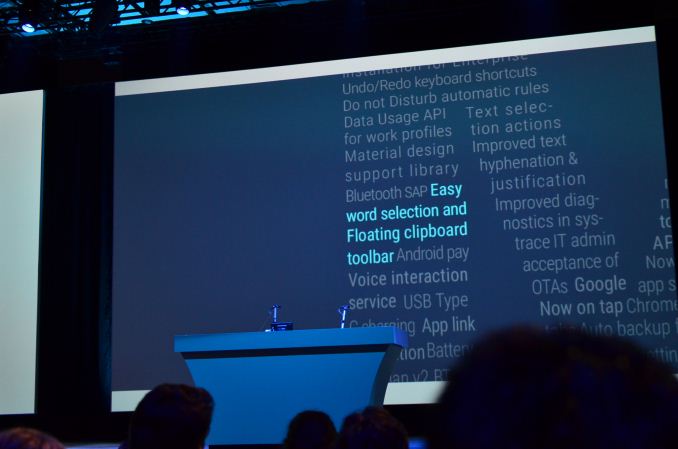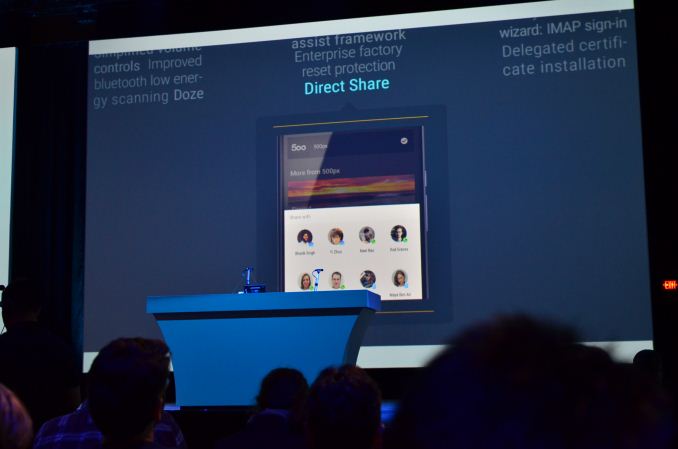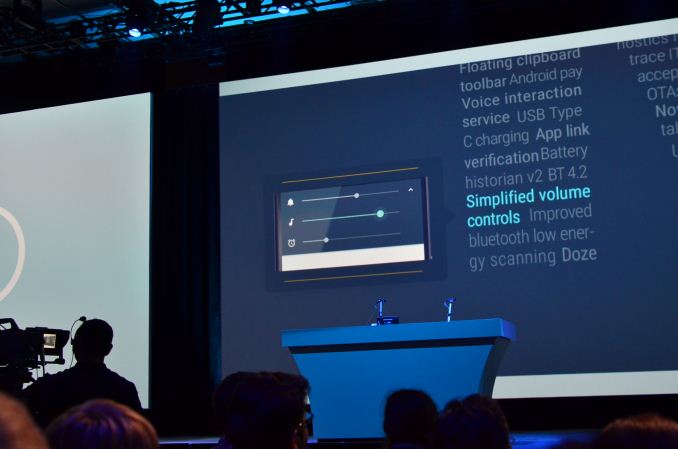 01:07PM EDT - Android Wear is up next after this, Google is focusing on choice of watches.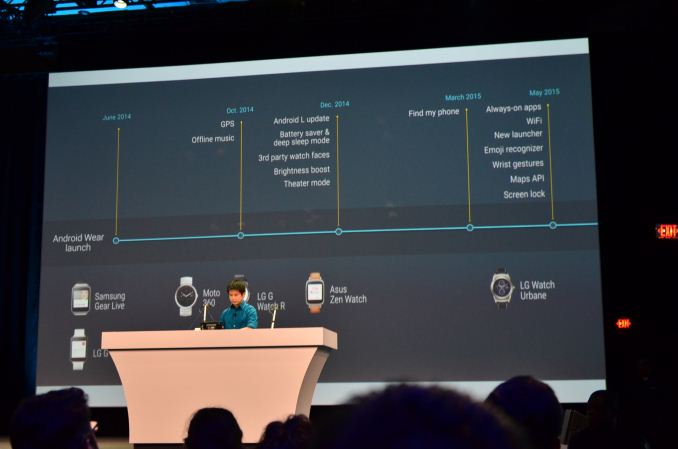 01:08PM EDT - There have been a bunch of updates to Android Wear since the original Android Wear release on 4.4.
01:08PM EDT - "We're evolving Android Wear even further"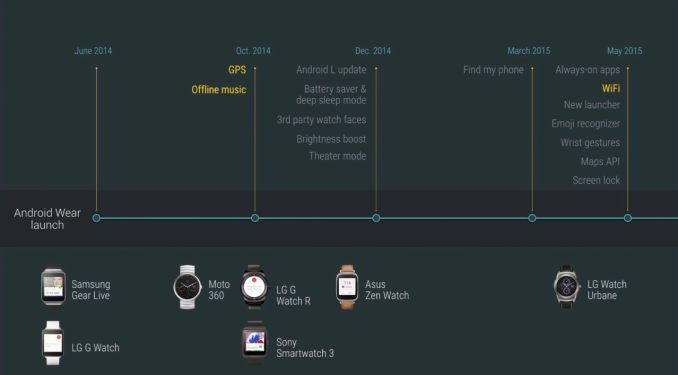 01:08PM EDT - Appears that they're focusing on glances.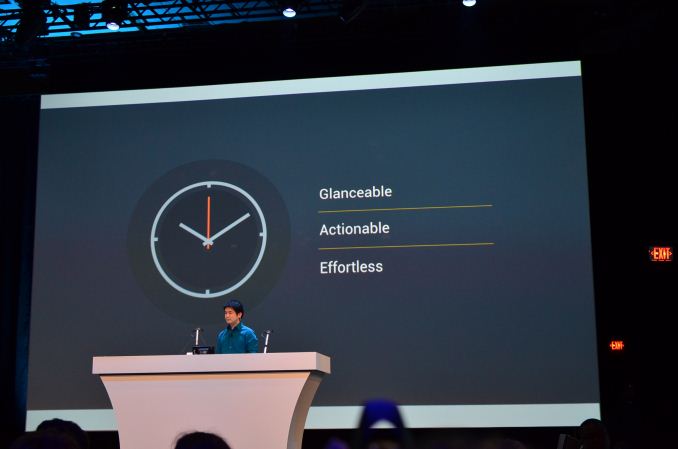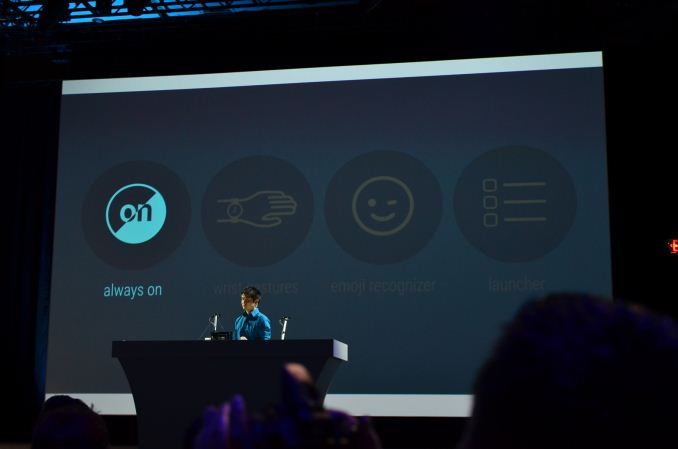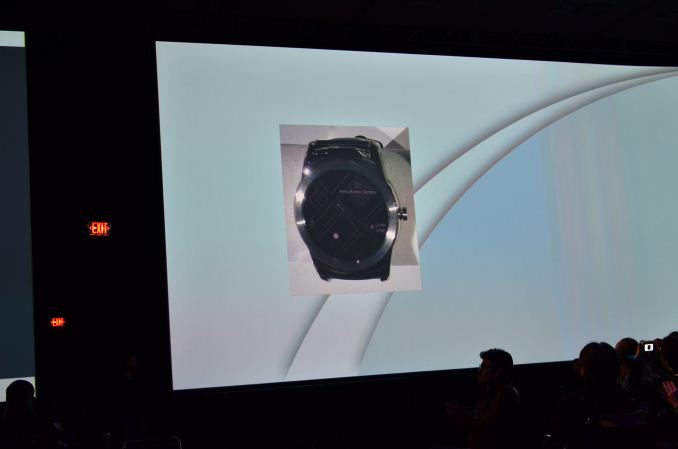 01:10PM EDT - Android Wear will add always-on apps like low power always-on tasks, maps, etc. New gestures such as flicking through notifications with a wrist flick.
01:11PM EDT - You can draw and send emoji. Not sure how valuable this is...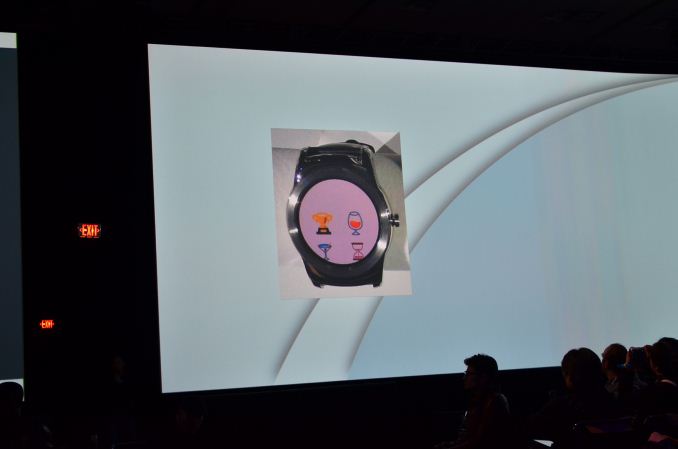 01:11PM EDT - I wasn't a fan of emoji on the Apple Watch, not sure if it's really a good idea but I never was all that interested in emoji to begin with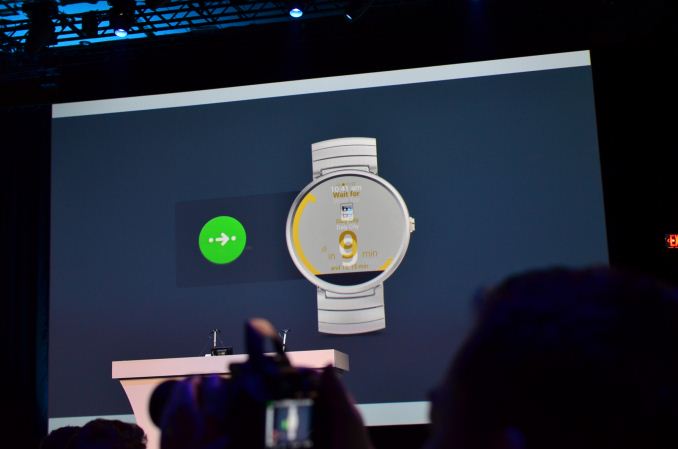 01:12PM EDT - Uber can be called with OK Google Call a Car.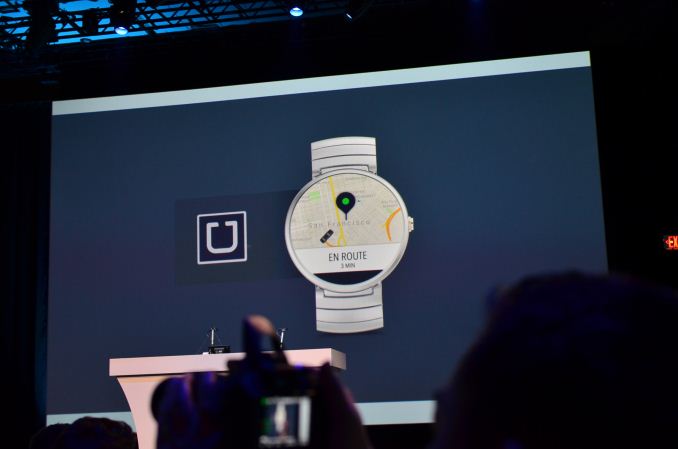 01:13PM EDT - Some fitness emphasis such as golf swing analysis, Shazam recognition, Google Fit, etc.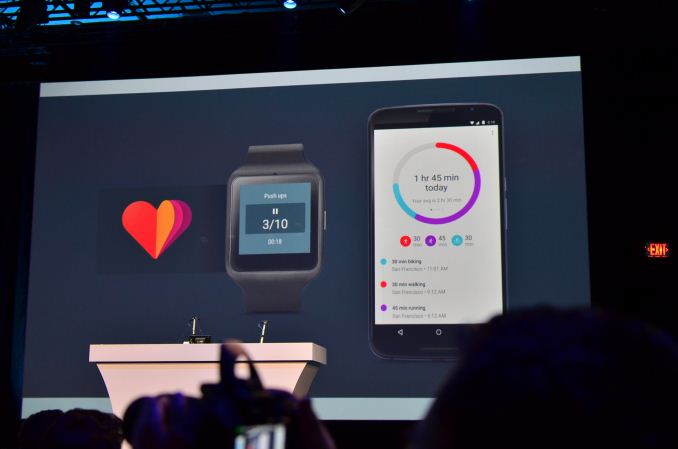 01:14PM EDT - More than 4000 Android Wear Apps today.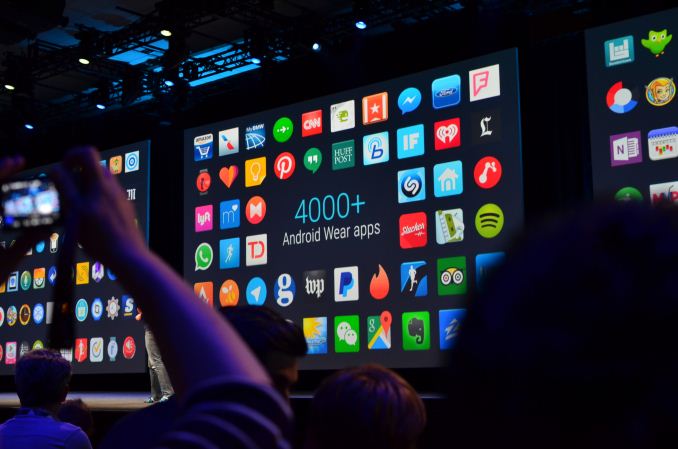 01:14PM EDT - Android is "ultimately about choice"
01:15PM EDT - I suspect Android Wear will still need a dedicated wearable SoC, MediaTek has released one but not much else in that space.
01:15PM EDT - It sounds like we're about to learn about Android Home?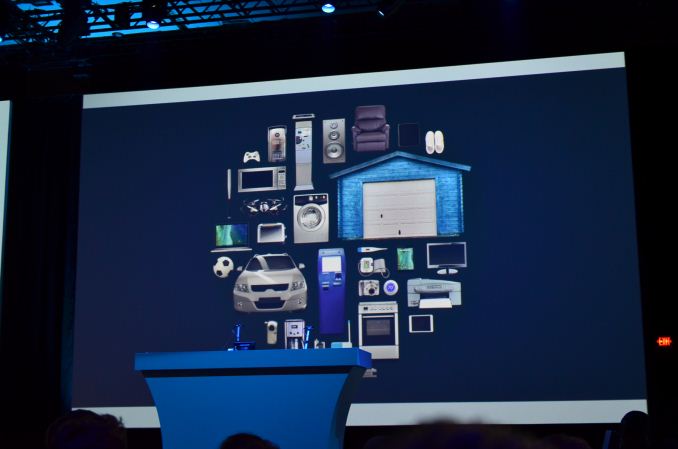 01:16PM EDT - IoT is interesting but a smart home doesn't really need cloud access for most things...
01:17PM EDT - IoT isn't really a place where hardware can help, most of these things don't need bleeding-edge processes
01:17PM EDT - Google is trying to make an end to end IoT system.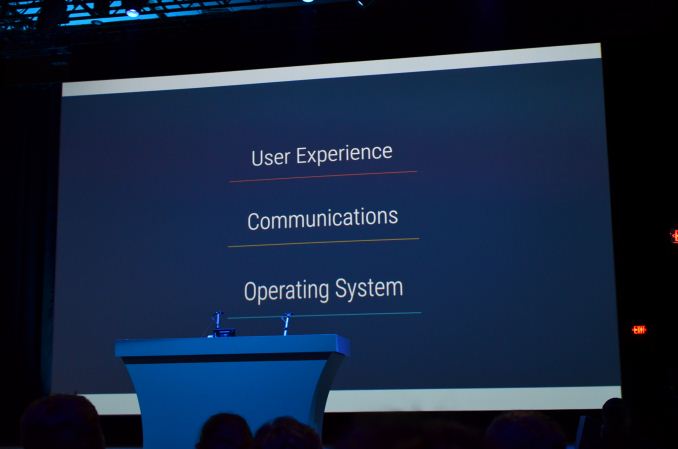 01:18PM EDT - Project Brillo is an IoT OS
01:18PM EDT - It's based on Android but stripped down.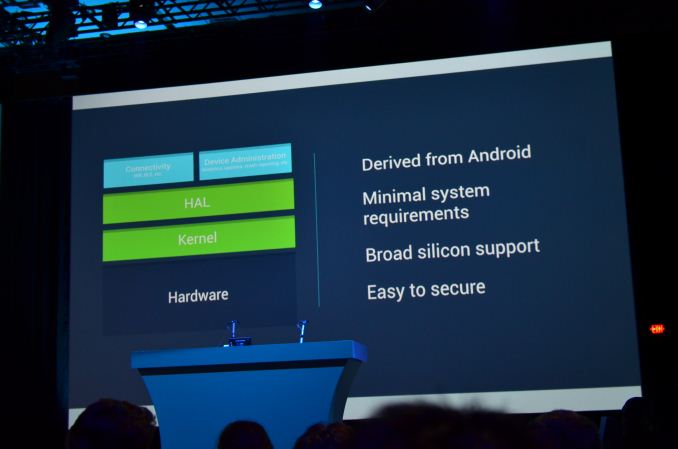 01:19PM EDT - So Linux, drivers, and some userland APIs but it isn't clear how much is retained.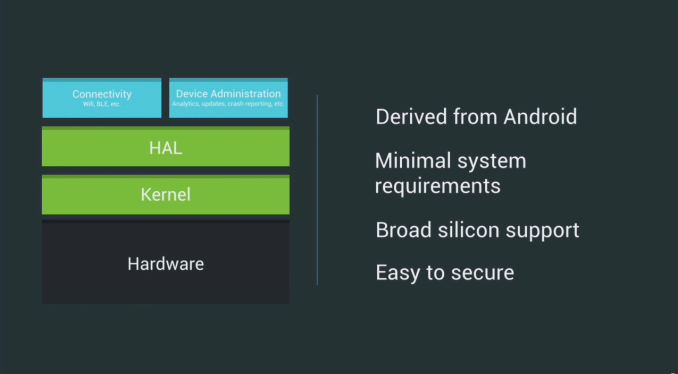 01:19PM EDT - EAVE is the communications layer.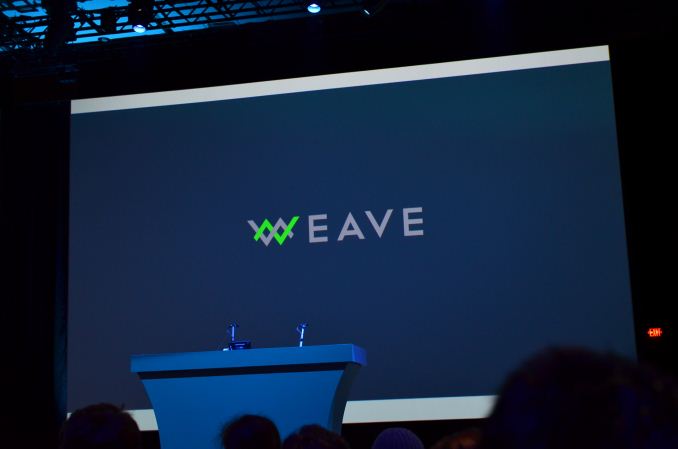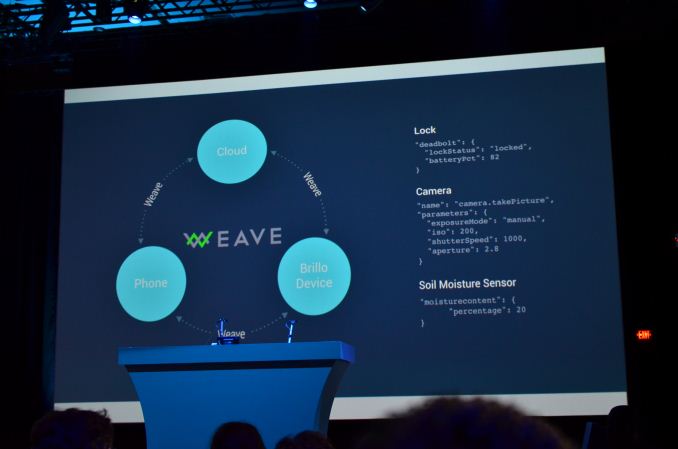 01:20PM EDT - Not EAVE, WEAVE. Apologies for the typo.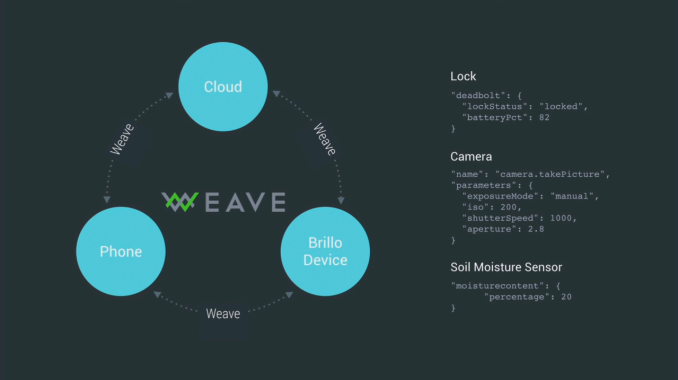 01:20PM EDT - Developer APIs are cross-platform with WEAVE. Voice APIs are included.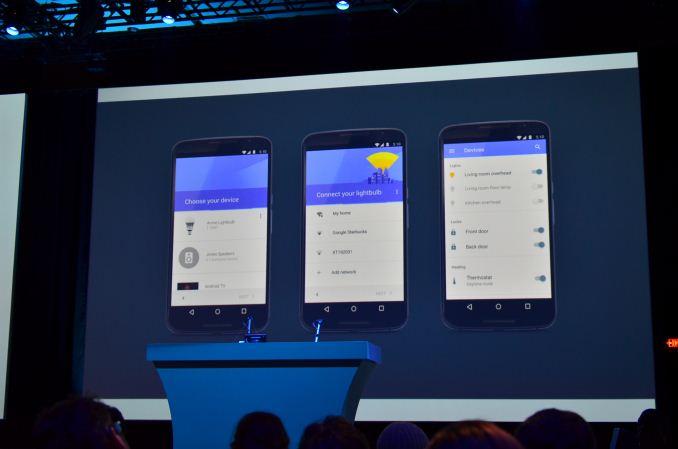 01:21PM EDT - Android will have a standardized interface that just works with Brillo and Weave. Q3 2015 will be dev preview for Brillo and Q4 2015 for Weave.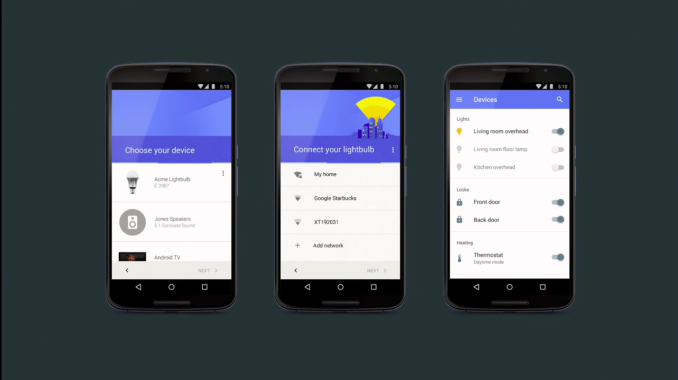 01:22PM EDT - Guess it wasn't Android Home.
01:23PM EDT - Machine learning is crucial for NLP, image recognition, and a ton of other problems that Google search solve
01:23PM EDT - This is done doing deep neural nets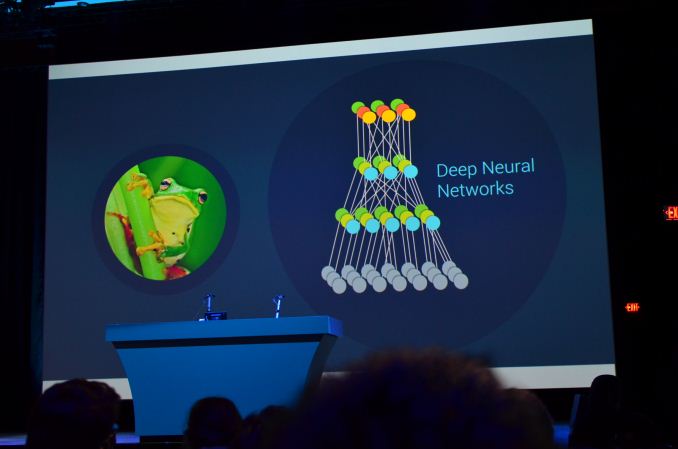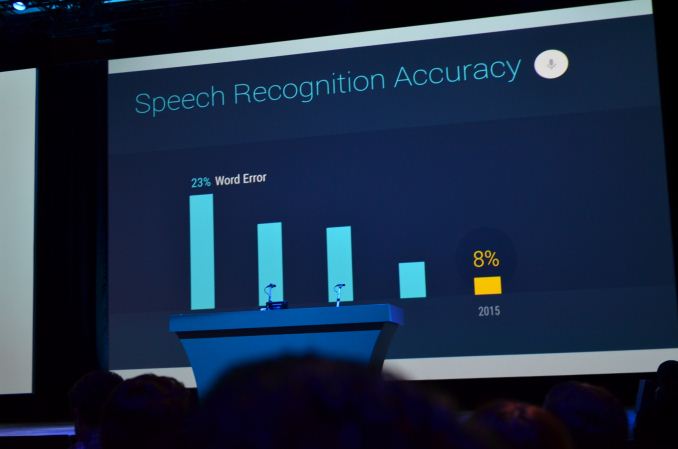 01:24PM EDT - These breakthroughs help with reducing voice error to 8% compared to 23% in the past.
01:25PM EDT - Google Now is being discussed
01:26PM EDT - Personally I would love to just see if Google Now reduced its battery impact, in my experience it causes a great deal of location wakelock.
01:26PM EDT - As-is I've never kept GNow on for extended periods of time to improve battery life.
01:27PM EDT - Three tents of GNow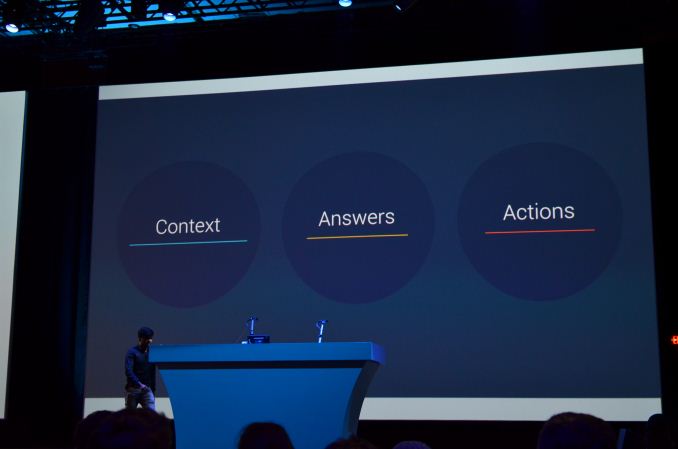 01:29PM EDT - Google has over 1B elements in their knowledge graphs (the data structure, presumably)
01:30PM EDT - Now bringing third party actions to Google Now.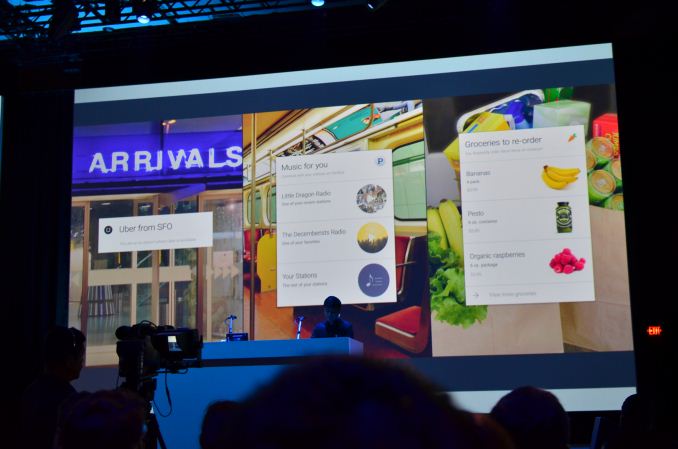 01:31PM EDT - Now on Tap is the new feature to be announced here
01:31PM EDT - Rolls out in M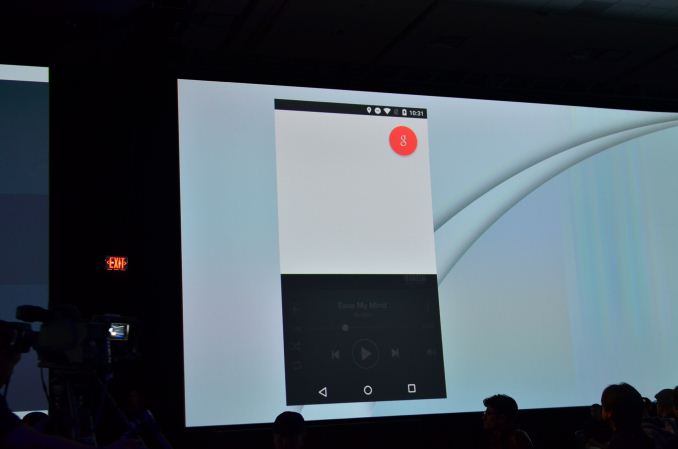 01:32PM EDT - This means that you can be in a music app, use voice activation to ask what Skrillex's real name is without the need to explicitly state his name based upon the context.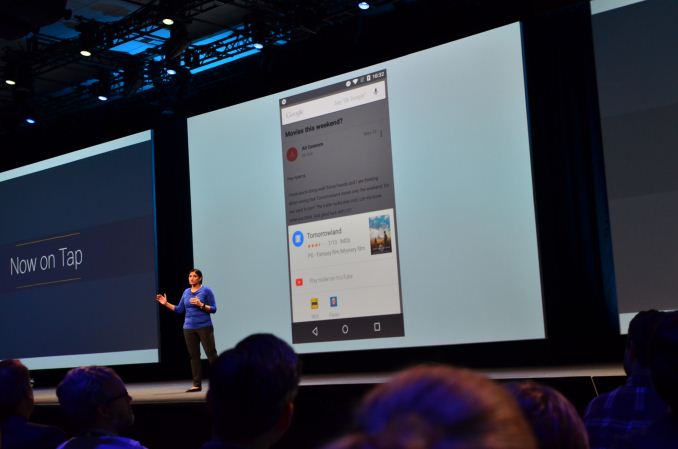 01:33PM EDT - Tap and hold the home button while in an app to get contextual information. Movie in GMail is the demo.
01:33PM EDT - No dev work needed on third party apps, Google does this without issue.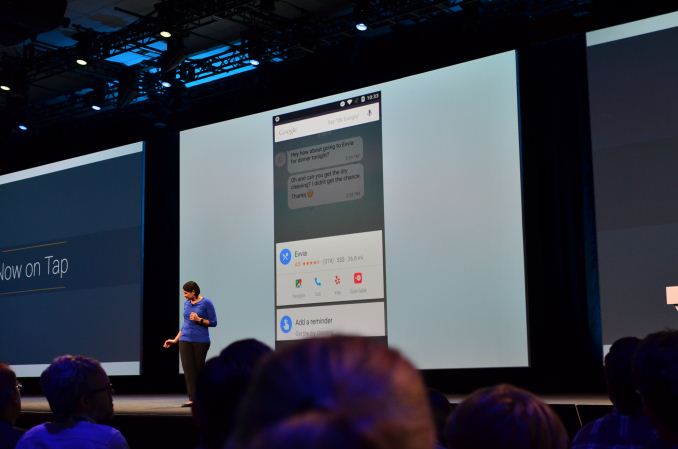 01:34PM EDT - I really have to ask how much power it takes to do this, AFAIK currently GNow anywhere doesn't seem to use any low power DSP outside of special cases.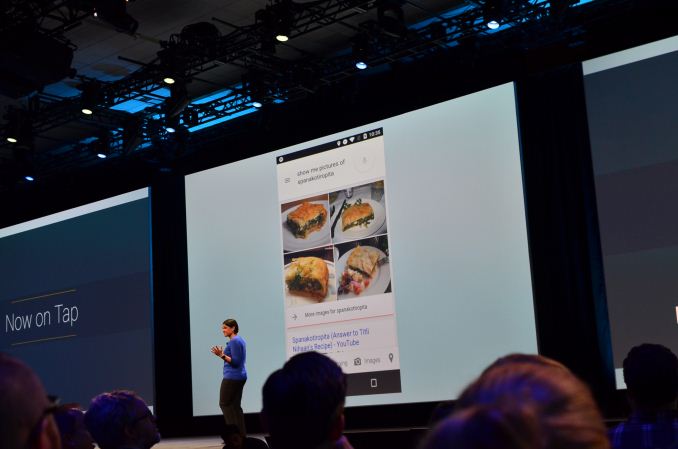 01:36PM EDT - A quick demo of how context allows with adaptive NLP to deal with issues with pronounciation
01:38PM EDT - Photos up next it seems
01:38PM EDT - Anecdote about how many photos and videos we now take for events
01:39PM EDT - Volume has made it hard for people to go back and remember moments.
01:39PM EDT - Google Photos aims to try and deal with this problem.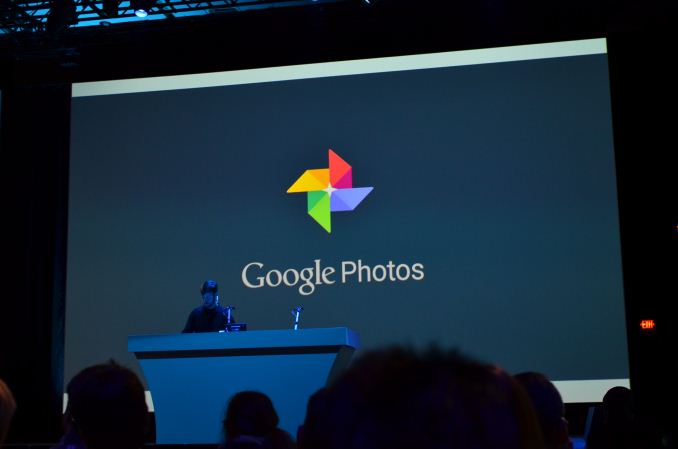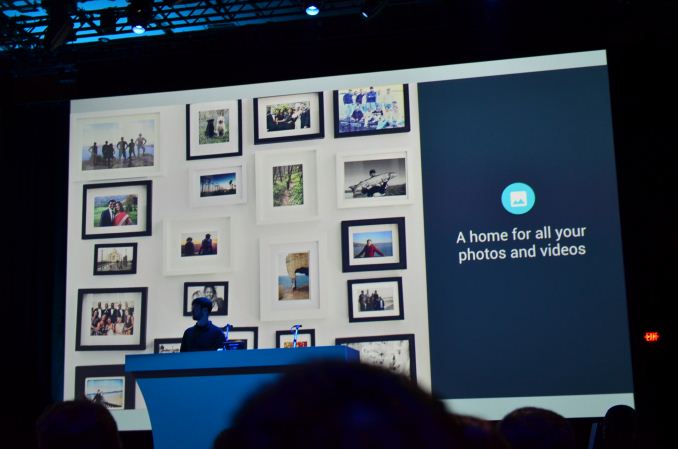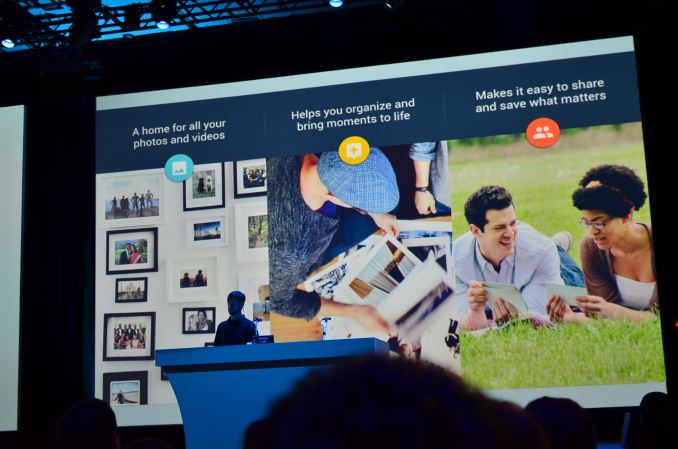 01:41PM EDT - The new Google Photos app will automatically back up all photos to the cloud, like the old Photos apps.
01:42PM EDT - You can easily jump to any moment in time. By pinching you can change time scale to be larger/smaller.
01:43PM EDT - Next up, organization and bringing moments to life.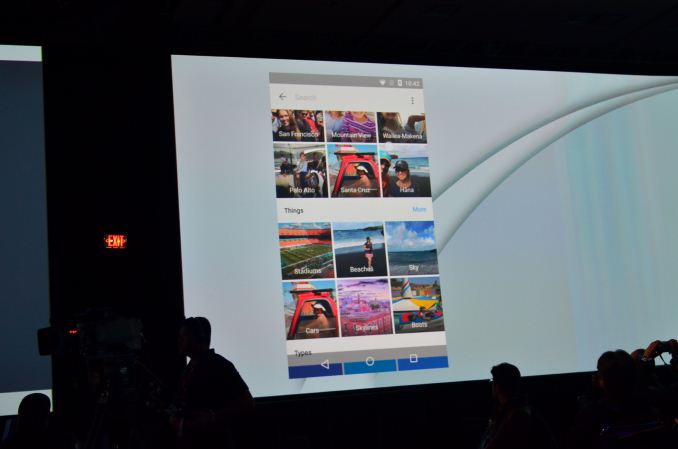 01:44PM EDT - Using Google's neural net recognition you can see all the people, places, and things that you've taken photos of. Most recent photos are always first. Even accounts for age which is definitely impressive.
01:45PM EDT - "Snowstorm in Toronto" brought up snowstorm photos in Toronto without any tagging or other work by the user which is awesome.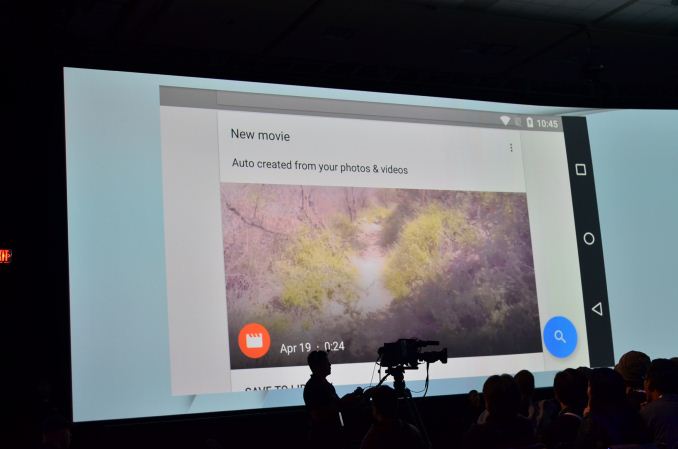 01:46PM EDT - Just howing a demo of video highlights that are automatically generated.
01:47PM EDT - Press and hold, then drag to select multiple photos quickly.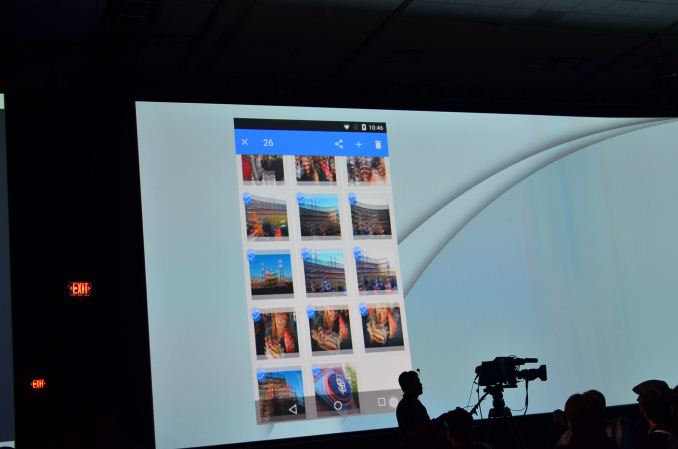 01:48PM EDT - You can share just by sending a link to a viewer which is neat.
01:48PM EDT - No need to use another app, just a web browser.
01:49PM EDT - Also announcing unlimited high quality photo and video backup with Google Photos. A lot of clapping right now.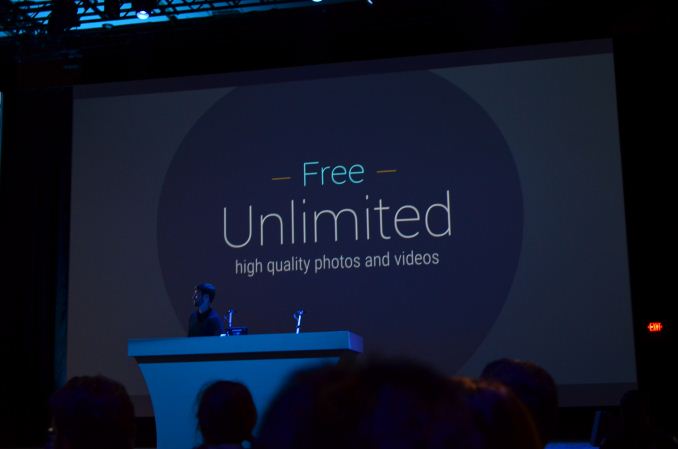 01:49PM EDT - Up to 16MP photos, 1080p videos.
01:50PM EDT - Google Photos updates roll out today on Android, web browser, and iOS.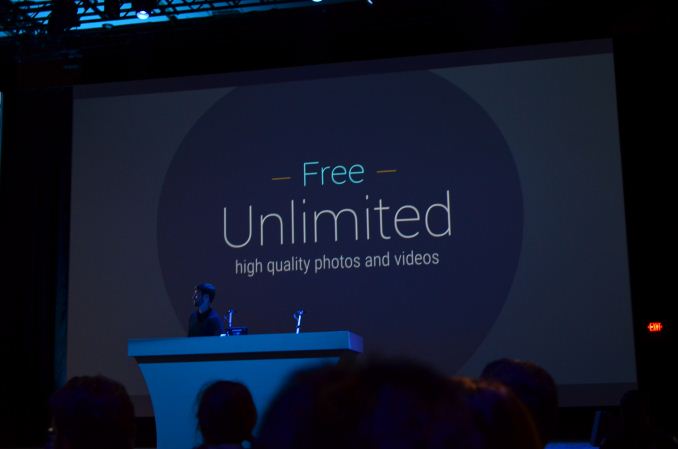 01:52PM EDT - Quick clip on Google Translate
01:52PM EDT - Google is trying to get the next billion people onto the web, phones are crucial to this.
01:53PM EDT - Growth will be in six countries like Brazil, Mexico, China, India, and Russia.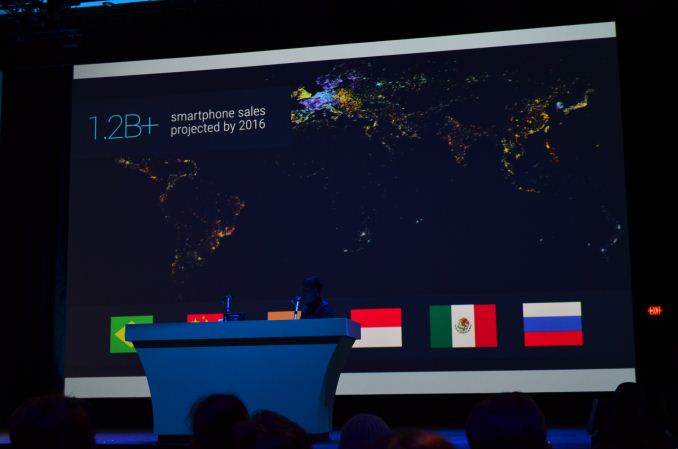 01:54PM EDT - Android One is trying to deliver good experience at a low price for the next billion mobile users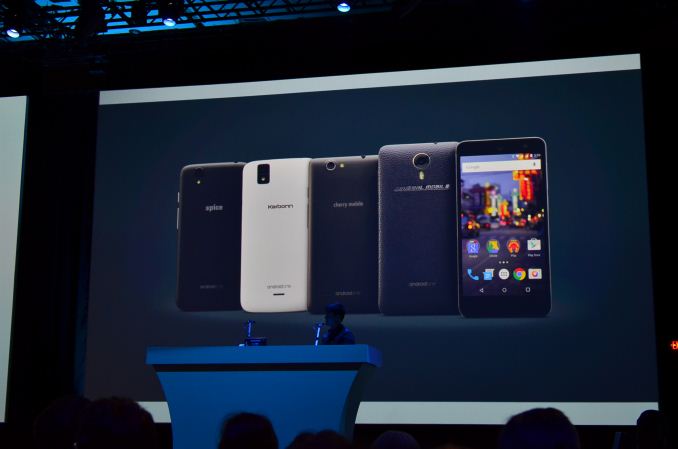 01:56PM EDT - Chromebooks continue to have strong traction among first time users and schools
01:57PM EDT - Connectivity is a large challenge in many markets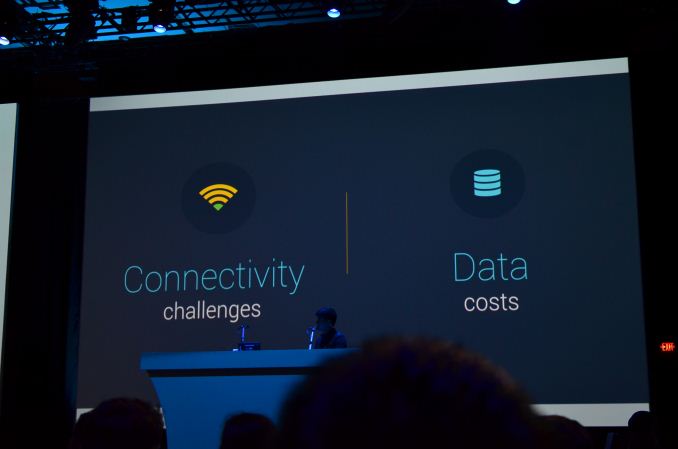 01:58PM EDT - Slow connections now get lightweight search results and optimized web pages.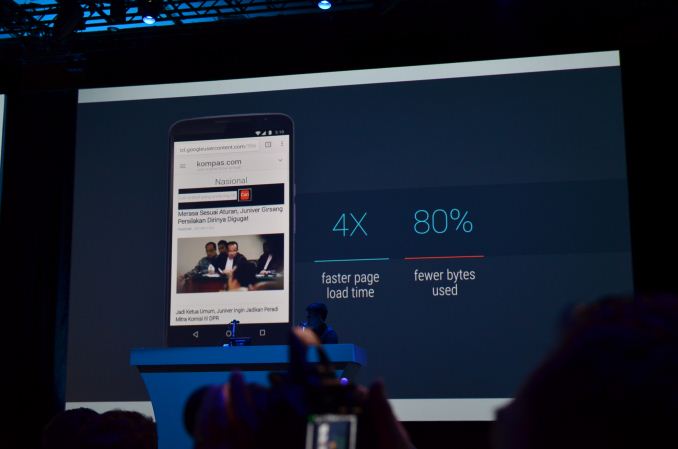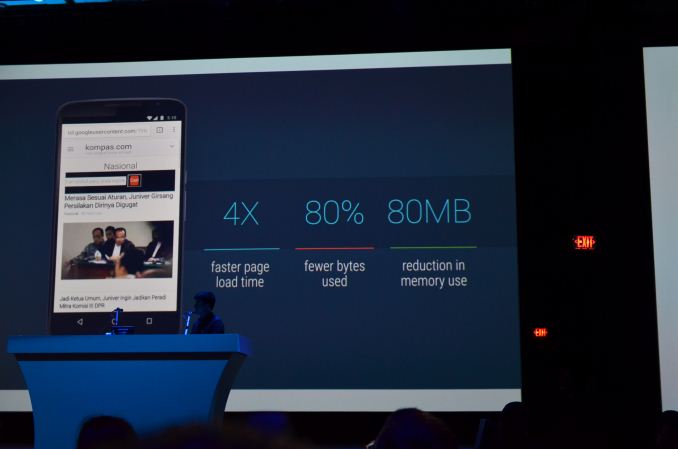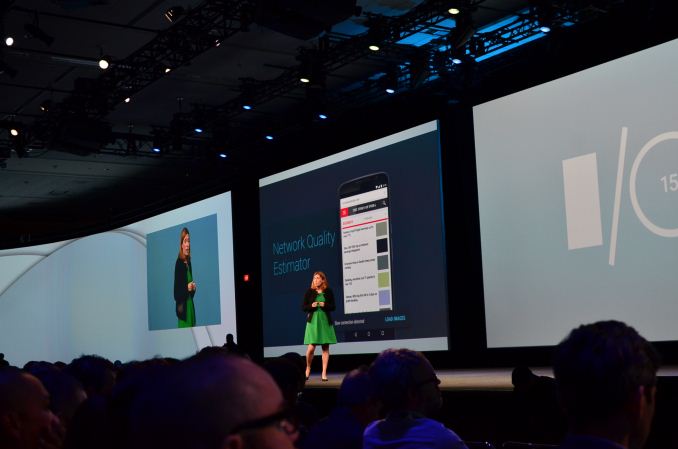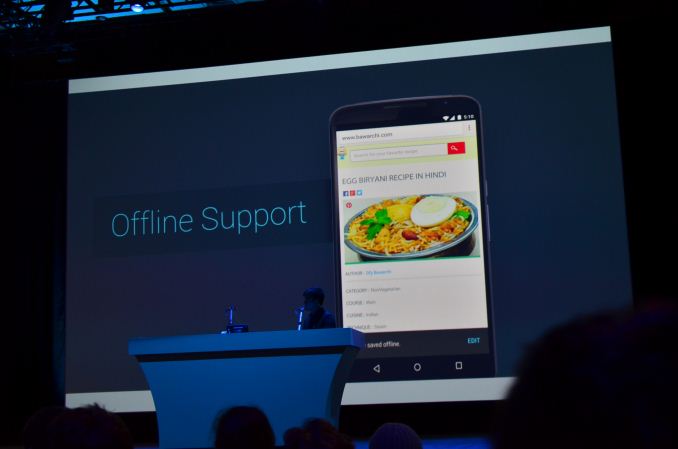 02:01PM EDT - Youtube Offline for some countries.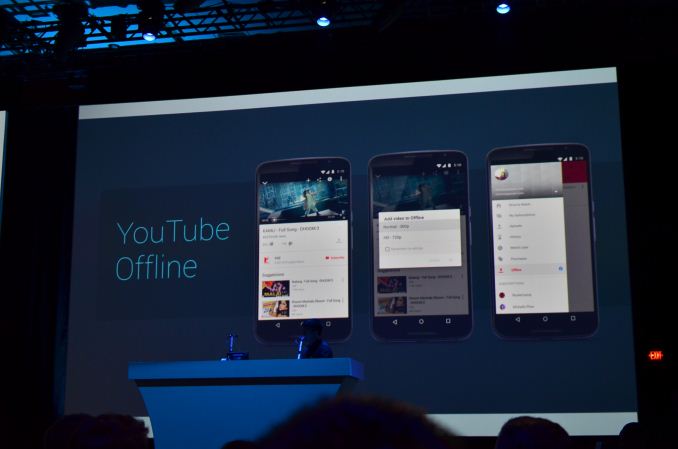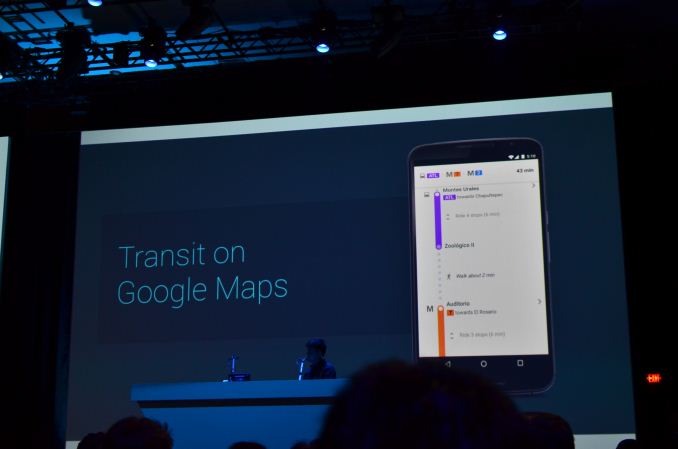 02:03PM EDT - Offline maps are also improved with search, auto complete, reviews, open hours, etc. Also turn by turn voice directions which has taken forever to happen.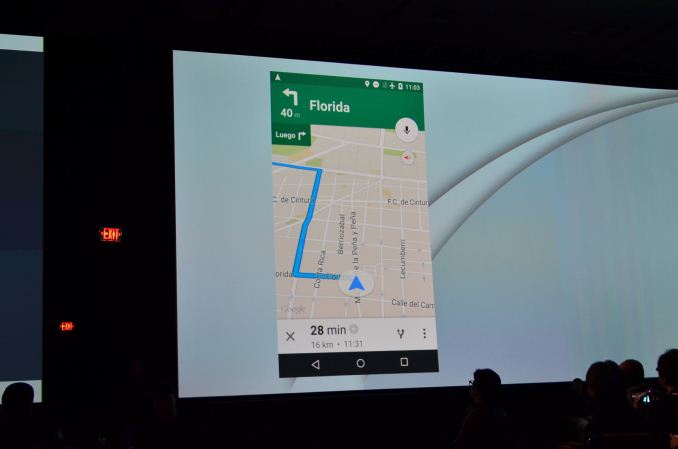 02:04PM EDT - Will come later this year.
02:06PM EDT - Konga in Nigeria has strongly benefited from mobile.
02:07PM EDT - Livox allows disabled people to learn and communicate. Developed in Brazil but useful for the whole world.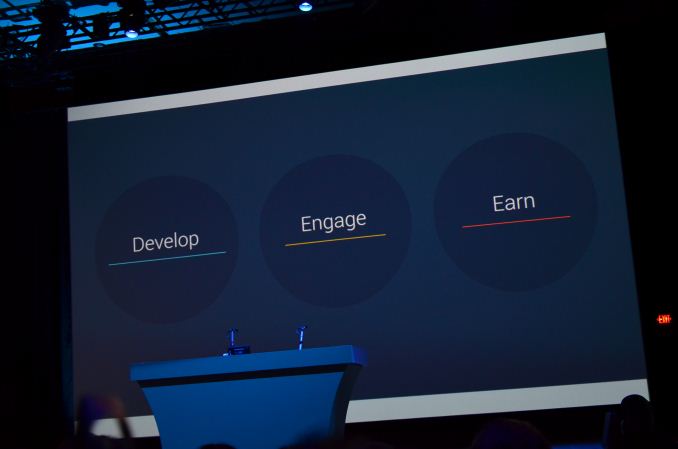 02:09PM EDT - Android Studio 1.3 will bring better profiling, and support for C and C++/NDK.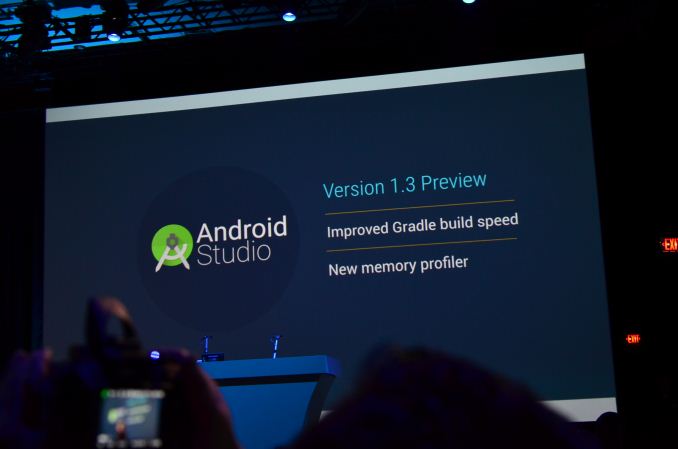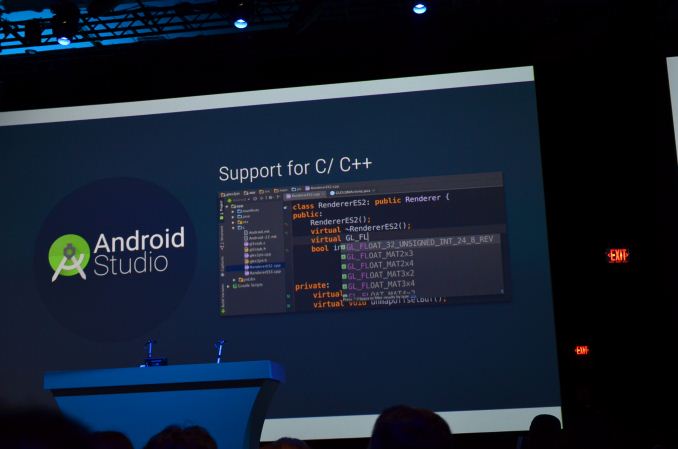 02:10PM EDT - Polymer 1.0 will help with designing Android apps, Cocoapods will help with cross-compatibility from Android to iOS.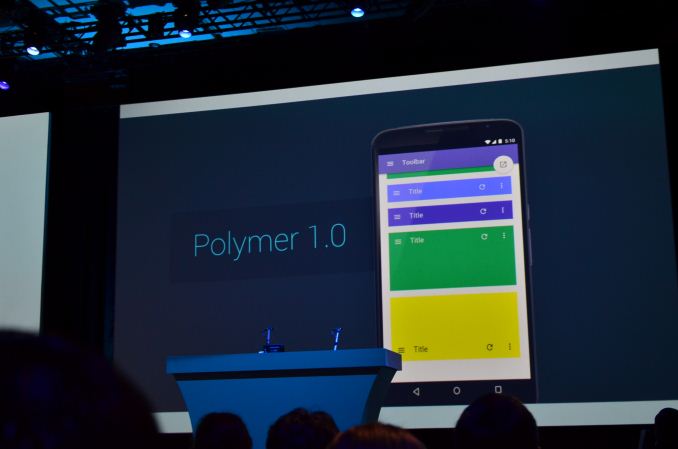 02:11PM EDT - Cloud Test Lab will allow testing against multiple devices, top 20 devices around the world for free.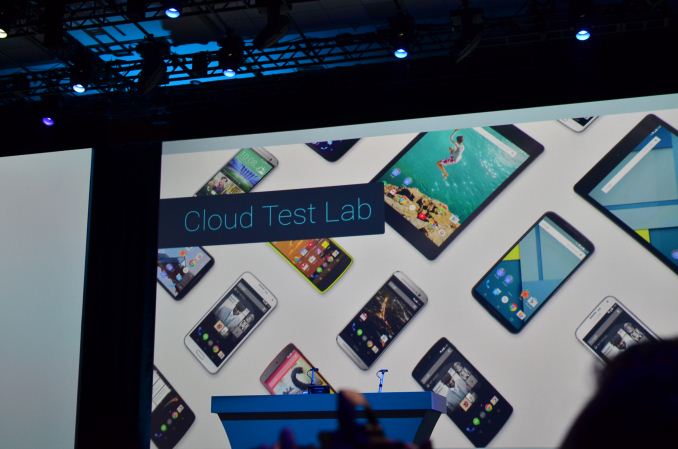 02:12PM EDT - Will arrive soon(tm).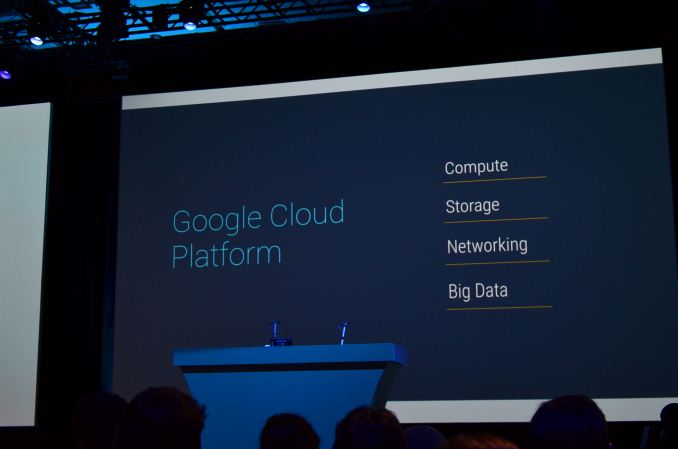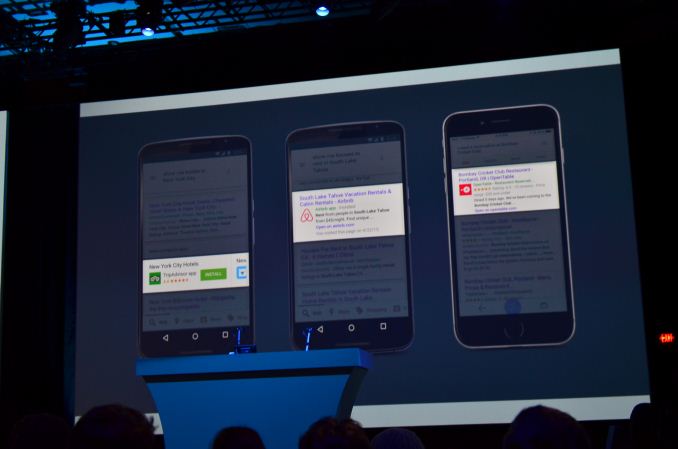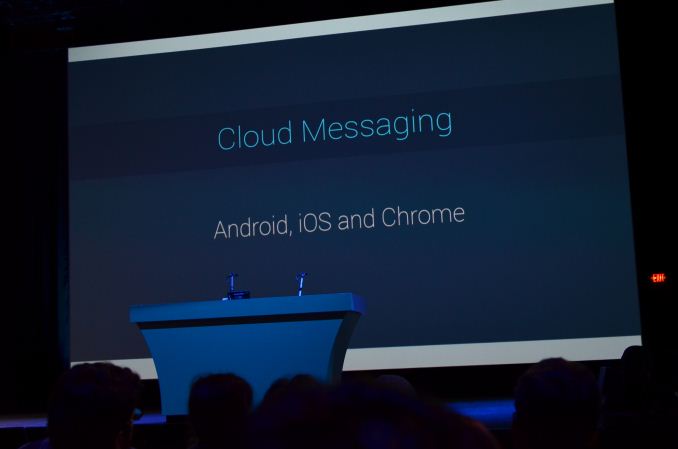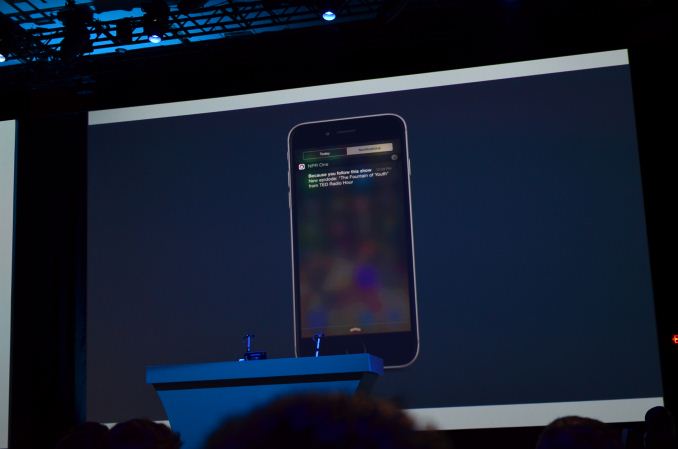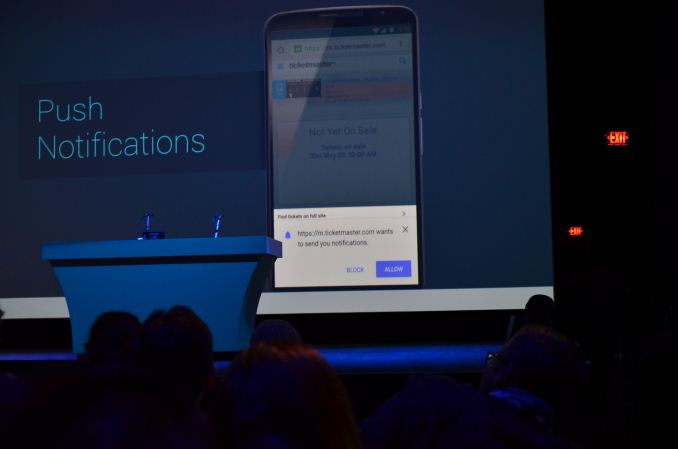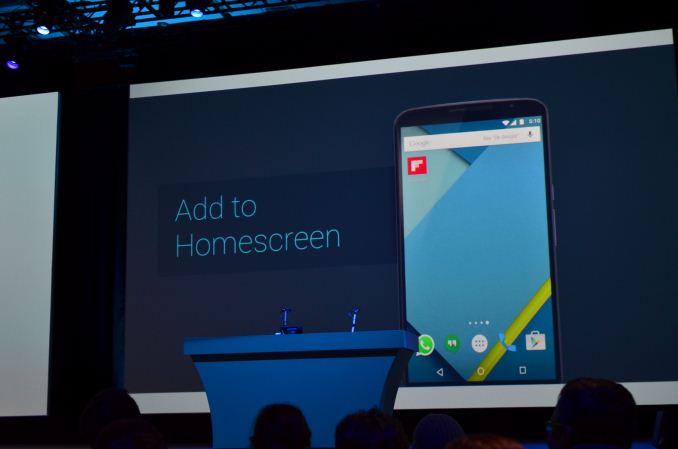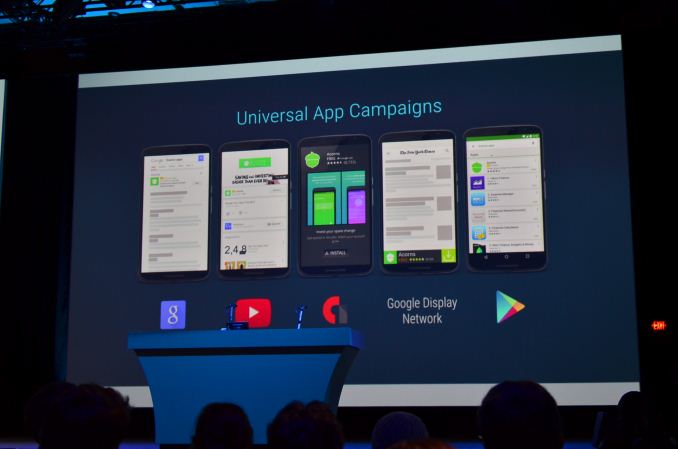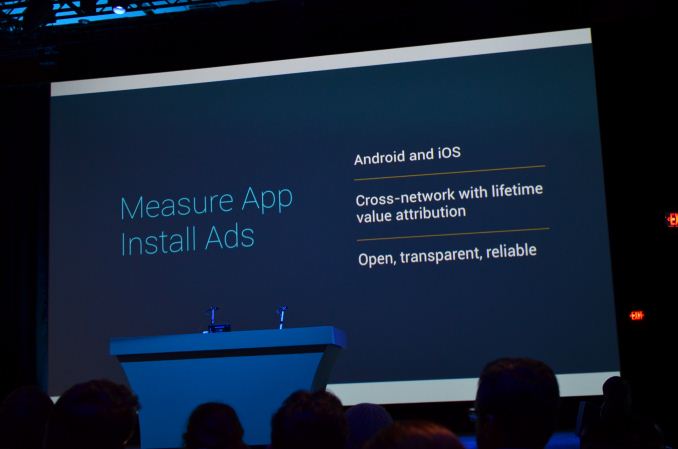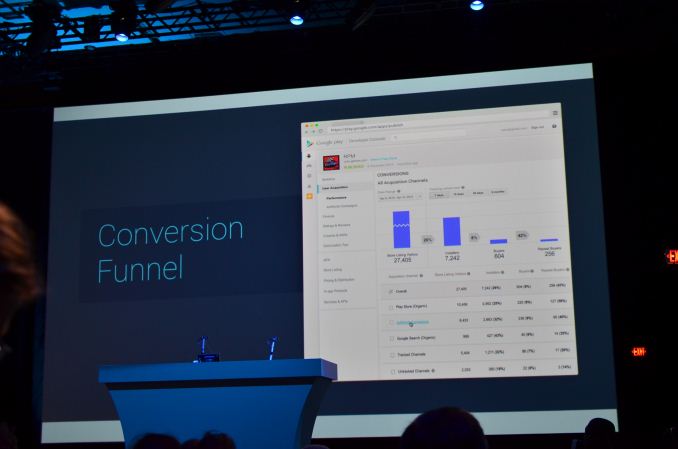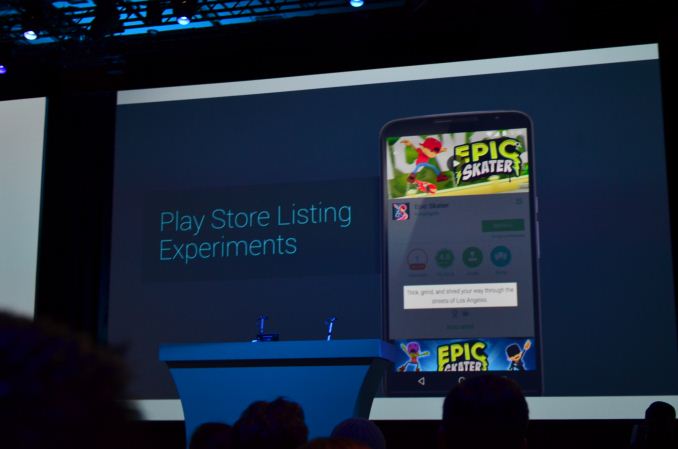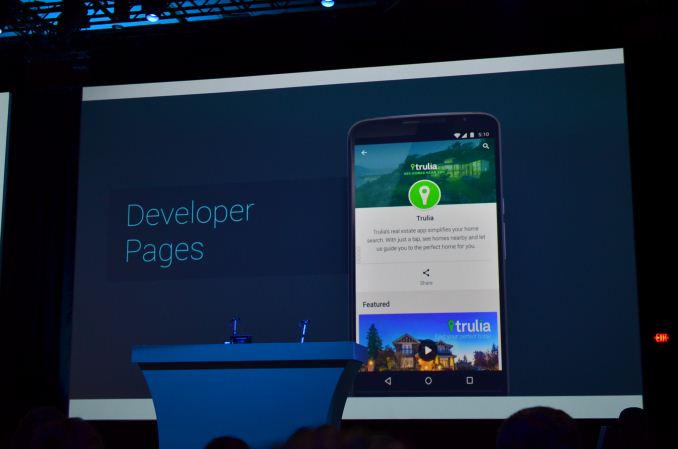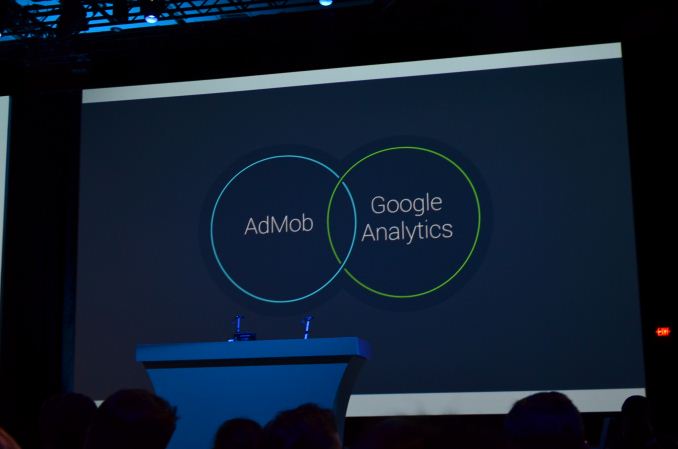 02:18PM EDT - Admob and Analytics together can help with reducing UX impact of ads, such as only showing IAP if a user struggles on a game.
02:19PM EDT - All accessible on developers.google.com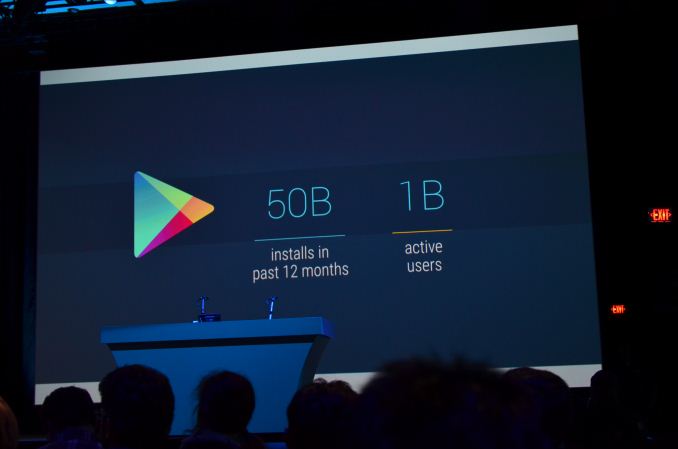 02:20PM EDT - Games are very popular on the Play Store.
02:20PM EDT - Most popular app category, bar none.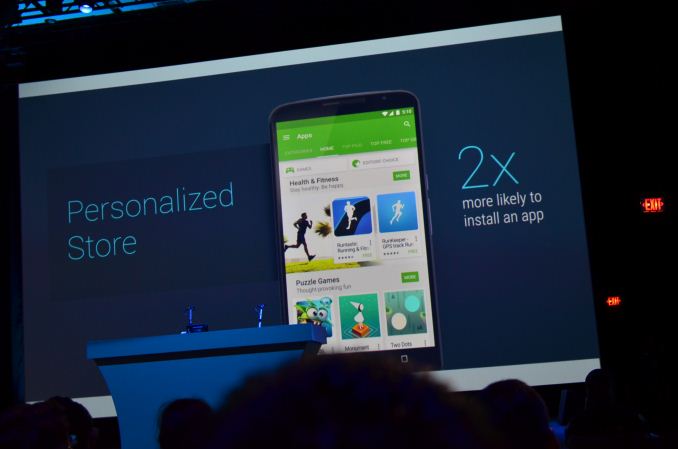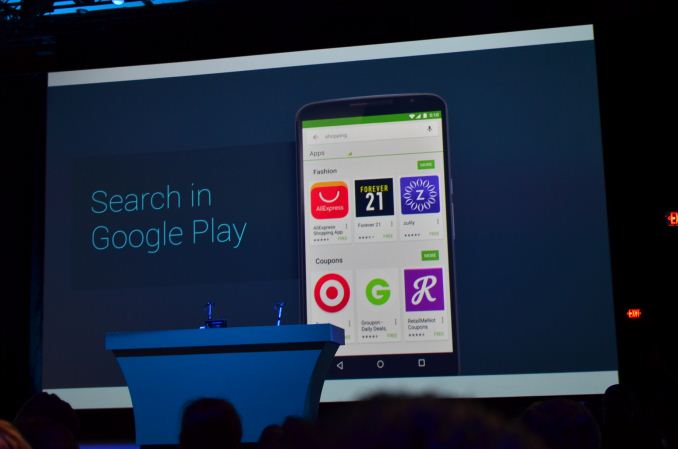 02:23PM EDT - Launching family discovery experience on Google Play, called Family Store.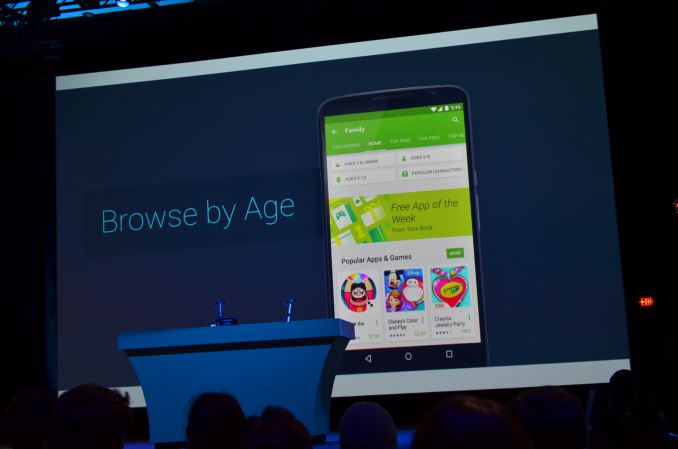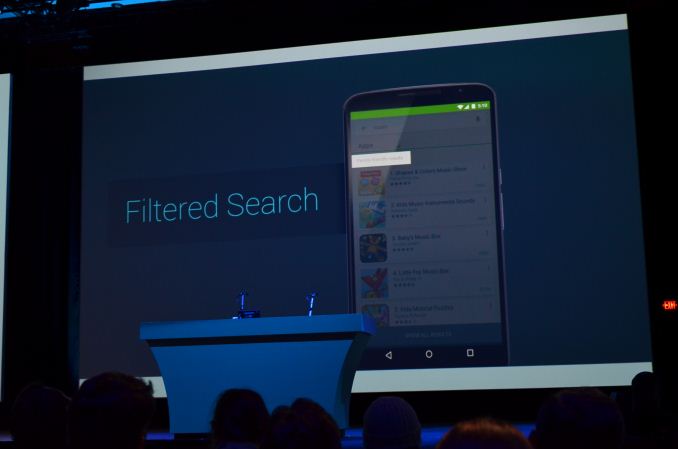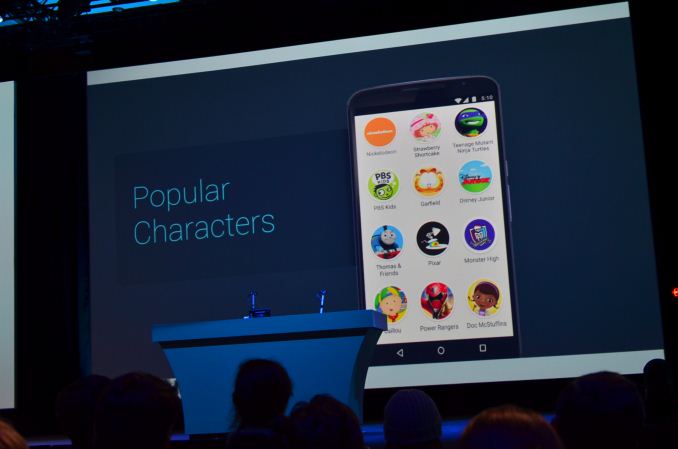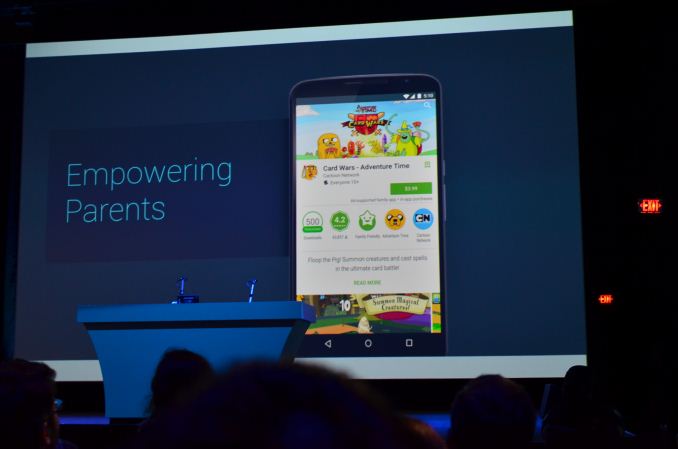 02:25PM EDT - Sundar is back, guess it's time to wrap up
02:26PM EDT - Udacity partnership to learn Android dev end to end at 200 dollars a month.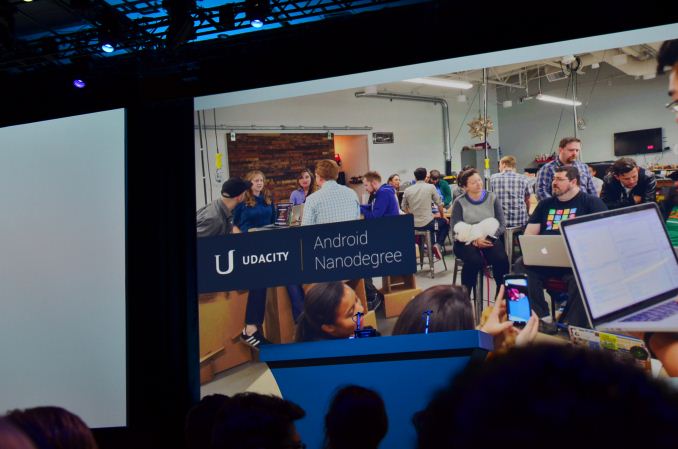 02:26PM EDT - I doubt that 6 months is enough to learn computer science in reasonable breadth.
02:27PM EDT - Although I suppose that if there's never an explanation for edge cases where abstractions fail then it might be doable
02:27PM EDT - Cardboard is next, looks like there's more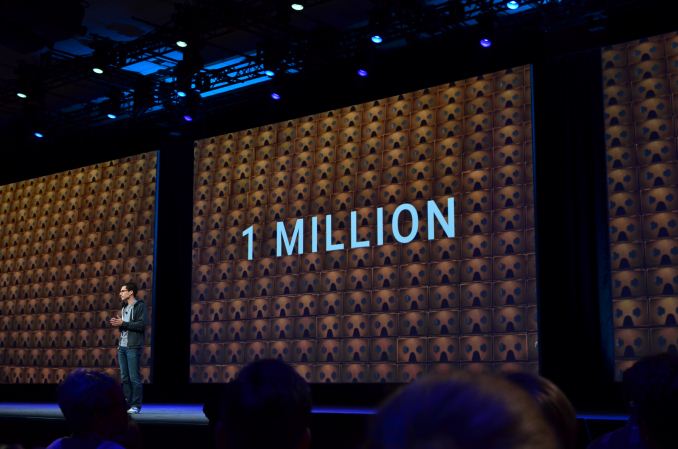 02:29PM EDT - Improved cardboard viewer getting announced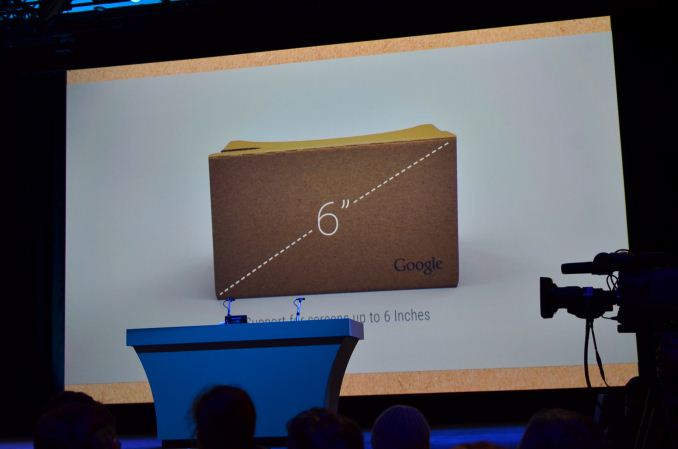 02:30PM EDT - Cardboard button to work with all devices, 12 to 3 steps to assemble.
02:30PM EDT - iOS support added
02:30PM EDT - I'm guessing the 6 Plus is needed for good PPI.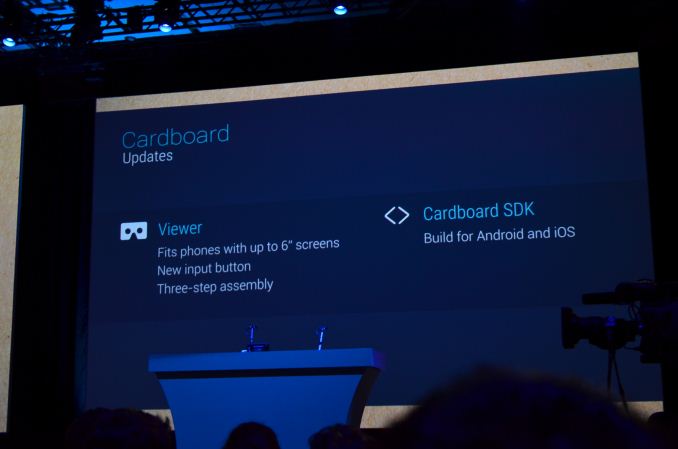 02:31PM EDT - Expeditions will let teachers take their classes to anywhere kind of like a magic schoolbus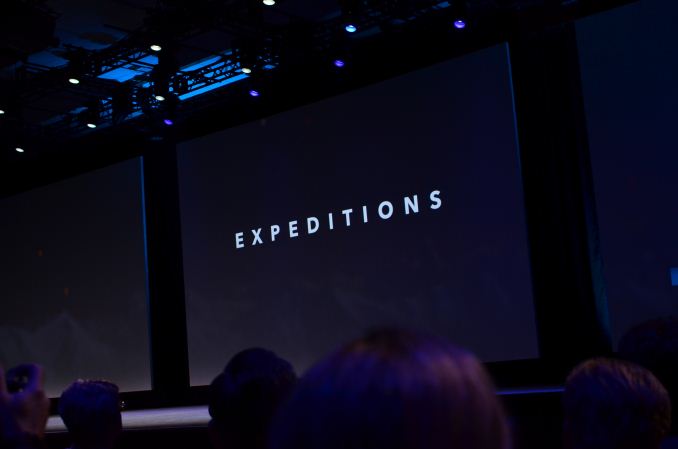 02:32PM EDT - The teacher picks a place, all the students see the place.
02:34PM EDT - Definitely very cool. I have to wonder what happens if you used something like Vive with full room experience.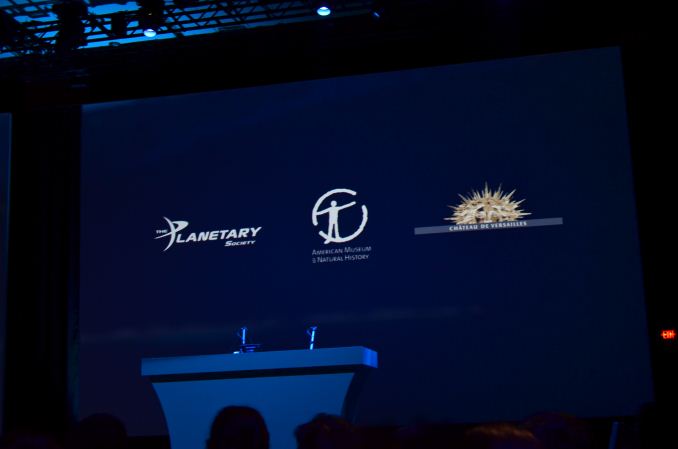 02:35PM EDT - Jump enables any creator to capture the world in VR video.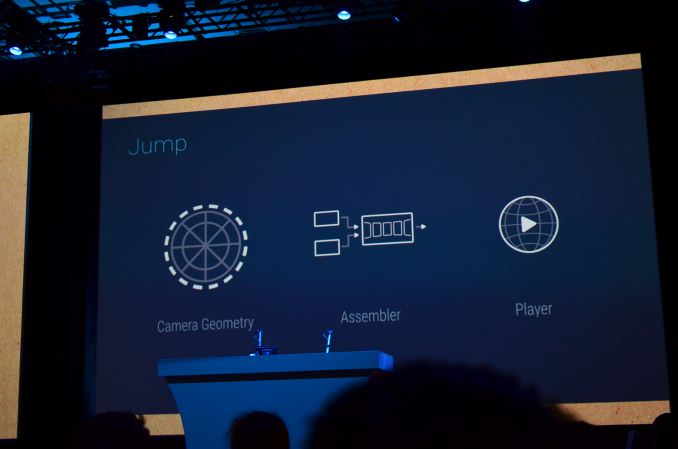 02:37PM EDT - You can make the array out of almost anything, you just need a plan to make the camera rig right.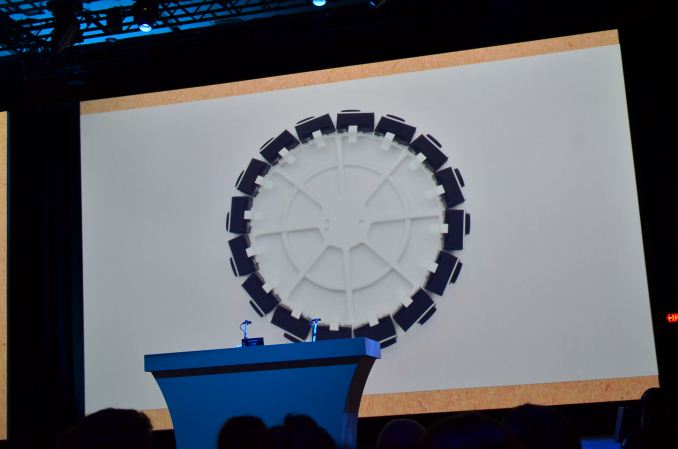 02:37PM EDT - GoPro will make a jump-ready camera.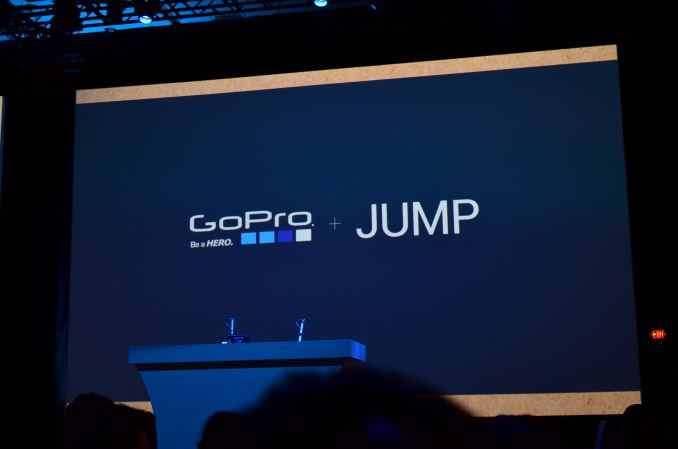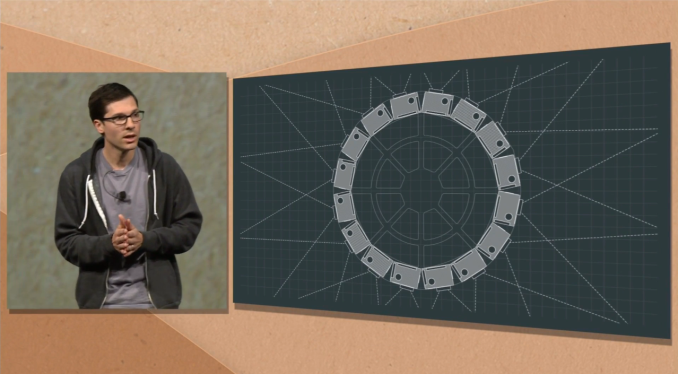 02:37PM EDT - There are 16 cameras needed apparently.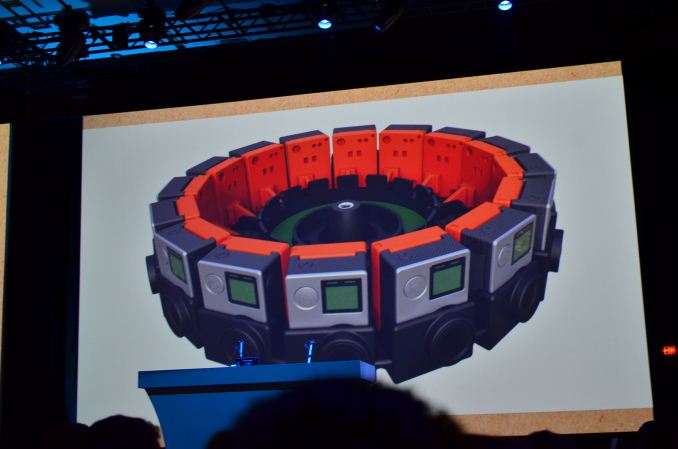 02:38PM EDT - Computational photography and computer vision, and a lot of computers needed to generate the VR video.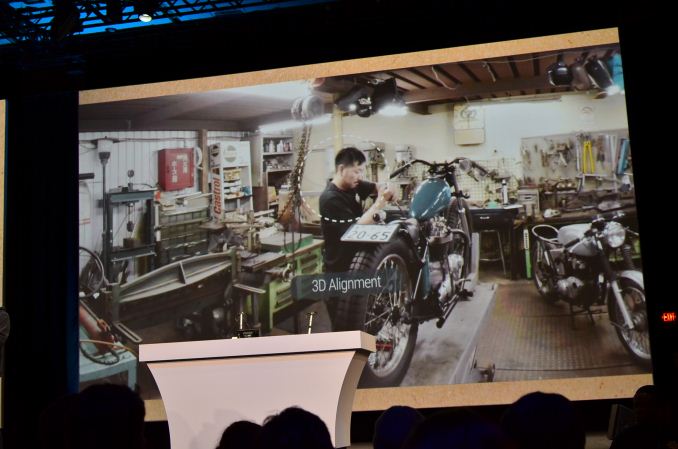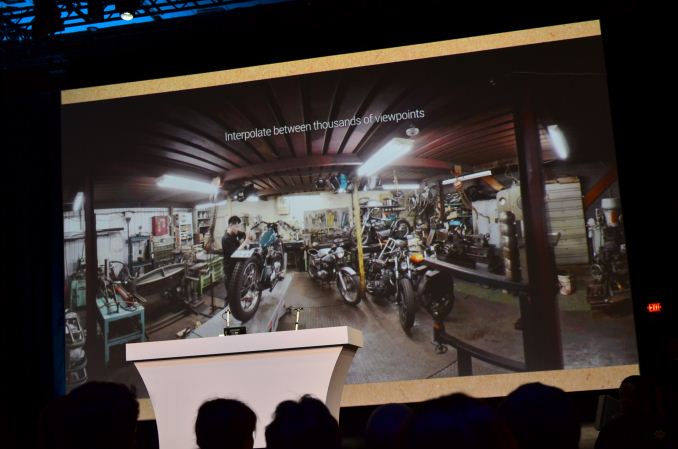 02:39PM EDT - This is definitely very, very cool.
02:41PM EDT - This summer the jump assembler will be available to select creators worldwide
02:41PM EDT - YouTube will now support VR playback in the summer for Jump.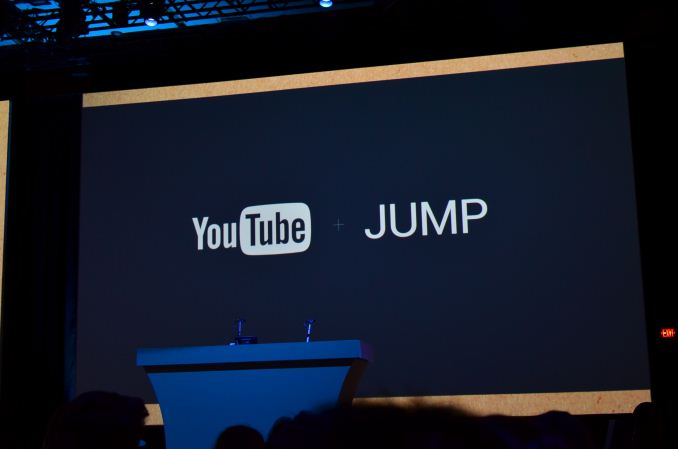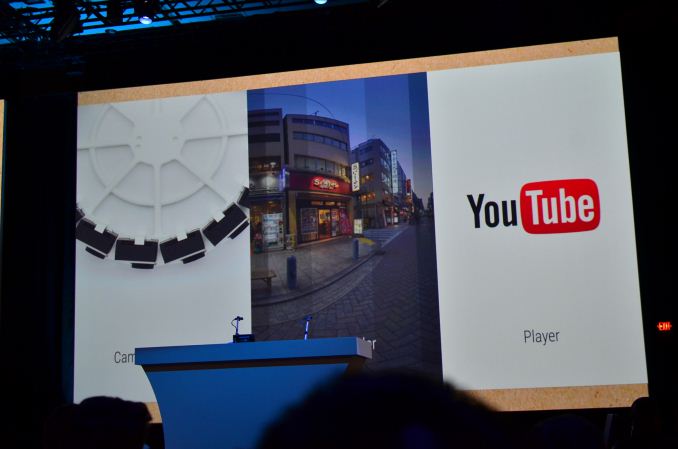 02:43PM EDT - Looks like we're wrapping up now for real
02:44PM EDT - Google works on driverless cars to solve an obvious problem (human drivers are awful at driving as a whole)
02:45PM EDT - A balloon can cover an area the size of Rhode Island, with location accuracy of 500m.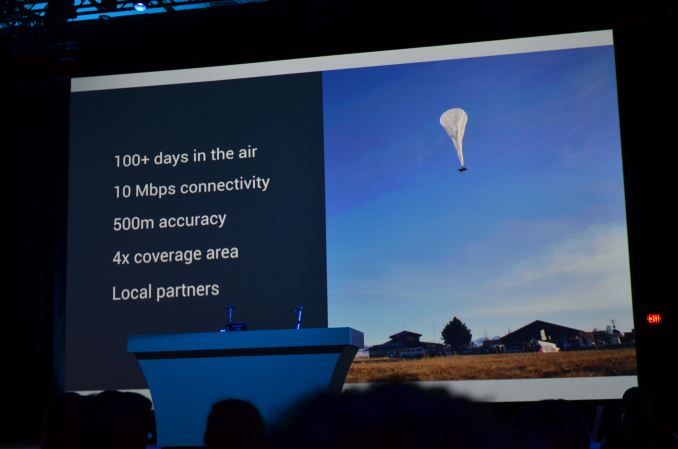 02:46PM EDT - Thank you for following the liveblog, stay tuned for additional IO coverage.