Netflix in 4K and HEVC Decode
The NVIDIA SHIELD is currently the only Netflix 4K-certified set-top box in the market. This certification involves two important requirements:
Presence of a HDMI 2.0 port with HDCP 2.2 capability
Presence of a hardware decoder for HEVC Main and Main10 profiles
NVIDIA was the first in the PC space to bring HDMI 2.0 together with HDCP 2.2 support as well as a hardware decoder for HEVC in the GTX 960. They are also extending this lead to the SoC space with the Tegra X1. Thus, the NVIDIA SHIELD Android TV has turned out to be the first set-top box to meet Netflix's criteria for 4K certification.
The UltraHD-capable Netflix streaming plan is the highest-end one, coming in at $11.99 per month before taxes. If the SHIELD is connected to a HDMI 2.0 4Kp60 sink supporting HDCP 2.2 and the Netflix account is on a supported plan, the Netflix app's UI presents a row of Ultra HD 4K streams in addition to the generic categories. We tested out Netflix 4K on a Samsung HU6950 without an AV receiver inbetween.
Netflix has a special test stream that shows the characteristics of the currently playing stream. As expected, the SHIELD had no trouble in getting to the 4K encode.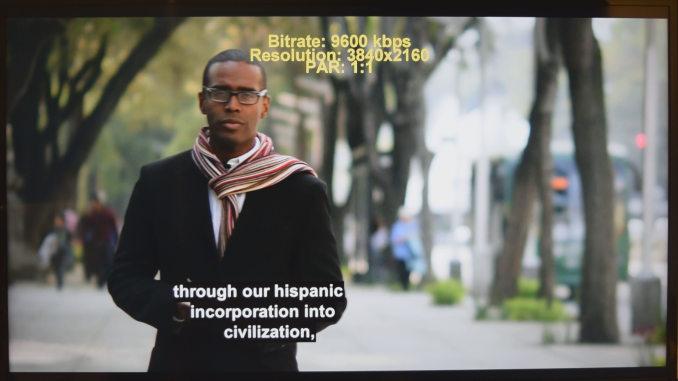 In the adaptive streaming process, we came across a host of different encodes. They are listed in the gallery below.
Regular readers of our HTPC reviews might remember that the Windows 8.1 Netflix app tops out with a 5.8 Mbps 1080p H.264 stream. On devices with HEVC support, it appears that this is replaced by a 5.16 Mbps HEVC Main10 stream at the same resolution. There is also a higher bit-rate version (6.96 Mbps) with similar characteristics. Beyond that, we have the 4K stream at 9.6 Mbps. Unfortunately, we don't know the exact characteristics of the encode, but, based on the immediately preceding lower bit-rate streams, it is probably a HEVC Main10 encode too.
The Netflix app gives us an indication that the SHIELD has no trouble with HEVC. In order to confirm this, we put our HEVC test suite through Android's native Video Player.
The video shows perfect playback of 4Kp24, 4Kp25 and 4Kp30 HEVC Main and Main10 profile streams. For 4Kp60, we only have Main profile videos, and the SHIELD has no trouble with that.
On one hand, it is nice to see the SHIELD Android TV's 4K Netflix capabilities as well as support for high frame-rate HEVC playback in a power-efficient system. Though the 4K TV adoption rate is still very low - it's the start of what will be a long process - of anything and everything NVIDIA needed to do to secure their spot as the set top box to have for 4K TVs, getting Netflix 4K support in place is it.
On the other hand, it also reminds us of the sorry state of HTPCs with respect to HDMI 2.0, HDCP 2.2 and HEVC playback. For enthusiasts, it is imperative that PCs catch up soon, given that local media streaming is not a focus point for the SHIELD.