Local Media Playback Evaluation
The announcement of the SHIELD Android TV box generated a lot of interest amongst media streaming enthusiasts. It has continued to this date. Given that most of them prefer local media playback to OTT streaming, there has been marked interest in the local media playback capabilities of the unit. In this section, we attempt to set the expectations right on the various relevant aspects.
Display Refresh Rate
The Android TV framework forces the interface and most apps to run at 60 Hz. Obviously, a 24 fps film needs to be pulled-down with a 3:2 cadence to let the display be refreshed at 60 Hz. This creates a judder effect. Apps such as TVHZ were created to resolve this issue, but needs manual intervention prior to media playback. Kodi's currently existing 'sync refresh rate to playback frame rate' option doesn't work, but a fix is probably coming soon.
Codecs Licensing
Unlike a PC, the SHIELD Android TV is an embedded system. Therefore, codec support involves NVIDIA signing licensing deals. For example, support for Dolby Digital / Dolby Digital Plus requires deals with Dolby Laboratories, while DTS / DTS-HD support requires deals with DTS. On the video side, H.264 support, for example, requires a deal with MPEG-LA. Each of these deals ends up increasing the end cost for the consumer. In order to hit an acceptable price point while ensuring all necessary components for OTT streaming (SHIELD's primary market) are in place, NVIDIA has signed deals for the following audio/video codecs only:
H.264
H.265
VP9
Dolby Digital (Update: only bitstreaming, no internal decode to PCM)
Dolby Digital Plus (Update: only bitstreaming, no internal decode to PCM)
This means that the native Android Video Player can only play back the above codecs (in addition to the free-to-decode / play ones such as PCM audio). This also means that the SHIELD Android TV will not be doing any HD audio bitstreaming in the near future unless things chance on the licensing front.
That said, players such as Kodi, MX Player etc. can opt to use pure software decoding when hardware decoding is not available. It is also possible for app vendors to purchase the license themselves and then work with NVIDIA to get hardware acceleration / support for that. For example, SiliconDust (the vendor behind HDHomeRun) is doing it with their Live TV app in order to get hardware decoding enabled for MPEG-2.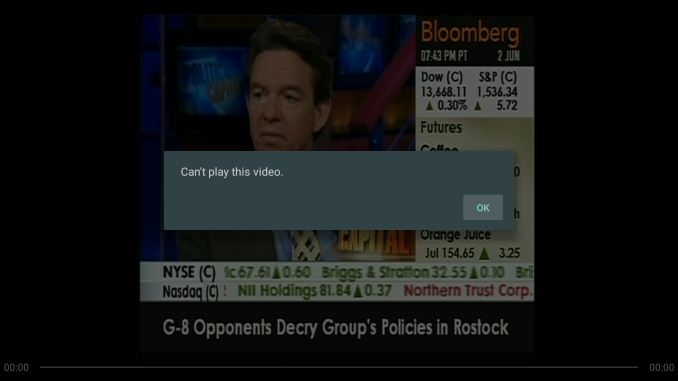 Attempting 480i60 MPEG-2 Playback with the Native Android Video Player
Video Post Processing
Deinterlacing and pull-down detection / IVTC are essential for watching certain live TV channels and other interlaced content. NVIDIA only guarantees video post processing for the licensed codecs that go through their hardwrae decoder. Third-party players will need to work with NVIDIA to ensure that any software decoded streams are correctly hooked up to the post-processing chain.
We tried processing the HQV Benchmark videos on the SHIELD to get an objective evaluation of the SHIELD's post-processing capabilities, but unfortunately the MPEG-2 encoded streams were not processed properly when decoded in software on Kodi.
Experimenting with Kodi
The Kodi 15.0 beta 1 APK is available for sideloading on to the SHIELD Android TV. On the bitstreaming side, we could only select DTS and Dolby Digital, and Kodi had no problems bitstreaming those streams.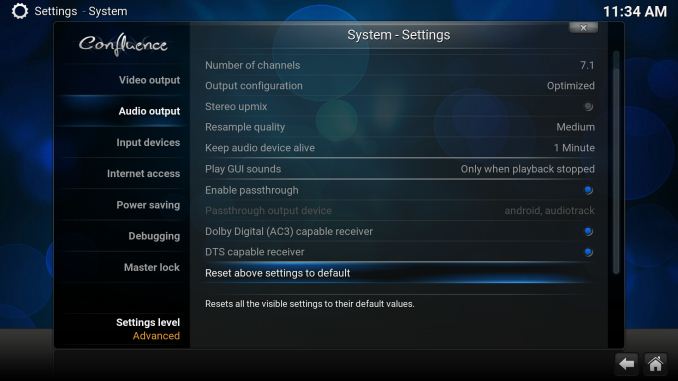 We played back our test streams from a Samsung T1 portable SSD attached to the USB 3.0 port. HEVC streams played back with hardware acceleration inside the Kodi interface, but Kodi had trouble with TS files. For hardware-accelerated codecs, the power consumption at the wall was around 6 W. For software-decoded ones such as our 1080i60 VC-1 clip, the power consumption shot up to 11.5 W.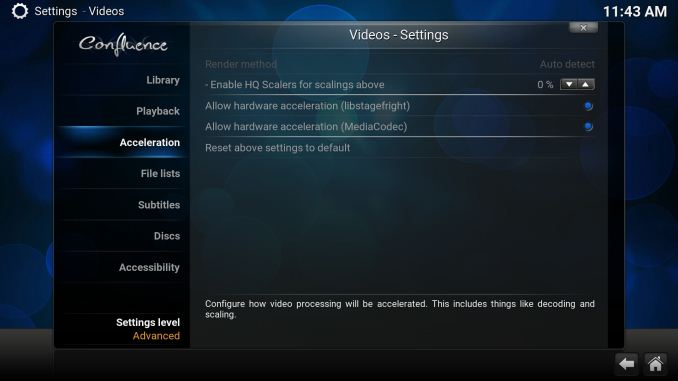 The SHIELD Android TV / Kodi combination has absolutely no trouble with the vanilla H.264 files that people usually rip their Blu-rays to. Fortunately, despite the lack of MPEG-2 and VC-1 licenses, Kodi's software decode is efficient enough to not cause frame drops. The absence of deinterlacing is an issue, but that should hopefully get resolved soon.
Based on our evaluation, the SHIELD Android TV is definitely not a comprehensive HTPC replacement - particularly from the local media playback viewpoint. That said, it does have support for all major OTT services and Live TV as well as future DVR capabilities (thanks to Android TV). For a certain set of users, it is possible that the SHIELD can replace their HTPC. However, one needs to remember that the unit is an embedded system with plenty of constraints and doesn't have the same openness and flexibility that a HTPC has to offer.