Wi-Fi Performance
Although an office worker may use this device docked at their desk, there are certainly going to be many times where the wireless performance is important. Lenovo has included the Intel Dual Band Wireles-AC 7265 wireless adapter in the X1 Carbon. This is certainly a device that I have seen in a lot of samples, and it launched in Q3 of 2014, superseding the 7260 model. It offers 2x2:2 performance in both 2.4 and 5 GHz bands, and 802.11ac connectivity for a maximum of 866 Mbps assuming you have an 802.11ac router.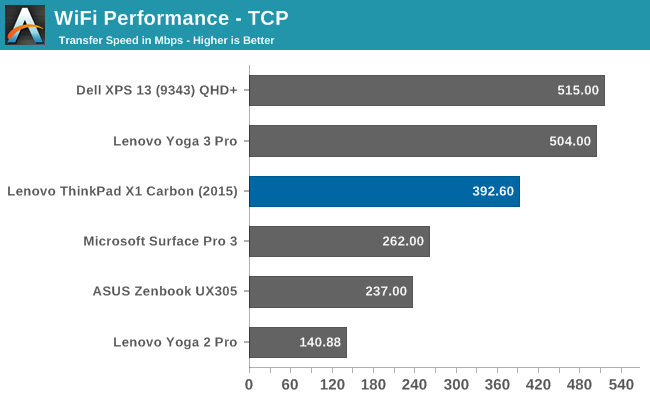 The X1 Carbon achieves about the same network performance as other devices with the Intel wireless card, coming in right around 400 Mbps. Although it cannot achieve the same performance as the Broadcom parts at the top of the list, I have found it to be a reliable card which connects without much issue. The first couple of devices I saw with this card did have a few connection issues, but they were both sorted out with driver updates. Since the X1 Carbon is newer, the driver installed worked well.
Speakers
The X1 Carbon has two downward firing speakers which are rated at 1 watt x 2. As always with devices this thin, expecting big performance out of the speakers is going to be quite a disappointment. Normally the biggest offender is the low frequency response, which is practically non-existent on notebooks.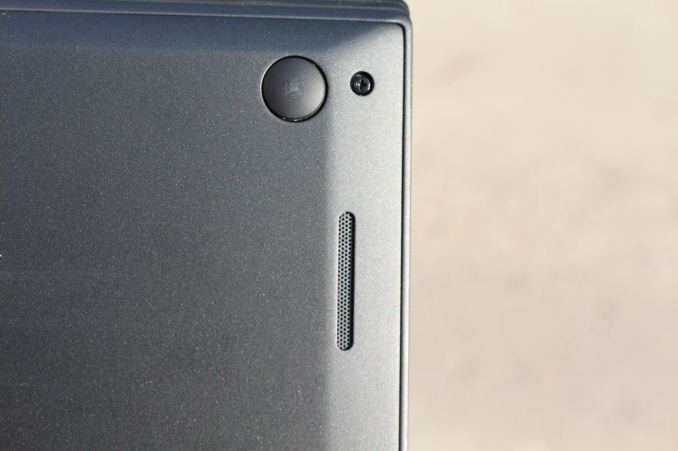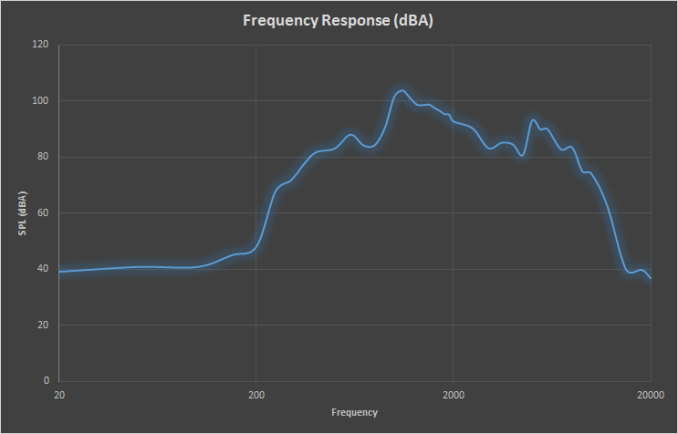 The frequency response for the X1 Carbon was actually not too bad. The low end is, like all notebooks, pretty much not there, but the overall volume was very impressive. On several of the frequencies, the X1 Carbon would sustain over 100 dB(A) which is very loud. Playing the standard music track that I use to test speaker volume, I was able to hit around 87 dB(A) which is right up there with the loudest devices I have tested. The peak frequencies are all in the normal talking range, so this notebook would excel at voice conferences. It certainly does not lack volume.
Noise
Since this is a 15 watt CPU, it is going to require a fan in any sort of device that is this thin. However that does not mean it needs to be loud. A well designed laptop can keep the noise levels in check.
The X1 Carbon is one of those devices. When plugged in, there is a bit more fan noise with everything set from the factory since it chooses active cooling over passive, but it is quite reasonable. Unplugged, the device switches to passive to save power. On many workloads, the fans do not even need to kick in, but when they do, they start at right around 35 dB(A) measured an inch from the trackpad which is very quiet. The next step up is 38 dB(A) and the maximum noise seen on the X1 Carbon was around 41 dB. All in all, the noise output of the X1 Carbon is very reasonable. It is not fanless by any means, but when the fans do kick in, they start out very quiet and slowly move up to a level where they are never a bother.
Accessories
Since this is a ThinkPad, Lenovo needs to cater to the business crowd, and for many business users, much of their work day may be at a desk, but the portability of a laptop is needed for meetings or travel. The ThinkPad line has had docks for a long time, but the X1 Carbon is too thin to support the standard docking port.
To get around this, Lenovo offers a couple of docking solutions. Both connect to the power port of the X1 Carbon, which has a rubber cap installed on the right side. Remove the cap, and you gain full access to the docking port.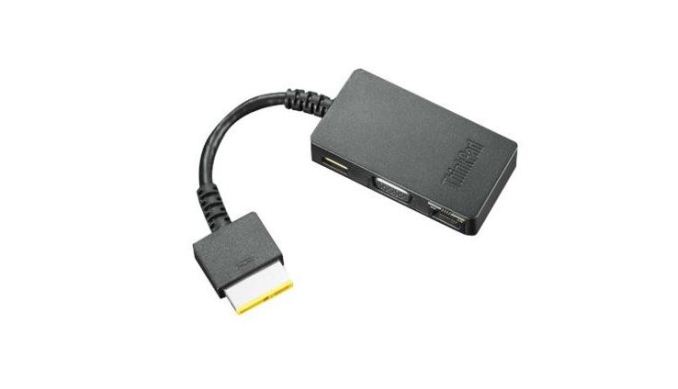 The first dock is the ThinkPad OneLink Adapter, which costs just $59.99. It is very basic though, with it just supporting power, Ethernet, and video, and it support PXE boot. It's basic, but it gets the job done.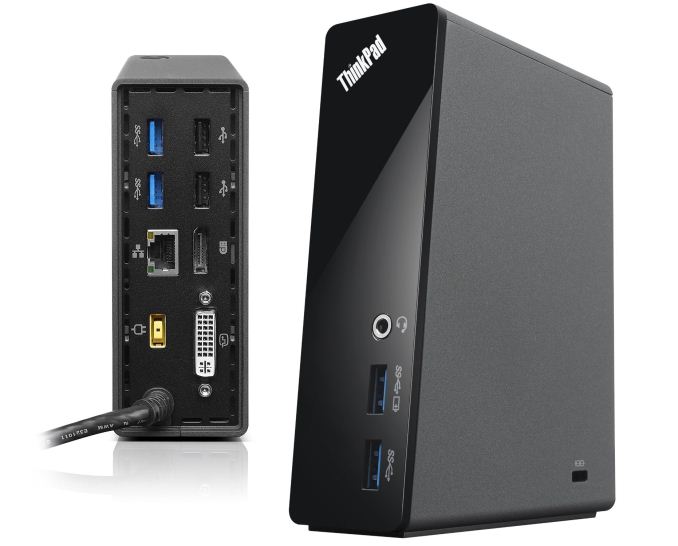 For those that need a more robust dock, there is also the OneLink Pro Dock, and it offers a lot more, but also costs a lot more at $179.99. There are four USB 3.0 ports, with one always powered in order to charge your phone, and there are also two USB 2.0 ports. DisplayPort and DVI are both available in order to run a couple of monitors, and it also has Gigabit Ethernet. The 90 watt AC Adapter keeps everything powered. The Pro Dock also has a headset jack.