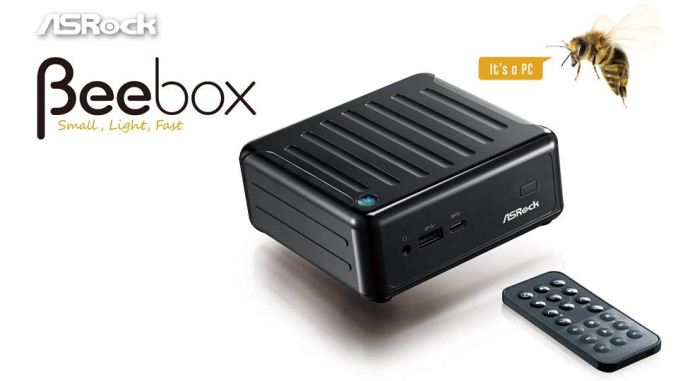 The mini-PC revolution has passed a lot of regular computer users as something that happened but might not be that interesting, especially if you are used to the lights and flashier elements of the industry. Despite this, sales of mini-PCs and the development of the platform has been a nice money earner for several companies, and as a result we have Intel's NUC, GIGABYTE's BRIX models, Zotac's mini-PCs, ECS' Liva and many others tackling this market. Technically this market has two main differentiators – whether the box uses an Atom SoC or something a bit more powerful. For the latter ASRock has had the Vision range of mini-PCs which have been interesting to look at (read Ganesh's review of the VisionX here), but the mini-PC range they had with Bay Trail gets a new name, a new look and a new upgrade with the 'Beebox'.
The Beebox is a 0.6 liter chassis design featuring the Intel Celeron N3000, a dual core 14nm Airmont (Braswell) SoC from the Cherry Trail line with a base frequency at 1.04 GHz with turbo up to 2.08 GHz. Due to the 4W TDP these are fanless designs supporting both an mSATA and 2.5" SATA drive with gigabit Ethernet, 802.11ac WiFi, a Realtek audio codce, dual HDMI and a single DP video output as well as both USB 3.0 Type-A and USB 3.0 Type-C.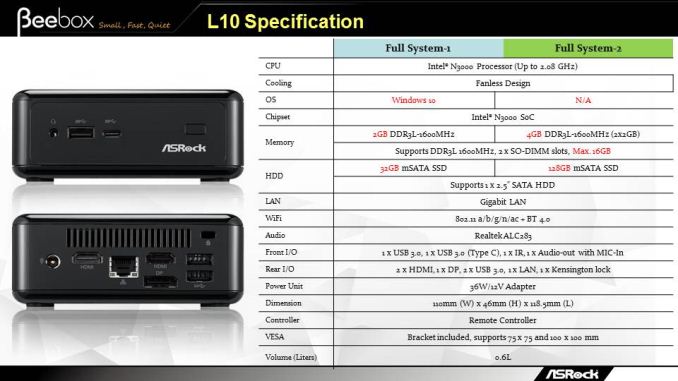 There will be two full system variations – one with Windows 8.1/10, 1x2GB of DDR3L-1600 and a 32GB mSATA SSD, and one with no OS but 2x2GB of DDR3L-1600 and a 128GB mSATA SSD. There will also be a barebones chassis requiring users to supply their own DRAM and storage.
It's worth noting that the Celeron N3000 integrated graphics uses the same Gen-8 graphics as Broadwell but in a low power configuration, which means for this SKU we get 12 execution units but running at a maximum of 600 MHz. This should be suitable for light gaming. Given the two SO-DIMM DDR3 slots, normally I would assume the SoC would support 8GB and 16GB modules, if you would happen to need them, but according to official specification sheets the SoC is only rated to 8GB maximum. ASRock is telling me it at least supports a 2x8GB configuration however.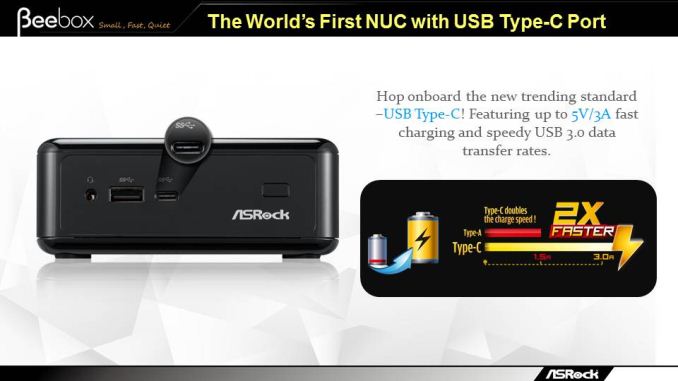 ASRock is promoting its Beebox due to the connectivity, supporting three screens from the three video outputs all in one go including 4K from the DisplayPort, and the Type-C port which allows for 15W fast charging modes. The 802.11ac is welcome, although it should be noted that it is only a single stream implementation.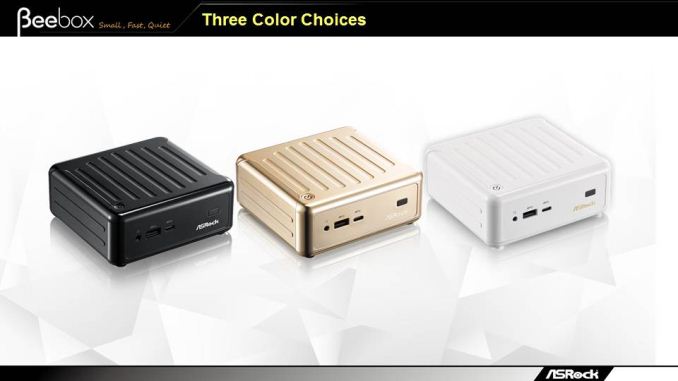 The Beebox will be available in three colors (black, white and gold), and measures approximately 11cm x 12cm x 4.5cm. Pricing is yet to be announced, but it should start appearing on shelves in the US at the end of June.
Source: ASRock