GPU Performance
As I've already mentioned a few times, both models of the ZenFone 2 use the PowerVR G6430 GPU from Imagination Technologies. This is the same GPU used in Apple's A7 chip, although the implementation in A7 likely has a max GPU clock of around 450MHz, while in Atom Z3560 and Z3580 it peaks at 533MHz. While one would think this would give the ZenFone 2 a lead over the Apple A7 based iOS devices, factors like driver optimization can also play a role.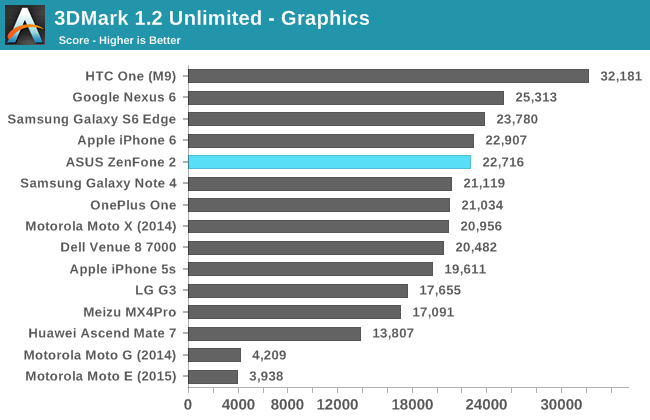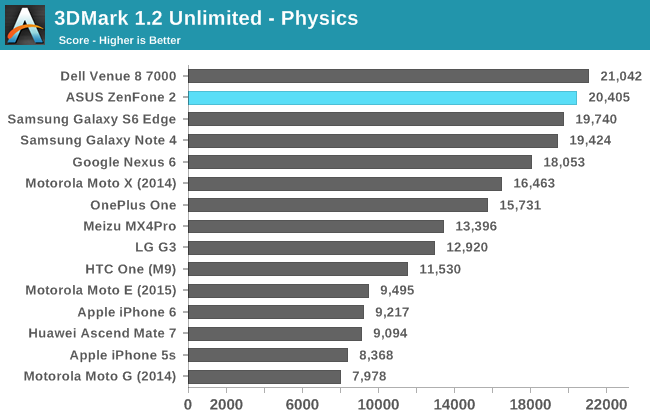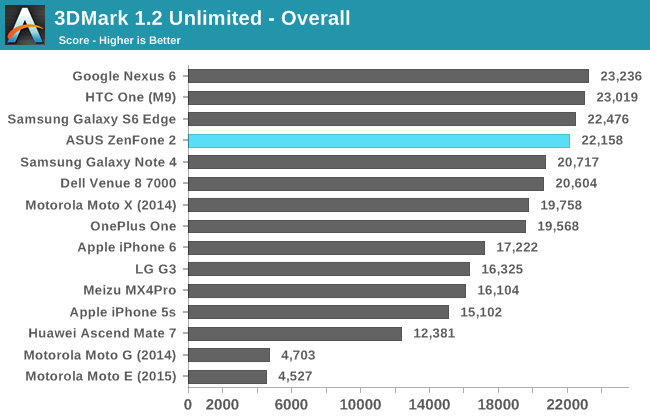 The ZenFone's performance in 3DMark is very good, and is one of the highest that we've seen. Much of this is due to the score in the physics test, which bests even the Galaxy S6 that had previously topped the chart, and second only to the Venue 8 7000 tablet. In the graphics test it achieves a score similar to that of the iPhone 6. The overall weighted average of the two tests puts the ZenFone 2 in fourth place, between the Galaxy Note 4 and the Galaxy S6 Edge.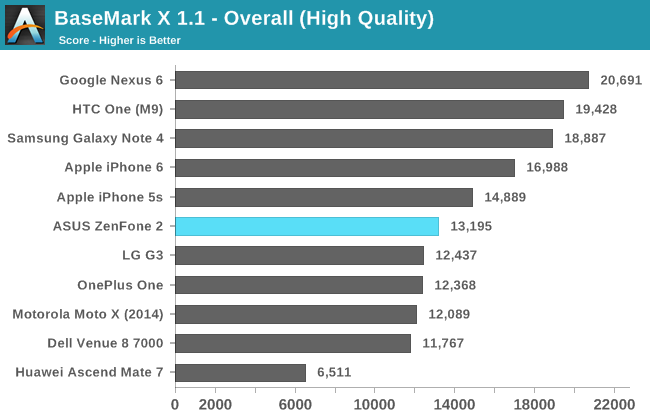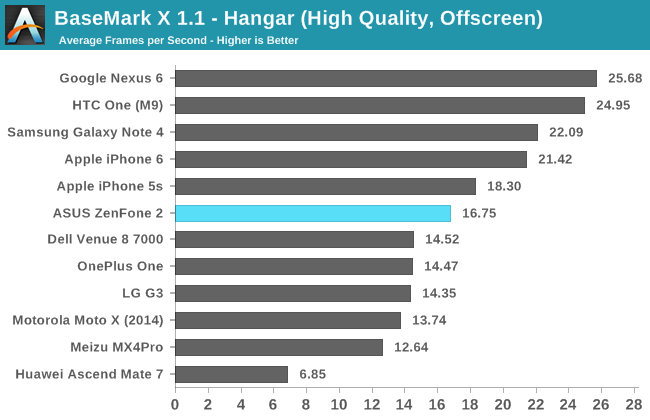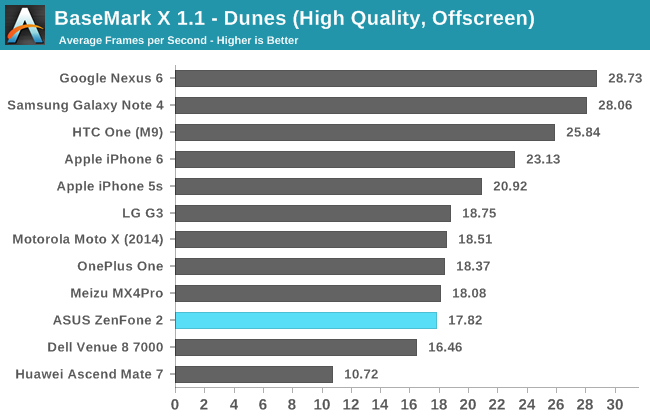 In BaseMark X we see that the ZenFone 2 stumbles compared to the G6430 implementation in the iPhone 5s. Despite the higher clock speed on the GPU, it trails the iPhone 5s in both the Dunes and Hanger tests. The final score ends up right in the middle of the chart. It's not as quick as the iPhone 5s and faster devices, but it's quicker than those that use Snapdragon 801 and Adreno 330.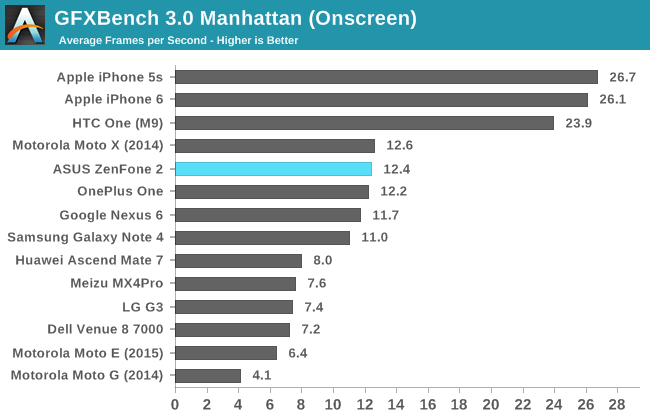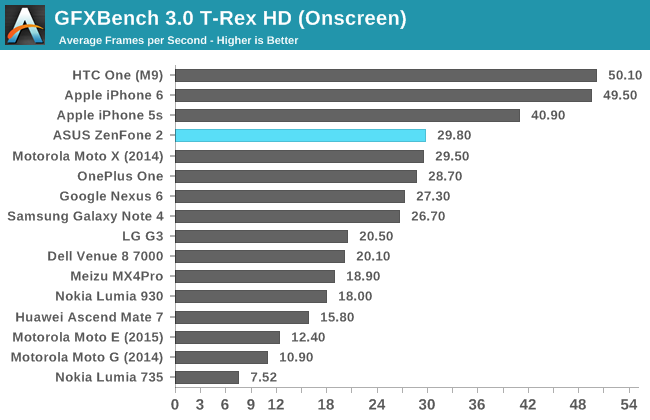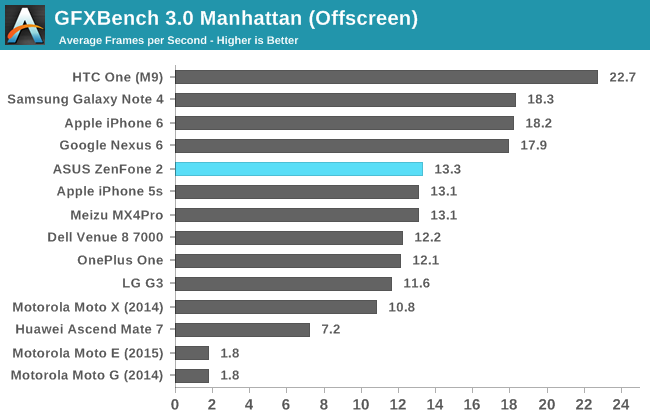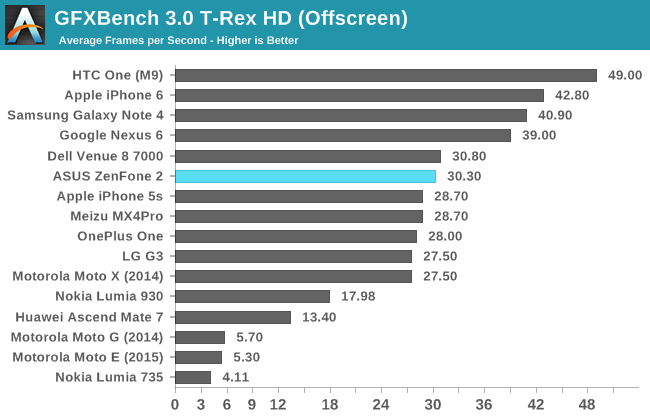 Our last benchmark is GFXBench. In the off screen 1080p tests we see that the ZenFone 2 is slightly quicker than the iPhone 5s in both Manhattan and T-Rex HD. The differences are small enough to be attributed to test variance, but the important point is that the G6430 GPU ends up being as quick as the implementation in Apple's A7 SoC. The fact that it's only as quick as the iPhone 5s despite its higher clock speeds indicates that PowerVR GPU drivers on Android are not as well optimized as on iOS, and it would be great to see GPU performance improve a little bit down the road via driver improvements.
Overall, the GPU in the ZenFone 2 is more than fast enough to run the OS smoothly and run any 2D or 3D games a user will want to play. The performance is substantially better than any other phone at this price point. It looks like there's still a gap between the optimization of PowerVR GPU drivers on iOS versus Android, but despite that the ZenFone 2 still delivers performance that I know won't disappoint any of its buyers.