GPU Performance
The Surface 3 with the Atom x7-Z8700 pairs the Intel Gen 8 Graphics from Broadwell with the Airmont CPU cores of Atom. Unlike the Broadwell cores though, the Surface 3 SoC only has 16 execution units (EUs) as compared to 24 in Core M. The maximum frequency is also reduced to 600 MHz for these cores, as compared to up to 900 MHz in Core M. This is all necessary to keep the x7-8700 in the 2 watt SDP.
So performance will be a step back compared to Core M, but really this should be no surprise. The interesting comparison will be how it compares to Surface Pro 3 with Haswell Gen 7.5 graphics and of course to Bay Trail equipped tablets.
We will start with some synthetic tests and then move on to DOTA 2 to see how it performs on a real world game.
3DMark Tablet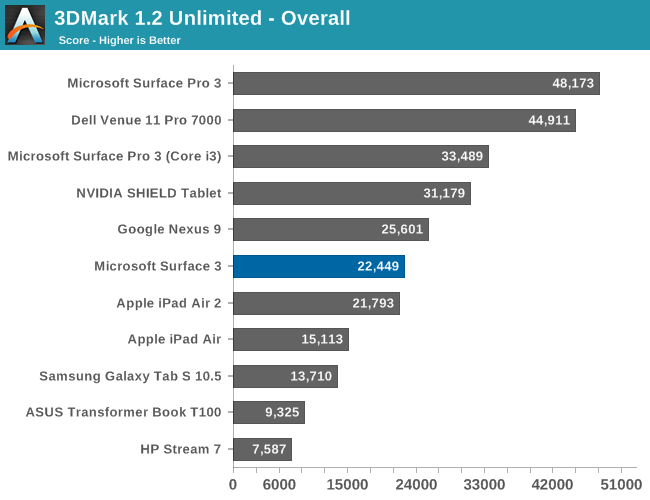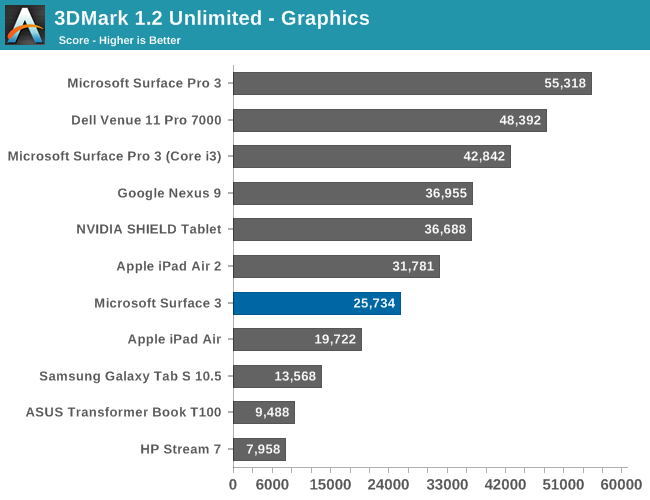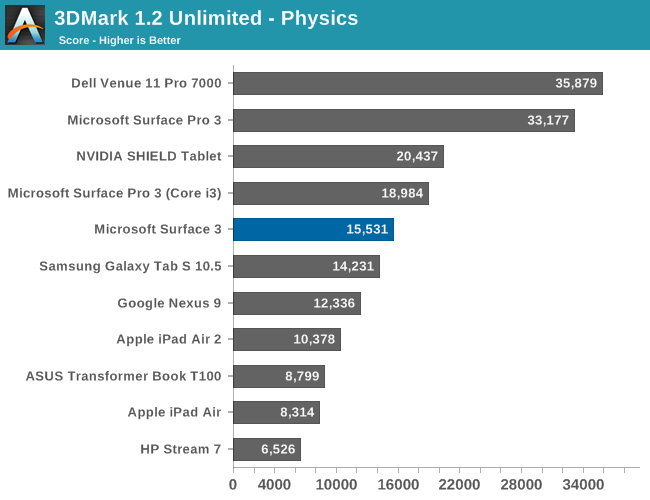 The GPU upgrade is a big improvement over the ASUS T100's Bay Trail graphics, but the Atom GPU still can not compete with the fastest tablet SoCs out there.
3DMark Notebook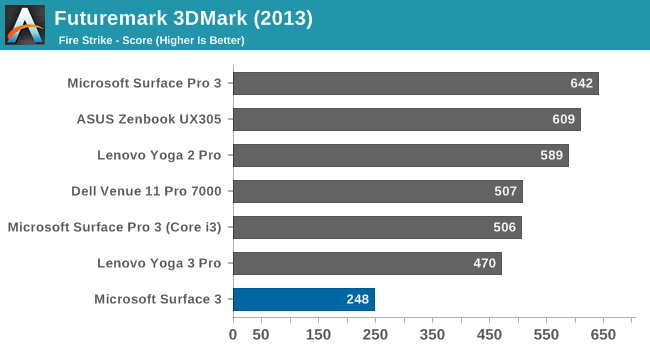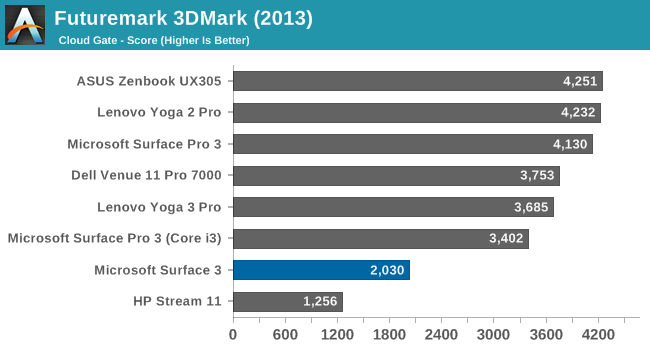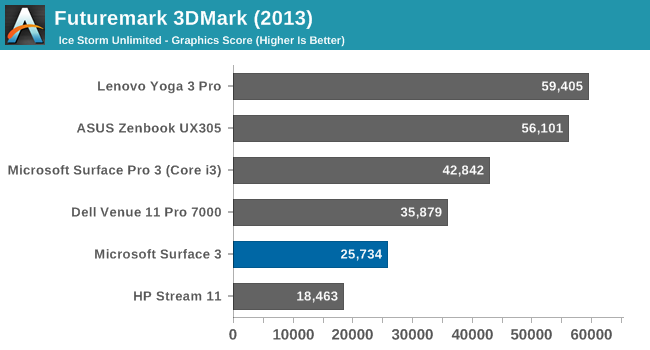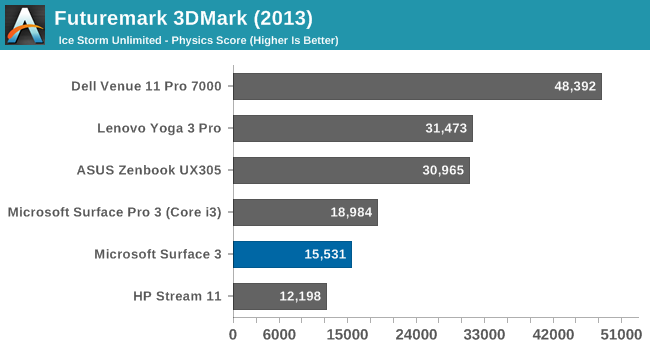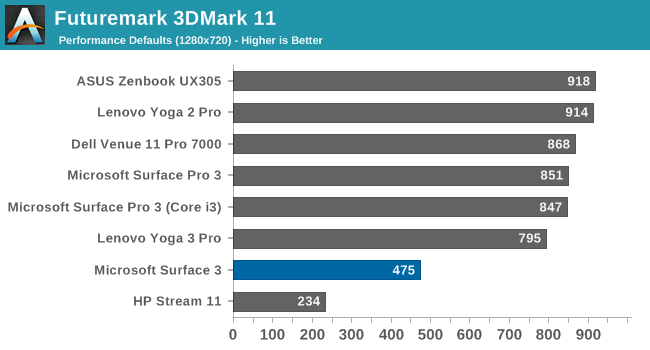 Comparing the Surface 3 to PC class hardware puts it in a pretty poor light when looking at GPU performance. Our 3DMark tests have the Surface Pro 3 with the Core i3 on average 40% faster than Surface 3. Comparing it to the Dell Venue 11 Pro with Core M, we find the Core M GPU is on average 47% faster, which is quite a gap. Let's not forget though that the Surface 3 is a mere 2 watt SDP, whereas Core M is a 4.5 W TDP and the Haswell-Y in Surface Pro 3 is an 11.5 W TDP.
GFXBench Tablet (OpenGL)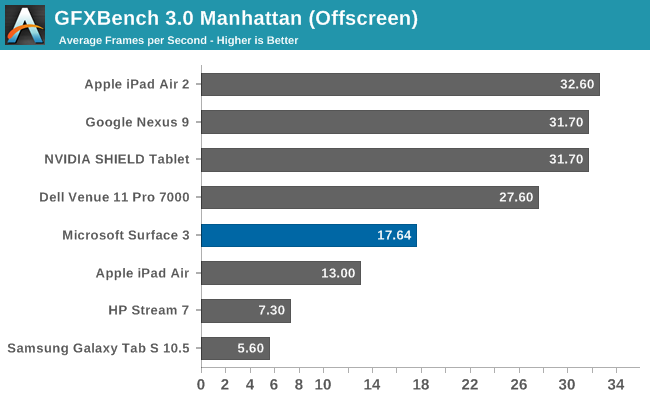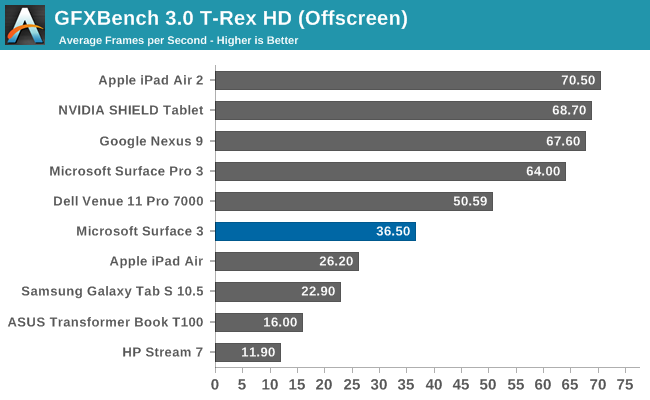 As with the 3DMark scores, the GPU upgrade is significant, but still a ways back of the best tablet GPUs out there. Intel still has some work to do on this front.
GFXBench Notebook (DirectX)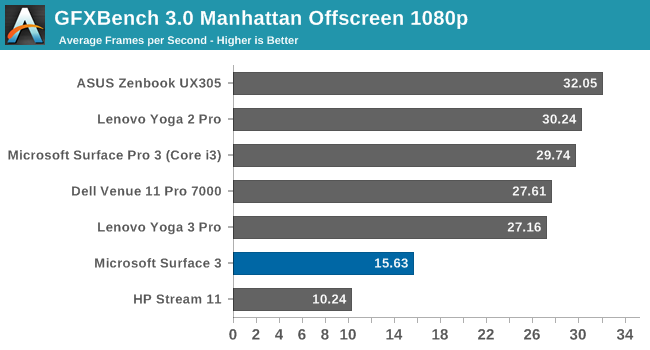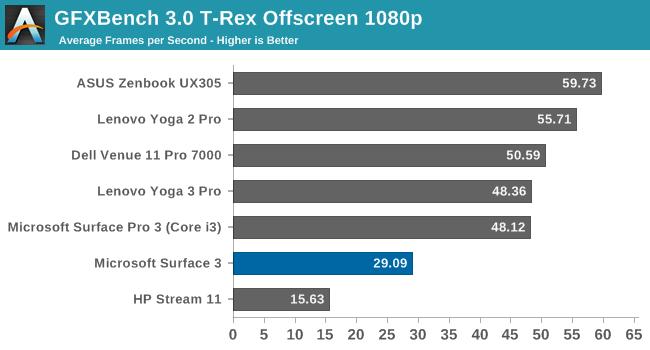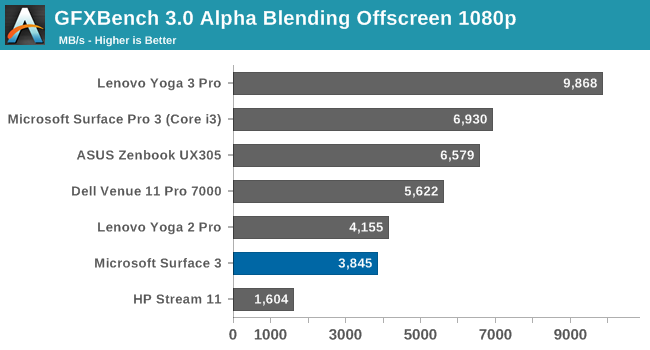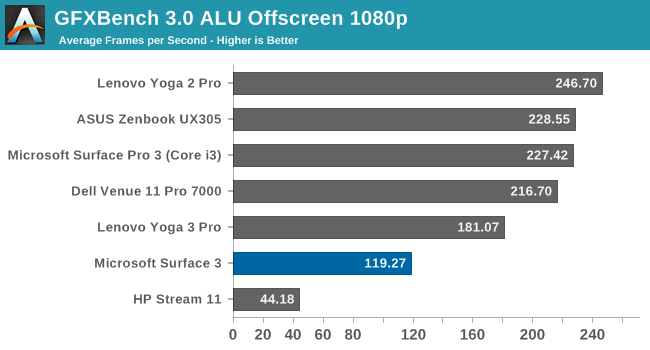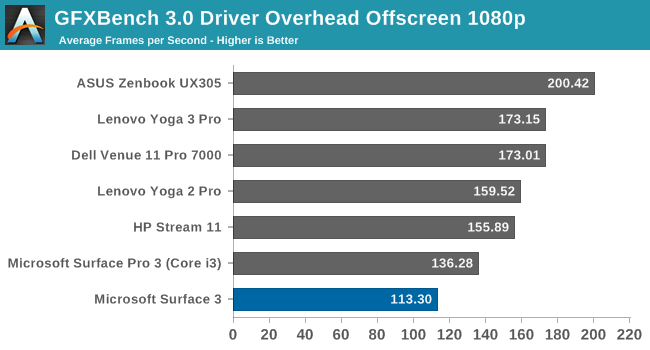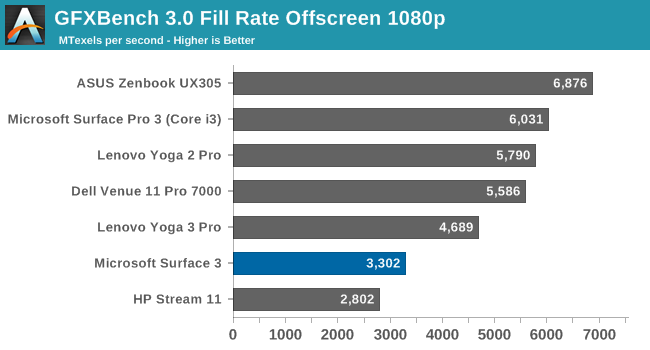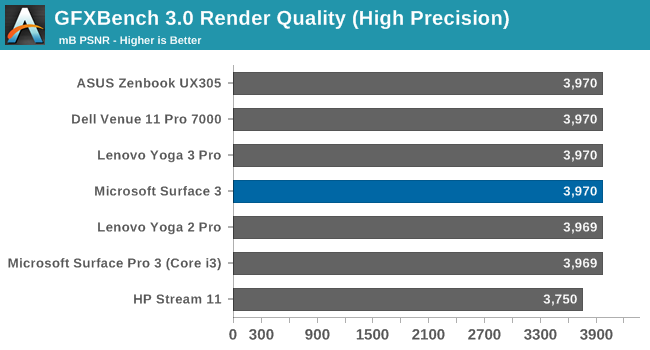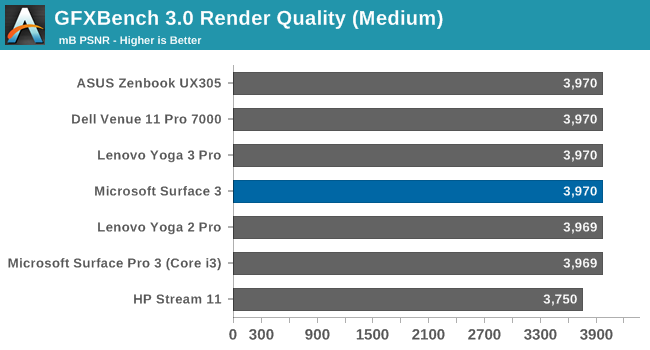 We see a similar story with GFXBench on the notebook side. The 16 EUs in our Atom SoC just cannot compete against the larger and faster GPUs in Core.
Moving on to a real-world game, we use a custom DOTA 2 benchmark for our lower powered devices. It is a very popular battle-arena game, and the GPU requirements are not too demanding.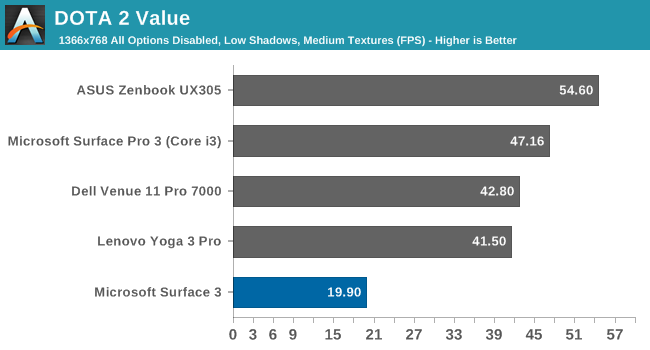 The GPU in the Surface 3 is really not enough to play most games, and even on our value settings, the Surface 3 is not a great experience for DOTA 2. The higher TDP of Core M lets it do ok in this test, but overall the Surface 3 is a long way back of even the Surface Pro 3 Core i3.
Storage Performance
Like most tablets, the Surface 3 utilizes eMMC storage rather than the SSD storage found on higher priced laptops and Core M tablets. It costs less, it is less complex, and it works. So expectations are that it will not be able to compete with the fastest solutions out there. But as a tablet, workloads should be less complex, at least in theory.
Unfortunately Microsoft shipped me the 64 GB version of the tablet, and due to PCMark 8 requiring a large amount of free space in order to perform its tests, it was unable to be run on this device. But we have run into this issue in the past, and we can turn to a couple of other tools to get a feel for how the storage performance is. Even though eMMC is slower than a good SSD, there is still different levels of performance based on the NAND in use and the controller.
I ran CrystalDiskMark over a 4 GB span and the results are below.
Surface 3 eMMC Storage (left) vs Surface Pro 3 Core i3 SSD (right)
Compared to a true SSD, the eMMC performance leaves a lot to be desired. In fact, most of the time when I was using the tablet and I found it slow, such as installing software, or loading programs, it was mostly disk bound. There are faster eMMC options available, but I will refrain from comparing it to other tablets since we do not have the same benchmarking tools for both.