Benchmark Configuration
As far as reliability is concerned, while we little reason to doubt that the quad Xeon OEM systems out there are the pinnacle of reliability, our initial experience with Xeon E7 v3 has not been as rosy. Our updated and upgraded Quad Xeon Brickland system was only finally stable after many firmware updates, with its issues sorted out just a few hours before the launch of the Xeon E7 v3. Unfortunately this means our time testing the stable Xeon E7 v3 was a bit more limited than we would have liked.
Meanwhile to make the comparison more interesting, we decided to include both the Quad Xeon "Westmere-EX" as well as the "Nehalem-EX". Remember these heavy duty, high RAS servers continue to be used for much longer in the data center than their dual socket counterparts, 5 years or more are no exception. Of course, the comparison would not be complete without the latest dual Xeon 2699 v3 server.
All testing has been done on 64 bit Ubuntu Linux 14.04 (kernel 3.13.0-51, gcc version 4.8.2).
Intel S4TR1SY3Q "Brickland" IVT-EX 4U-server
The latest and greatest from Intel consists of the following components:
CPU
4x Xeon E7-8890v3 2.5 GHz
18c, 45 MB L3, 165W TDP

or

4x Xeon E7-4890 v2 (D1 stepping) 2.8GHz
15 cores, 37.5MB L3, 155W TDP
RAM
256 GB, 32x 8 GB Micron DDR-4-2100
at 1600MHz

or

256 GB, 32x8GB Samsung 8GB DDR3
M393B1K70DH0-YK0 at 1333MHz
Motherboard
Intel CRB Baseboard "Thunder Ridge"
Chipset
Intel C602J
PSU
2x1200W (2+0)
Total amount of DIMM slots is 96. When using 64GB LRDIMMs, this server can offer up to 6TB of RAM.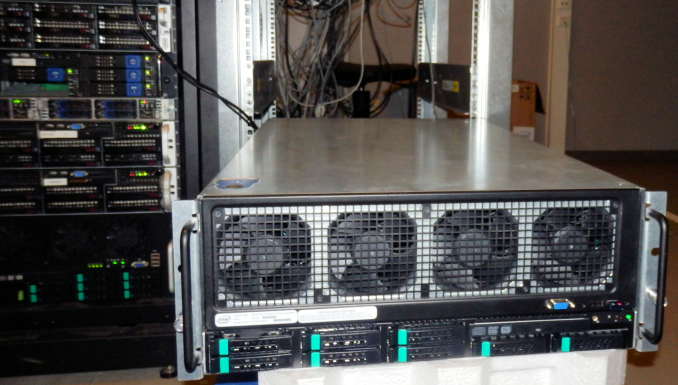 If only two cores are active, the 8890 can boost the clockspeed to 3.3 GHz (AVX code: 3.2 GHz). The 4890v2 reaches 3.4 GHz in that situation. Even with all cores active, 2.9 GHz is possible (AVX code: 2.6 GHz).
Intel Quanta QSCC-4R Benchmark Configuration
The previous quad Xeon E7 server, as reviewed here.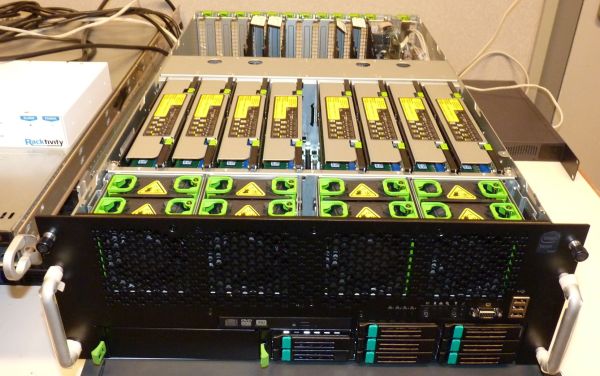 CPU
4x Xeon X7560 at 2.26GHz, or
4x Xeon E7-4870 at 2.4GHz
RAM
16x8GB Samsung 8GB DDR3
M393B1K70DH0-YK0 at 1066MHz
Motherboard
QCI QSSC-S4R 31S4RMB00B0
Chipset
Intel 7500
BIOS version
QSSC-S4R.QCI.01.00.S012,031420111618
PSU
4x850W Delta DPS-850FB A S3F E62433-004 850W
The server can accept up to 64 32GB Load Reduced DIMMs (LR-DIMMs) or 2TB.
Intel's Xeon E5 Server – "Wildcat Pass" (2U Chassis)
Finally, we have our Xeon E5 v3 server:
| | |
| --- | --- |
| CPU | Two Intel Xeon processor E5-2699 v3 (2.3GHz, 18c, 45MB L3, 145W) |
| RAM | 128GB (8x16GB) Samsung M393A2G40DB0 (RDIMM) |
| Internal Disks | 2x Intel MLC SSD710 200GB |
| Motherboard | Intel Server Board Wilcat pass |
| Chipset | Intel Wellsburg B0 |
| BIOS version | August the 9th, 2014 |
| PSU | Delta Electronics 750W DPS-750XB A (80+ Platinum) |
Every server was outfitted with two 200 GB S3700 SSDs.