Saving Power
Efficiency is very important in many scenarios, so let's start by checking out idle power consumption. Most of our servers have a different form factor. Some (X-Gene, Atom c2750 in HP Moonshot) are micro-servers sharing a common PSU and some are based upon a motherboard that has a lot of storage interfaces (the C2750 server, the SYS-5028D-TN4T). Our Xeon E5 was running inside a heavy 2U rackserver, so we did not include those power readings.
But with some smart measurements, some deductions and a large grain of salt we can get somewhere. We ask our readers to take some time to analyze the measurements below.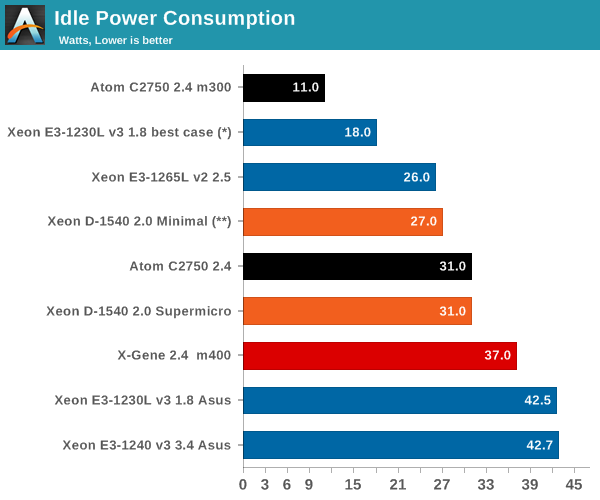 (*) Calculated as if the Xeon E3 was run in an "m300-ish" board.
(**) See our comments

The server based upon the ASUS P9D-MH is the most feature rich board in our comparison. The C2750 measurements show how much difference a certain board can make - the Asrock C2750D4I which targets the storage market needs 31 W, and by comparison the m300 micro server inside the HP Moonshot needs only 11 W. The last measurement does not include the losses of the PSUs, but it still shows how much difference, even in idle, the board makes.
The board inside the supermicro SYS-5028D-TN4T - the Supermicro X10SDV-TLN4F - is a bit more compact than the Asus P9D-MH, and is very similar to the ASRock C2750D4I. But inside SYS-5028D-TN4T we also find a storage backplane and a large fan in the back. So we disabled several components to find out what their impact wass.
0.5 Watt for the large fan in the back of chassis
0.5 Watt for the fan on top of the heatsink
​0.5 Watt for the storage backplane
3.5 Watt for 10 Gbit Ethernet PHY
In order to make the Supermicro similar to the C2750DI, we disable the large fan, we removed the storage backplane and disable the 10 Gb Ethernet PHY in BIOS. The result was that the idle power lowered from 31W to 27W. The only difference was that the Asrock C2750D4I uses a large passive heatsink and the Supermicro X10SDV-TLN4F uses a small fan. We found out that the fan uses about 0.5 Watt, so we have reason to believe that the Xeon D consumes slightly less or similar at idle than the Atom C2750.
For those who have missed our review of the X-Gene 1, remember that the software ecosystem for ARM is not ready yet (ACPI and PCIe support) and that the Ubuntu running on top of the X-Gene was not the vanilla Ubuntu 14.04 but a customized/patched one. Also the X-Gene 1 is baked with an older 40 nm process.