Scale-Out Big Data Benchmark: ElasticSearch
ElasticSearch is an open source, full text search engine that can be run on a cluster relatively easy. It's basically like an open source version of Google Search that can be deployed in an enterprise. It should be one of the poster children of scale-out software and is one of the representatives of the so called "Big Data" technologies. Thanks to Kirth Lammens, one of the talented researchers at my lab, we have developed a benchmark that searches through all the Wikipedia content (+/- 40GB). Elasticsearch is – like many Big Data technologies – built on Java (we use the 64-bit server version 1.7.0).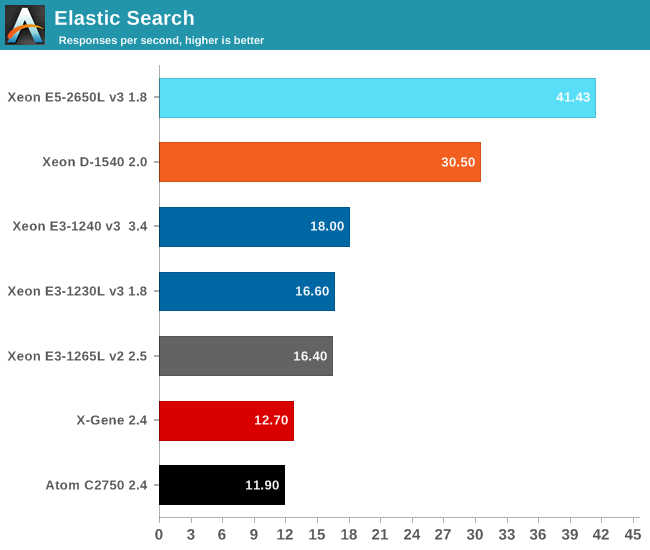 The term "Big data" almost immediately suggests that you need massive machines, more like the new Xeon E7 which supports up to 6 TB. In reality, many big data analyses are running on top of very humble machines in a cluster. ElasticSearch is such an an application: the underlying Java technology does not work well with a larger than 32 GB heap. A total of 64 GB RAM is considered as the sweet spot, to leave some RAM space for filesystem caching.
The result of the Xeon D is stunning. The Xeon D is no less than 70% faster than the fastest Xeon E3s. Better performance is possible with the Xeon E5, but the price tag of those servers is not comparable to the Xeon D servers. The Xeon D-1540 (and as a result the SYS-5028D-TN4T) is the performance per dollar champ here.