System Performance
Gigabyte has provided the lowest speed processor that they have available in the P35X series, but it is no slouch. As a 47 watt CPU, the quad-core Core i7-4710HQ has a base frequency of 2.5 GHz and turbo of 3.5 GHz and assuming the P35X's cooling system is up to the task, it should be able to keep the frequencies up during most scenarios. They do also offer the i7-4720HQ as an option, which bumps both frequencies another 100 MHz, and the i7-4860HQ which is 2.4-3.6 GHz and includes Iris Pro graphics.
To analyze and contrast system performance among various notebooks, we turn to our standard benchmarking suites. I have sampled several devices to compare against, including the Clevo P750ZM which has a 4K display and a desktop CPU inside, and several other gaming systems. Additionally, I have included some more typical workstation devices just for comparison. If you would like to see how the P35X compares to any other device we have reviewed, please check out our Bench section.
PCMark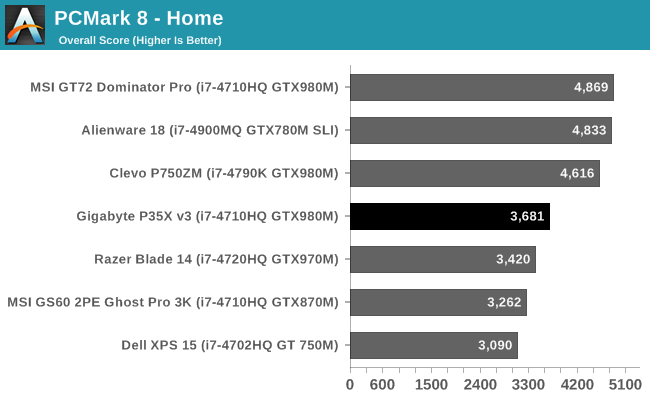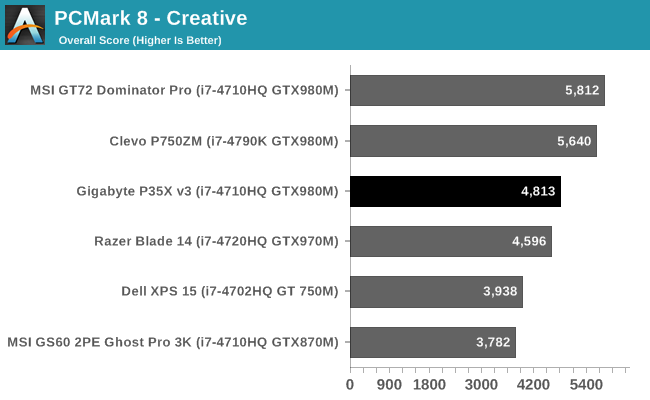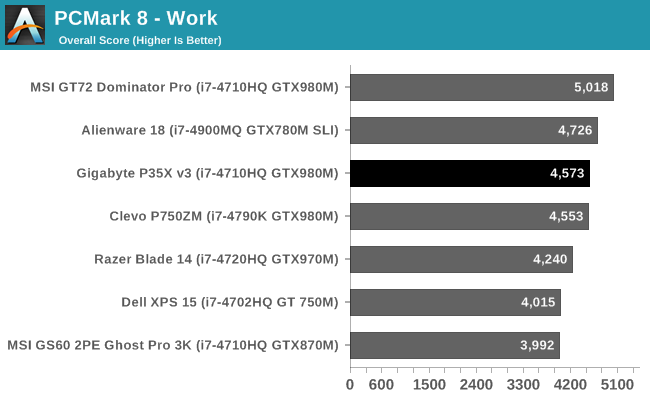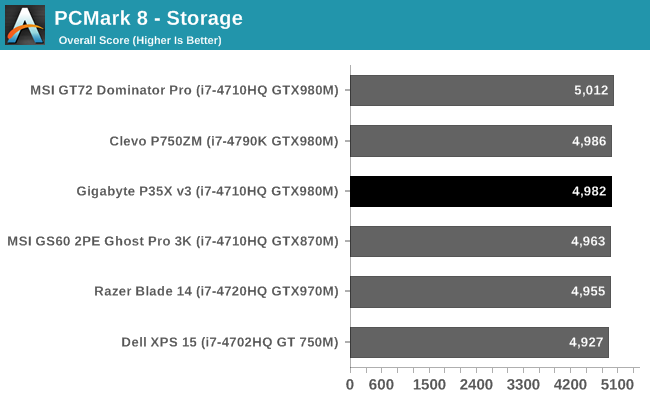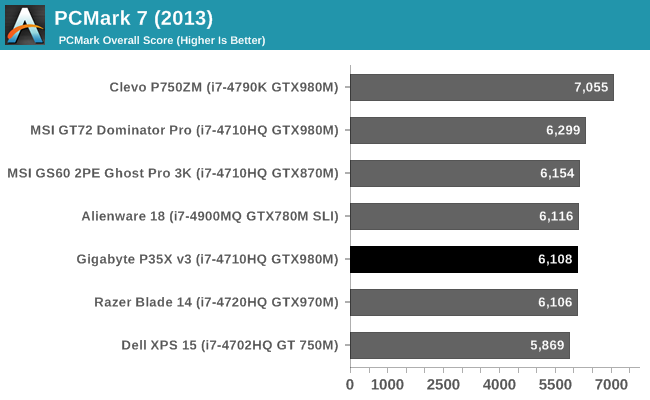 PCMark performs several tasks depending on which mode is being run, which attempt to represent real-world use cases. The nature of the workloads has several burst loads and several sustained loads. All aspects of the system are taken into account, including CPU performance, some GPU performance, storage performance, and even display resolution. That is why devices with desktop class components like the Clevo P750ZM can fall behind much slower CPUs in this test, because the Clevo comes with a 4K display.
The Gigabyte P35X fares very well here, even though the higher than normal display resolution does pull its scores back somewhat compared to the 1080p that is common in this range of devices. Somewhat non surprising is the RAID 0 configuration of the two SSDs does not really improve the PCMark Storage results, although maximum transfer rates would be increased.
Cinebench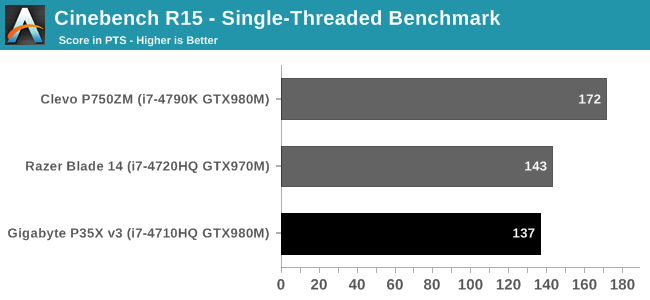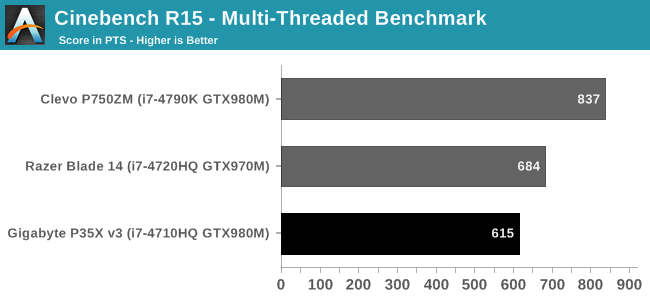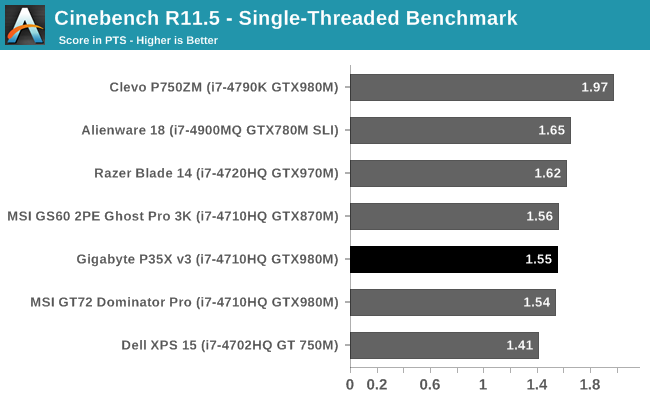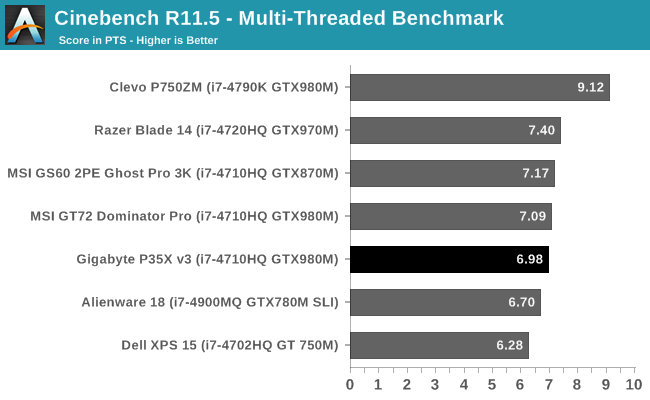 As a test of CPU based rendering, Cinebench loves IPC and frequencies. The single-threaded performance of the i7-4710HQ processor is quite good with the maximum turbo frequency available of 3.5 GHz, although I did not see much more than 3.3 GHz during the run. Mult-threaded scores are drastically increased over Ultrabook class parts due to the higher TDP parts having four cores plus hyperthreading.
x264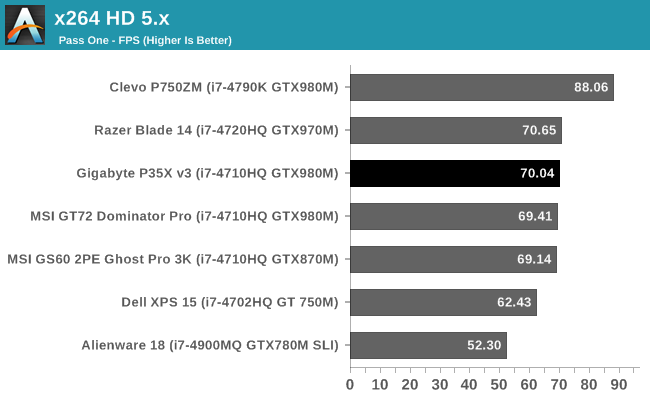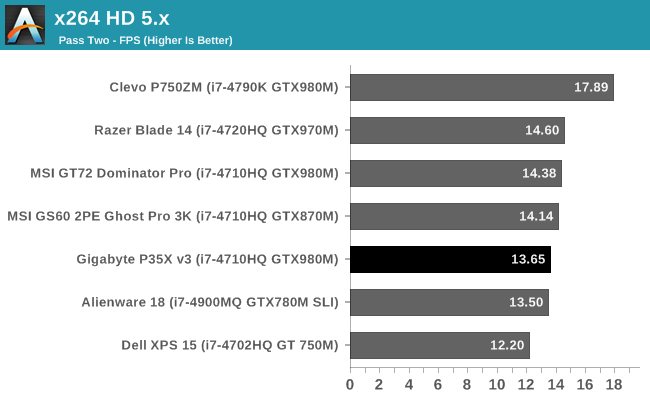 The x264 benchmark is another one that craves cores and high frequencies, and the P35X scores quite well in these sorts of scenarios. It of course cannot compete with the desktop part in the Clevo P750ZM, but that device cannot compete on weight either.
Javascript Performance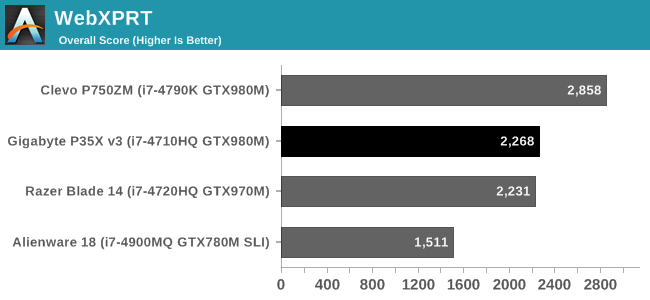 None of the high performance systems will struggle with Javascript, and all of them show performance levels significantly higher than Ultrabooks and the like.
TouchXPRT 2014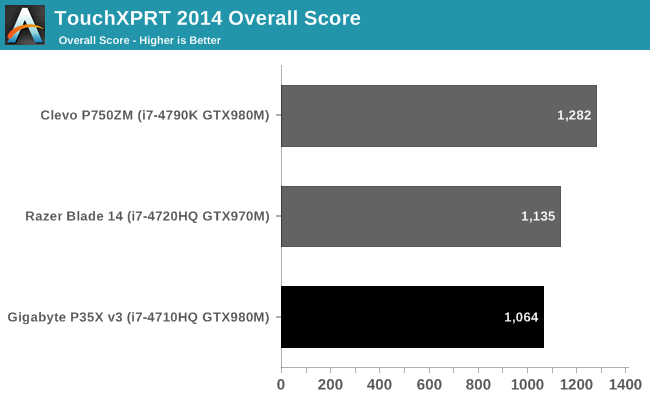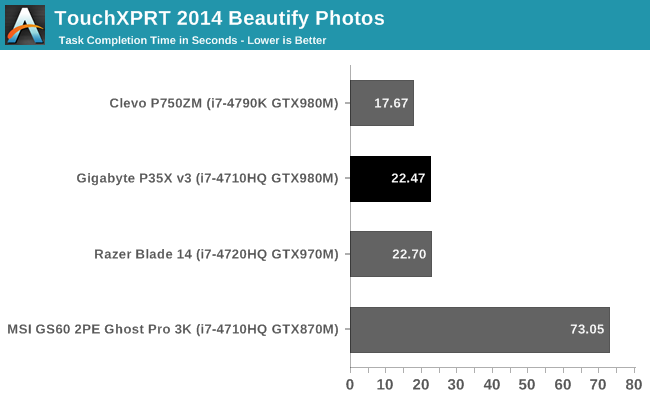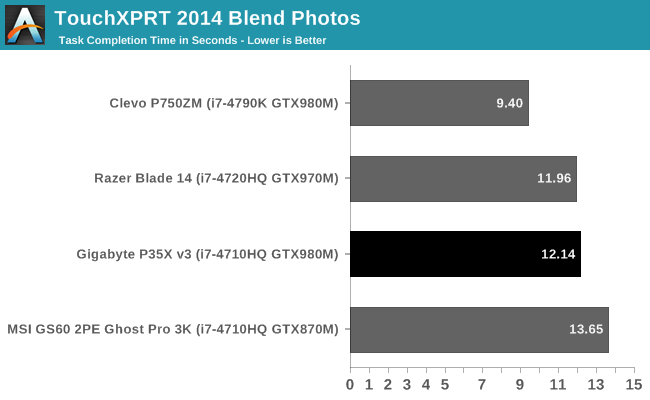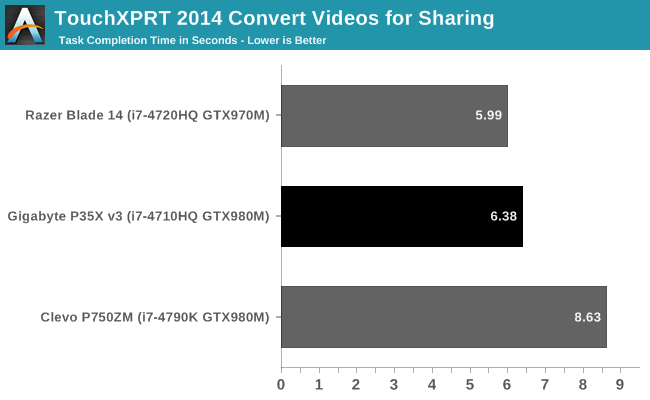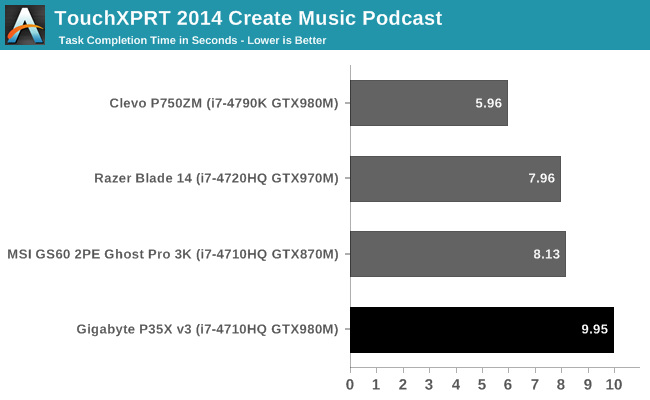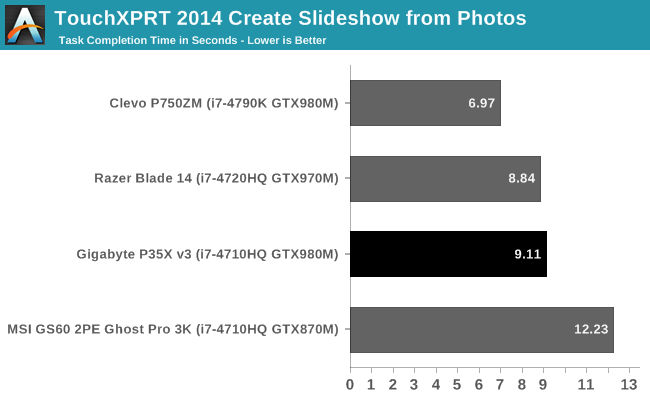 This is a benchmark which has very small short workloads, and the P35X handles this test with ease. It slots in exactly where you would expect, between the i7-4702HQ and i7-4720HQ models of the Razer Blade.
System Performance Conclusion
Overall, the P35X performs about where you would expect. System performance is quite good for any sort of CPU bound workload. I would question the use of RAID 0 for the SSDs, rather than just a single larger drive, but it does not harm performance. The base system's 256 GB of SSD storage is not really a lot to work with, so games will likely end up on the much slower 7200rpm disk drive. Absolute performance will be up slightly, but it does not affect real world use very much.
The CPU is plenty powerful, and those that need a bit more grunt can check out the optional processors. With 16 GB of memory, the P35X should handle most desktop workloads with aplomb.
Those that buy this system though are likely more interested in gaming performance, so let's move to that now.