Networking and Storage Performance
Evaluating the capabilities of the primary storage subsystem turned out to be a challenging process. We usually use PCMark 8's storage bench for mini-PCs. However, the lack of enough free space after installing a couple of Windows updates meant that PCMark 8 would consistently crash during the benchmark process. However, we were able to process the benchmark on the Patriot EP series microSDXC card.
The PCMark 8 storage bench replays the traces of certain common workloads such as loading games and document processing on the target drive. Results are presented in two forms, one being a benchmark number and the other, a bandwidth figure. We ran the PCMark 8 storage bench on selected PCs and the results are presented below.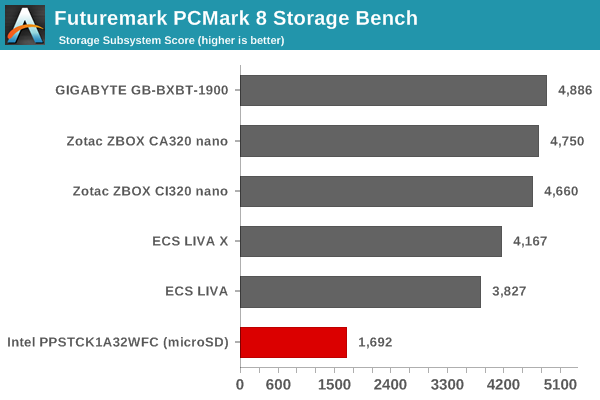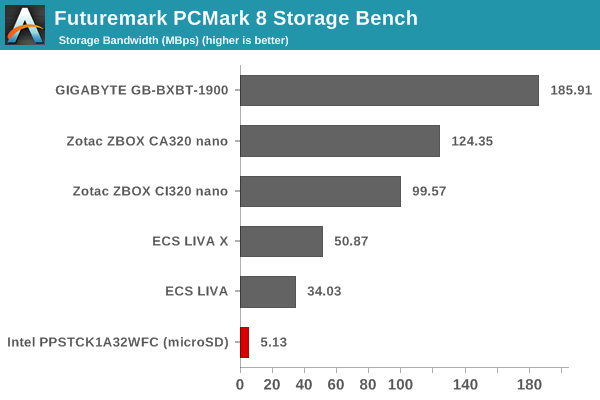 Note that we are benchmarking a microSDXC card with write speeds of the order of 40 MBps and read speeds of around 90 MBps - the results are not surprising, and should only be taken at face value. That said, in order to get an idea of the eMMC performance, we ran ATTO and CrystalDiskMark on the Samsung MBG4GC. A screenshot of the results is presented below.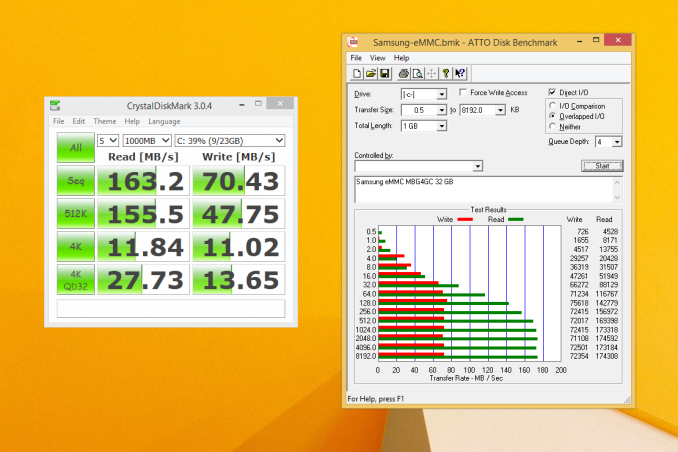 On the networking side, we restricted ourselves to the evaluation of the WLAN component. Our standard test router is the Netgear R7000 Nighthawk configured with both 2.4 GHz and 5 GHz networks. The router is placed approximately 20 ft. away, separated by a drywall (as in a typical US building). A wired client (Zotac ID89-Plus) is connected to the R7000 and serves as one endpoint for iPerf evaluation. The PC under test is made to connect to either the 5 GHz (preferred) or 2.4 GHz SSID and iPerf tests are conducted for both TCP and UDP transfers. It is ensured that the PC under test is the only wireless client for the Netgear R7000. We evaluate total throughput for up to 32 simultaneous TCP connections using iPerf and present the highest number in the graph below.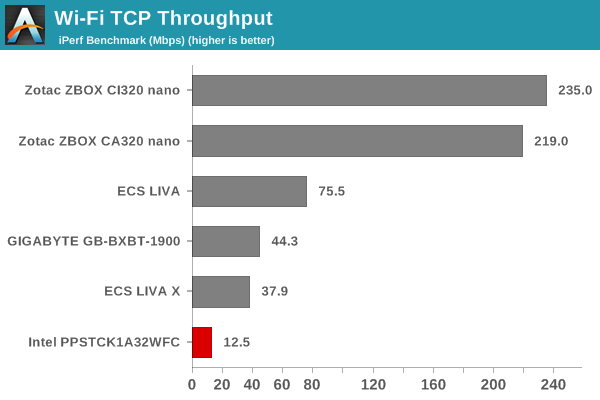 In the UDP case, we try to transfer data at the highest rate possible for which we get less than 1% packet loss.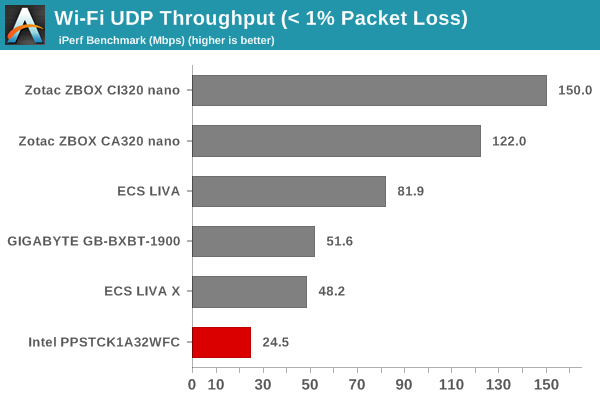 The numbers appear downright bad even when we consider that we are looking at a 1x1 802.11n connection. Surprisingly, when connected to another router in the same place, we were getting transfer rates in the order of 48 - 50 Mbps. However, the results graphed above have the numbers from the same router with the clients at the same location. Users will probably be seeing a wide range in the performance of the WLAN component.