Power Consumption and Thermal Performance
The power consumption at the wall was measured with a 1080p display being driven through the HDMI port. In the graphs below, we compare the idle and load power of the Intel NUC5i7RYH with other low power PCs evaluated before. For load power consumption, we ran Furmark 1.12.0 and Prime95 v27.9 together. The numbers are not beyond the realm of reason for the combination of hardware components in the machine.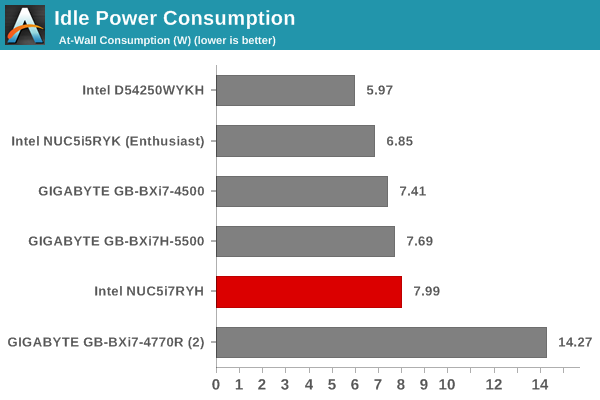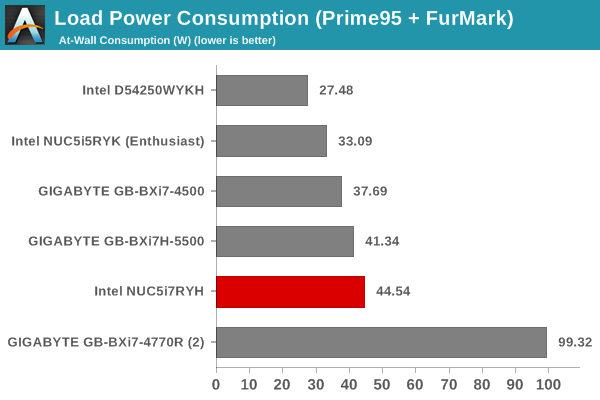 In the steady state, the clocks are managed in order to ensure that the at-wall power consumption stays within the limits of the thermal design's capabilities. As we will see further down, the unit can consume more than 55 W at the wall for short bursts before the thermal management kicks in.
Our thermal stress routine starts with the system at idle, followed by 30 minutes of pure CPU loading. This is followed by another 30 minutes of both CPU and GPU being loaded simultaneously. After this, the CPU load gets removed, allowing the GPU to be loaded alone for another 30 minutes. The various clocks in the system as well as the temperatures within the unit are presented below.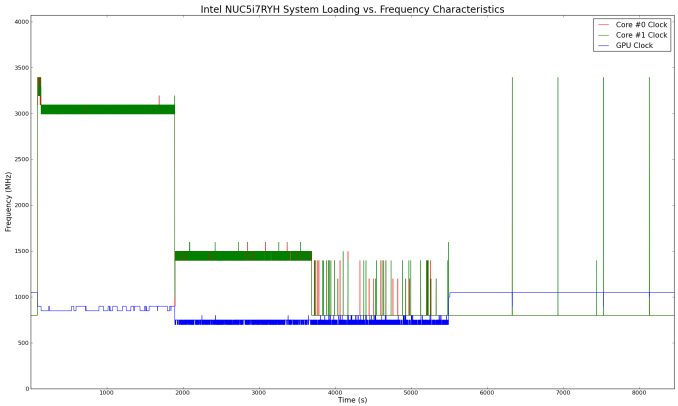 According to Intel's official specifications, the junction temperature of the Core i7-5557U is 105C. We find that pure CPU loading takes us close to it with turbo frequencies (3.4 GHz). However, before thermal throttling can kick in, the CPU cores revert to the rated operating frequency of 3.1 GHz. At that frequency, the cores have no trouble staying below the junction temperature.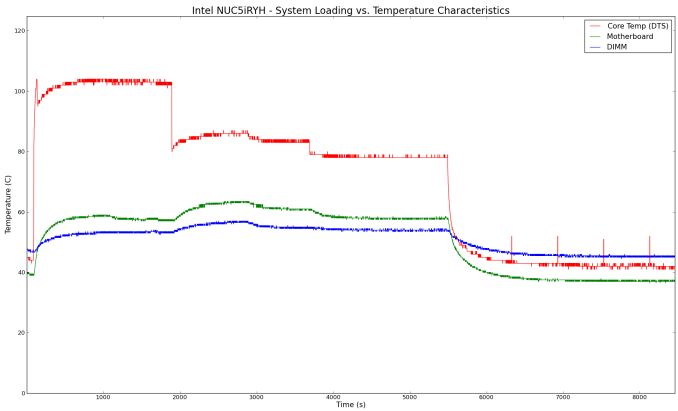 The case of CPU and GPU getting loaded simultaneously is more interesting. The CPU cores run at 1.5 GHz and the GPU around 750 MHz. The temperature of the CPU package doesn't go above 85 C in this scenario. Obviously, we are not being thermally limited. The at-wall power consumption graph provides more insight.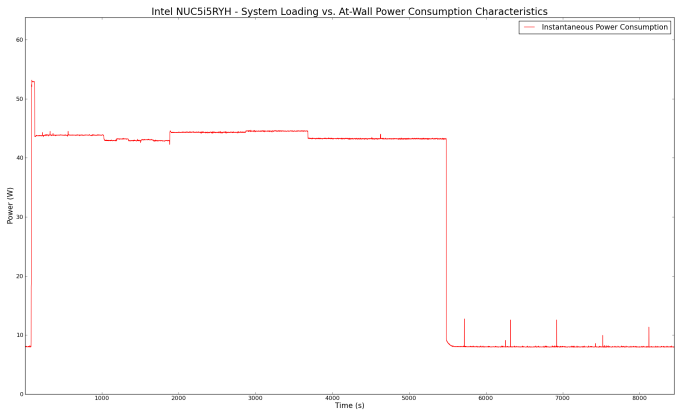 The limiting factor on the performance / operating frequencies turns out to be the at-wall power consumption. With both CPU and GPU loaded simultaneously, the unit has a sustained power consumption of around 45 W, and we find that the number is similar for both the CPU-only and GPU-only scenarios.
On the whole the thermal design works well. As long as the limiting factors for the performance of the NUC are understood, the end users should not be in for any surprises.