Integrate: OpenRack
After Windmill and Watermark, the time was right another round of consolidation, bringing the rack design into the mix.
An issue with the Freedom servers was that the PSU was non-redundant (resulting in the Dragonstone design) and regularly had a larger power capacity than ever would be needed, which popped up on Facebook's efficiency radar. Adding another PSU in every server would mean an increased CAPEX and OPEX, because even when using an active/passive mode, the passive PSU is still using power.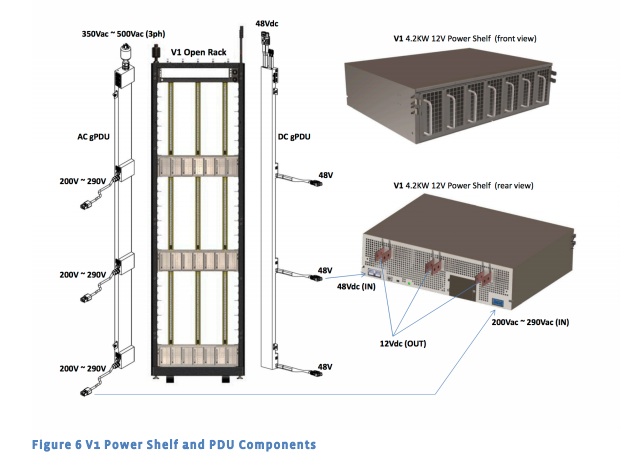 A logical conclusion then was that this problem could not be solved within the server chassis, but could instead be solved by grouping power supplies of multiple servers. This resulted in OpenRack v1, a rack built with grouped power supplies on 'power shelves' supplying 12.5V DC for a 4.2kW 'power zone'. Each power zone has one power shelf (3 OpenUnits high), a highly available group of power supplies with a 5+1 redundancy feeding 10 OU (OpenU, 1 OU = 48mm) rack units of equipment. When power demand is low, a number of PSUs are automatically powered off allowing the remaining PSUs to operate much closer to their optimal points in the efficiency curve.
Another key improvement over regular racks was the power distribution system, which got rid of power cables and their need to be (dis)connected each time a server is serviced. Power is provided by three vertical power rails called a bus bar, with a rail segment for each power zone. After fitting each server with a bus bar connector, you can now simply slide in the server, the connector hot-plugs into the rail at the back, done. An additional 2 OU equipment bay was placed at the top for switching equipment.