Battery Life
The original Moto E shipped with a 7.52Wh battery. While we don't have data for battery life on the original, it's safe to say that the new Moto E with its 9.08Wh battery and more efficient SoC should have no trouble surpassing the battery life of the original. I've highlighted the 2014 Moto G in the graphs below just to provide an interesting point of comparison.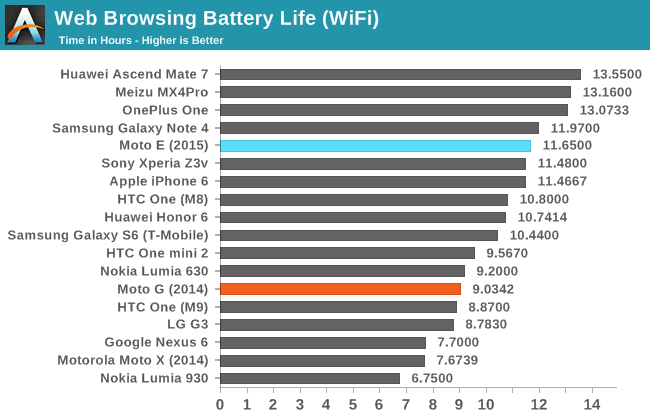 The combination of a fairly large battery with a power efficient SoC allows the Moto E to take one of the highest spots in our WiFi web browsing test with a runtime of 11.65 hours.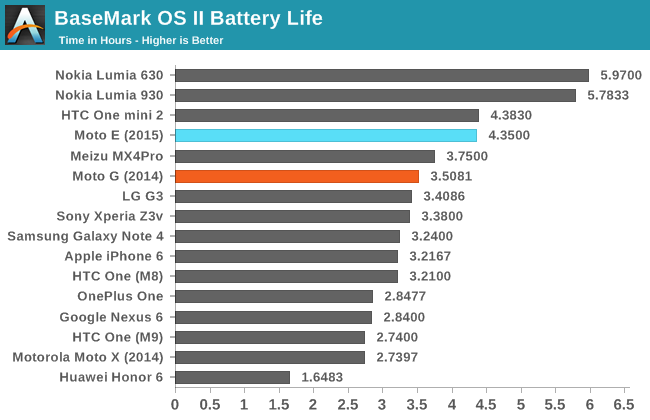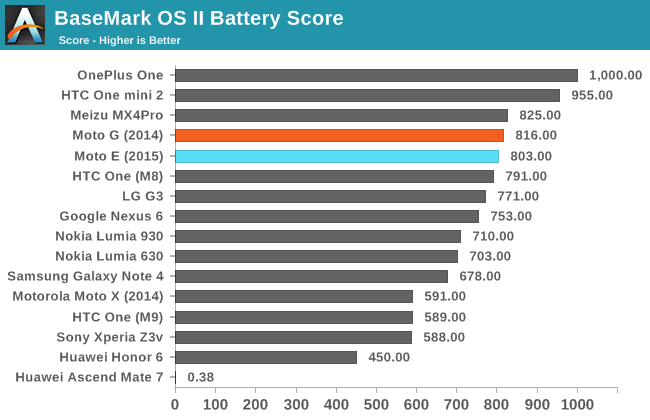 In the BaseMark OS II battery test we see the Moto E pull off a very respectable battery life of 4.35hrs. The score in the battery test is also fairly high, indicating that Snapdradon 410 was able to sustain a high load throughout the test.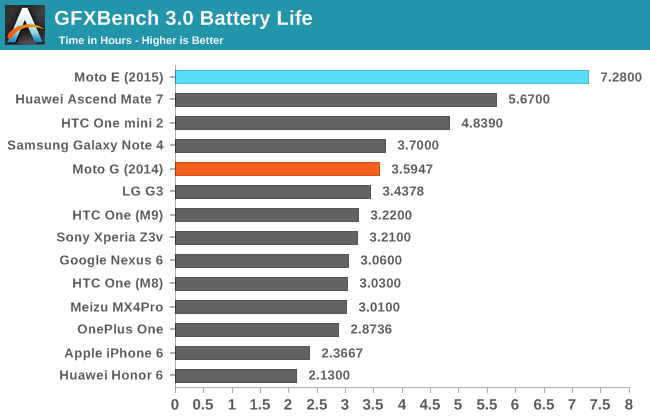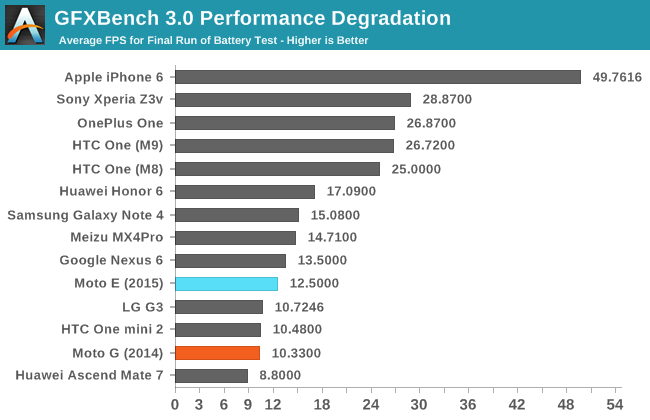 The Moto E does very well in GFXBench's battery test, with a score that sits well above most other smartphones. While the performance for the final run is not as fast as flagship smartphones, it actually doesn't really drop at all from the performance of the very first run.
Overall I think the battery life on the Moto E is stellar, and I don't think buyers will have any complaints about it. The Moto E includes a larger battery than the Moto G, and with a smaller display and more efficient components this gives it a significant lead in every test. There's not much more that you can ask for.
Charge Time
The other side of battery life is the time it takes to charge the battery. If a device has a battery life that falls short of the competition, it can be somewhat excused if the time to charge it is very short which minimizes the amount of time the device is dead for. The opposite can also be true, where a device with a long battery life can end up having longer periods of downtime due to a long charge time.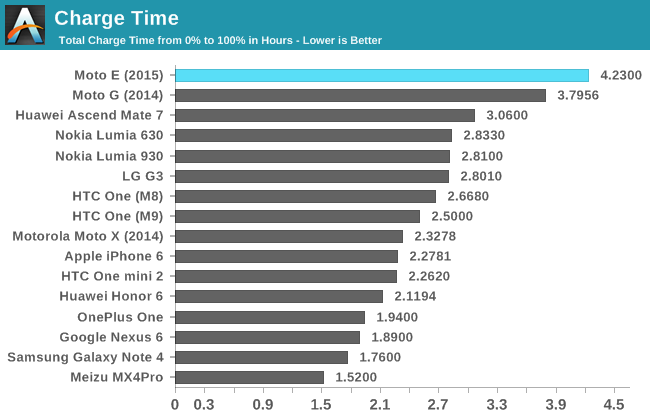 At 4.23 hours, the Moto E has the longest charge time of the devices we've tested to date. While it's not a big issue if you end up charging it overnight, it feels like an eternity when you end up charging it during the day. The problem is that Motorola packages the Moto E with a 5V 550mA charger, which makes it the slowest USB charger I have in my possession. This is definitely another concession for budget reasons, and my recommendation for any buyers is to use the charging block from another device.