Final Words
It wasn't that long ago that I recommended buyers looking for inexpensive smartphones avoid Android devices in favor of Windows Phone. While this may sound strange, at the time it was a reasonable way of thinking. Although Windows Phone has a limited application selection, the users who were interested in low-end devices were typically not heavy app users. Inexpensive Windows Phone devices also performed much better, with competing Android devices providing a slow and jerky interface, and ultimately a poor experience. With Android Lollipop and new budget devices like the Moto E, my opinion about the quality of low end Android devices has changed.
Although the Moto E is not a flagship smartphone, it is a very important product in Motorola's portfolio. With much of Android's growth coming from emerging markets, having a solid budget smartphone is a necessity for Android phone manufacturers. I think the Moto E represents a good value proposition for customers, and I think it provides a more than satisfactory experience. Low end Android devices are no longer painfully slow, and with Motorola providing a version of Android that is nearly the same as Google's stock Android there's no issues with bloated software bogging down the device.
When building a smartphone that targets a low price, sacrifices will inevitably be made to drive down the cost for the manufacturer and the consumer. I think Motorola has chosen the right areas to make concessions with the Moto E. The areas where the Moto E definitely stumbles are its WiFi performance and its camera. The WiFi is limited to 802.11n, and the camera takes acceptable photos only when given very generous lighting. However, by reducing costs with the camera and the WiFi, Motorola has been able to maintain quality in every other respect. The Moto E doesn't fall short of Motorola's standards for design and build quality, and it packs the fastest CPU you can get at this price point. The Snapdragon 410 model even has support for LTE which is often a feature you give up with products at this price. While the display is not as nice as the 1280x720 one on the Moto G, it's still decently sharp and has surprisingly good color reproduction.
As for the competition, I don't know of much. The Moto E is priced at $149, and in many markets I don't think the Moto E really has any competition at that price point. While there are cheaper options, the concessions to reach an even lower price point really start to damage the user experience.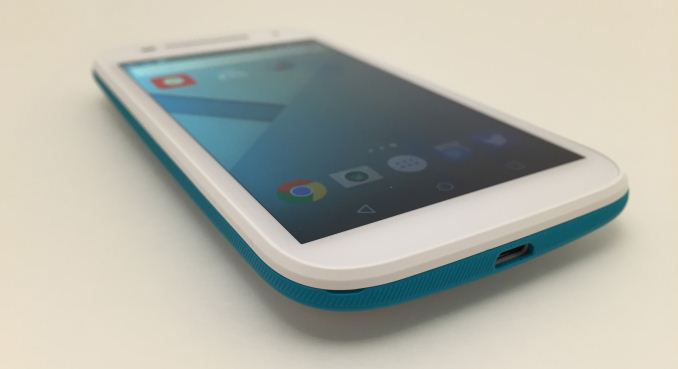 Looking toward the future, there are a few things Motorola should strive for if they are possible at the Moto E's price target. I would really love to see the next version move to a 1280x720 display, although since that is a point of differentiation between it and the Moto G we may never see that happen. Continued improvements to the camera will also be appreciated, and I think faster WiFi will be a must on the next model. If not 802.11ac, then at least 5GHz 802.11n. Right now Motorola has a really solid offering, and it's a phone that pretty much anyone will be able to afford. The next billion people in the world who become connected will undoubtedly be doing it via their smartphone, and Motorola is well positioned to be a big player in that market with phones like the Moto E.