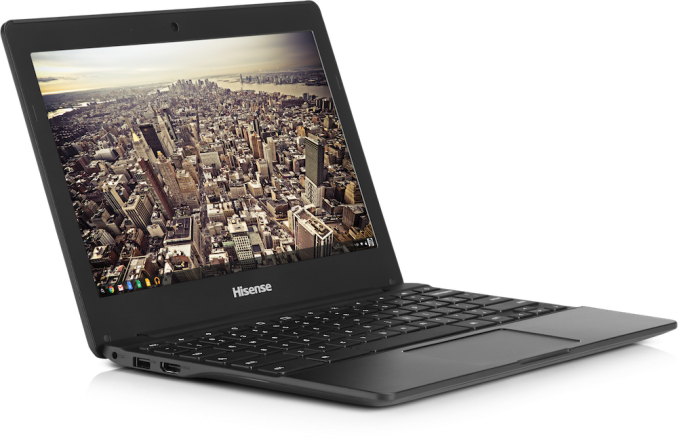 Today Google announced a number of new Chrome OS products that will be available in the future from their OEM partners. The main focus of all these devices appears to be pushing the price of Chrome OS devices even lower so that they become accessible to more people.
The first two devices announced are the Haier Chromebook 11 and the Hisense Chromebook. Both of these laptops have 11.6" 1366x768 displays, 16GB of eMMC storage, 2GB of DDR3L memory, and surprisingly, 2x2 802.11ac WiFi. The main aspect that they differ on is their processors, and subsequently, their battery life. The Haier Chromebook 11 uses a Rockchip RK3288 SoC which has four Cortex A17 cores with a max frequency of 1.8GHz, and a 600MHz ARM Mali-T764 GPU. It advertises a battery life of up to 10 hours. The Hisense Chromebook also uses the Rockchip RK3288, but despite using the same name as the chip in the Haier Chromebook, it has a max CPU frequency of 2.5GHz. Hisense advertises a battery life of up to 8.5 hours. Both of these devices are sure to be popular with educational institutions and anyone looking for a very inexpensive machine to browse the web on.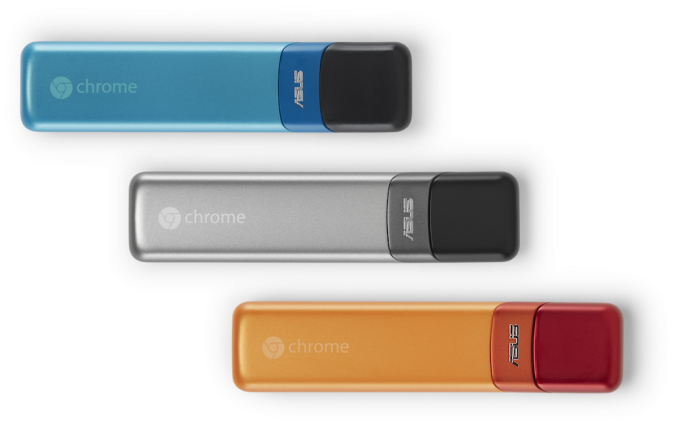 Possibly the more interesting announcement of the day is the Chromebit. There's very little information about specifications, but the Chromebit is essentially a Chrome OS computer on a stick which can be connected to a display and other peripherals to be used as a computer. The Chromebit will be launching in the summer of this year for less than $100, and we'll likely see more concrete pricing and information about specifications as we approach closer to its release date.
Source: Google Chrome Blog