Cinebench R15 Multi-Threaded Results
Looking at a multi-threaded run of Cinebench, the devices which will perform the best are going to need to have enough thermal headroom to keep all of the cores working at a good pace. All of these devices have four logical cores mapped to two physical cores via Hyperthreading, all of which are run at maximum load for the duration of this test.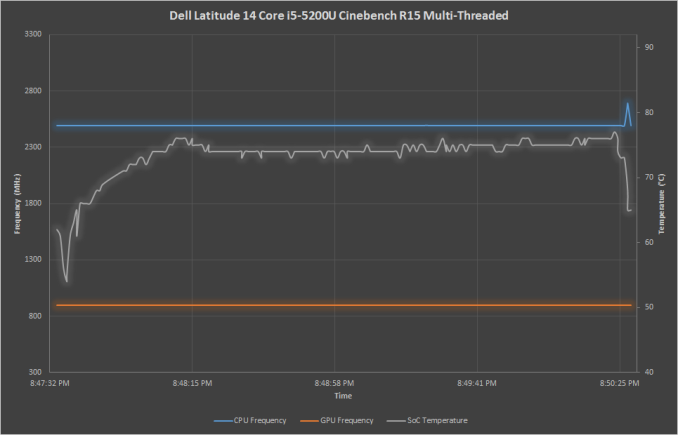 The Core i5 once again has no issues maintaining its high CPU frequency, even though the overall SoC temperature does get higher than the single-threaded run. The Dell Venue 11 Pro tablet though starts off really reaching for the stars, but quickly must throttle back until it finds a consistent range that allows it to stay within its cooling constraints. The Yoga 3 Pro is similar, but quickly falls back due to the 65°C limit placed on the processor by the manufacturer. The ASUS UX305 performs just as well in this test as the last, with a very consistent CPU frequency, despite the temperatures getting a bit higher than the last run.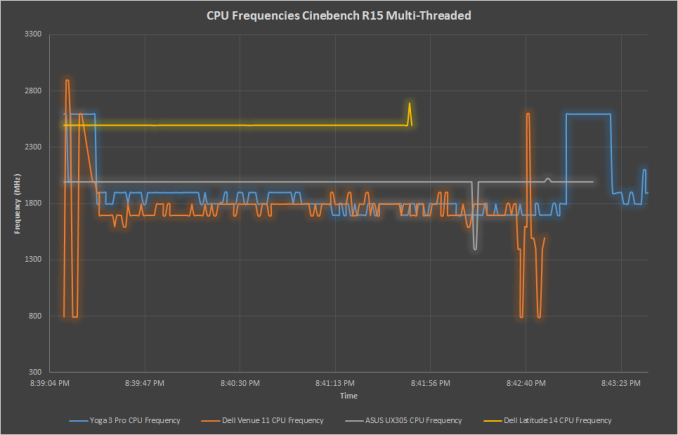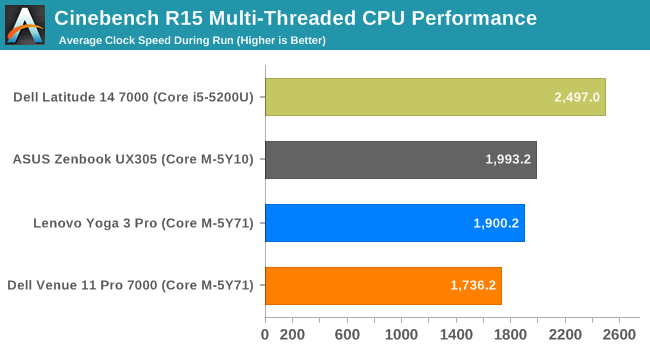 When it comes to average CPU frequency, both the Lenovo Yoga 3 Pro and the Dell Venue 11 Pro once again end up falling behind the ASUS and its much lower turbo speed in this test, though not by a huge margin. The ASUS averages the highest CPU frequency of the Core M contenders just like in the single-threaded workload, with the Lenovo less than 100MHz behind it, and the Dell Venue a ways back again. Neither of the 5Y71 devices turbo much over the 5Y10 in this test though.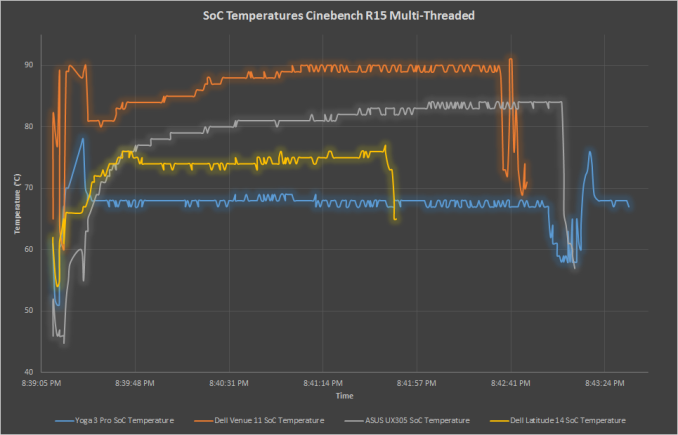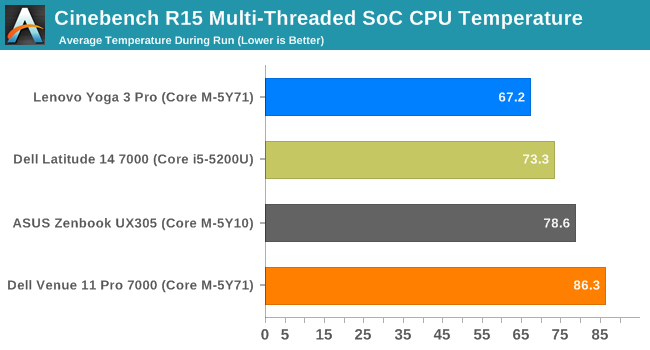 Looking at the temperatures, you can see just how conservative Lenovo has been with the Yoga 3 Pro. The overall SoC temperature is quite a bit lower than all of the other devices when the device is under load. The active cooling and low SoC temperatures help the Yoga 3 Pro to keep a cool exterior to the device.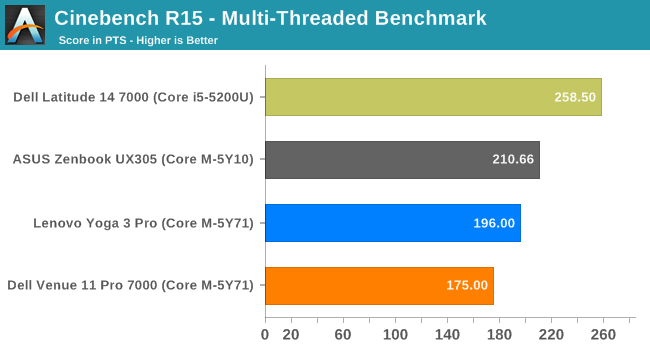 Now we come to the end result of this workload. The 5Y10 device handily outperforms both of the higher ranked models. Unsurprisingly it comes no where near the Core i5, but looking at the CPU frequency graph really demonstrates why it scores higher. Both of the 5Y71 have a lower average score, but unlike the single-threaded result, neither of them can sustain a CPU frequency past the frequency of the ASUS very much.