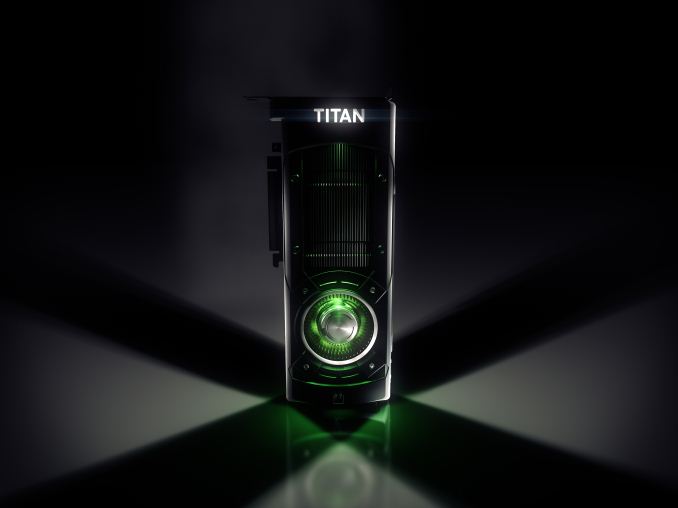 During today's GDC session on Epic's Unreal Engine, NVIDIA CEO Jen-Hsun Huang dropped in as a special guest to announce NVIDIA's next high performance video card, the GeForce GTX Titan X.
In order to capitalize on the large audience of the Unreal session while not spoiling too much ahead of NVIDIA's own event in 2 weeks – the NVIDIA GPU Technology Conference – NVIDIA is playing coy with details on the product, but they have released a handful of details along with a product image.
NVIDIA Titan Specification Comparison
GTX Titan X
GTX Titan Black
GTX Titan
Stream Processors
?
2880
2688
Texture Units
?
240
224
ROPs
96?
48
48
Core Clock
?
889MHz
837MHz
Boost Clock
?
980MHz
876MHz
Memory Clock
?
7GHz GDDR5
6GHz GDDR5
Memory Bus Width
384-bit?
384-bit
384-bit
VRAM
12GB
6GB
6GB
FP64
?
1/3 FP32
1/3 FP32
TDP
?
250W
250W
Transistor Count
8B
7.1B
7.1B
Architecture
Maxwell
Kepler
Kepler
Manufacturing Process
TSMC 28nm?
TSMC 28nm
TSMC 28nm
Launch Date
Soon
2/18/14
02/21/13
Launch Price
A Large Number
$999
$999
The GPU underlying GTX Titan X is 8 billion transistors, which similar to the original GTX Titan's launch means we're almost certainly looking at Big Maxwell. NVIDIA will be pairing it with 12GB VRAM – indicating a 384-bit memory bus – and it will once again be using NVIDIA's excellent metal cooler and shroud, originally introduced on the original GTX Titan.
No further details are being provided at this time, and we're expecting to hear more about it at GTC. Meanwhile Epic's master engine programmer Tim Sweeney was gifted the first GTX Titan X card, in recognition of NVIDIA and Epic's long development partnership and the fact that Epic guys are always looking for more powerful video cards to push the envelope on Unreal Engine 4.