Visiontek's Xtasy Everything (NVIDIA Personal Cinema)
We first discovered NVIDIA's intentions to enter this market when we received an early beta of what ended up becoming their Personal Cinema product. What stood out the most about this product wasn't its software and it wasn't its hardware implementation, instead it was the inclusion of an infrared remote control that impressed us. Such a simple thing to offer went overlooked for many generations of ATI All-in-Wonder and Matrox Marvel cards and with NVIDIA's first try, they brought just what the doctor ordered.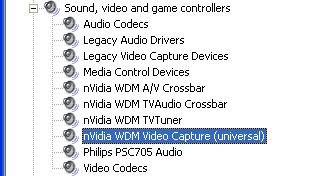 The WDM capture driver must be installed with the Detonator drivers to enable capture support.
NVIDIA's Personal Cinema technology is designed in such a way that it complements their product line quite well. With new GPUs and cards being released every 6 months, sometimes more than 3 cards released at once, it wouldn't make much sense to create twice as many cards to offer Personal Cinema versions of all of them. Instead, NVIDIA chose to enclose the vast majority of the hardware needed for the Personal Cinema in an external box.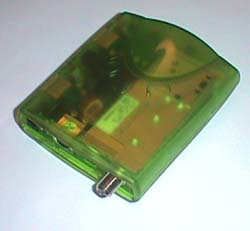 All that is needed on the graphics card itself is a Philips video encoder chip and a special 9-pin output connector in place of the usual S-Video connector. This means that in theory, board manufacturers could make Personal Cinema versions of any NVIDIA card although that hasn't been the case in reality. The vast majority of Personal Cinema products are still GeForce2 MX based although we have seen some GeForce3 models. There has yet to be a single GeForce4 Personal Cinema at the time of publication although most GeForce4s already feature the proper encoder chip and output.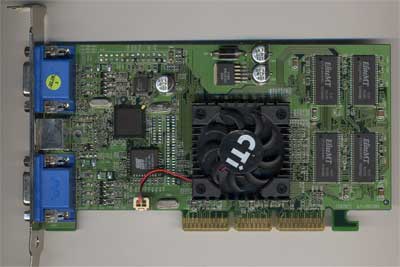 Click to Enlarge - The Philips encoder chip is to the left of the heatsink and above the flash ROM.
Visiontek one of the first out with their GeForce2 MX 400 based Xtasy Everything based on NVIDIA's Personal Cinema design. The board is a simple 64MB GeForce2 MX 400 with two VGA outputs and the aforementioned 9-pin output in between them. The Philips encoder chip powers the inputs and outputs on the green Personal Cinema breakout box. The breakout box is pretty simple, containing only the analog Philips TV tuner and all of the analog circuitry to drive the composite, s-video and 1/8" audio inputs and outputs. Regardless of whether the Personal Cinema is used with a GeForce2 MX or a GeForce3, the performance and behavior of its video features is the same because they all use the same video encoder chip and the same breakout box.