ATI's All-in-Wonder Radeon 8500 128MB
After we thoroughly covered the AIW Radeon 8500DV we'll spend a small amount of time on the newcomer.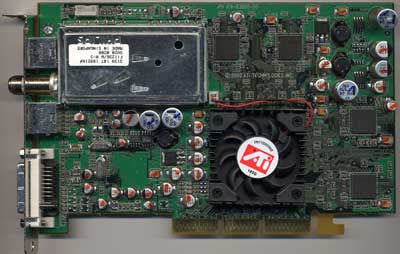 Click to Enlarge
The AIW Radeon 8500 128MB differs from the 8500DV in only a handful of ways:
1) Price - $399 for the AIW 8500 128MB vs $299 for the AIW 8500DV
2) Clock Speed - 275/275 (core/mem) vs. 230/190 (core/mem)
3) Memory size - 128MB BGA memory vs. 64MB TSOP memory
4) TV Tuner - Analog vs. Silicon based tuner
5) Firewire support - None vs. 2 ports
In terms of video capture quality/performance, since the card uses the same Rage Theater chip and circuitry as the AIW Radeon 8500DV there is no difference in capture quality. The move back to an analog TV tuner was made because of additional room on the PCB and most likely to reduce costs; the silicon tuner on the 8500DV also generates quite a bit of heat. In terms of tuning speed, the analog tuner is still faster than any of the competing cards and only a few fractions of a second behind that of the silicon tuner of the 8500DV.
The extra $100 pays for the higher clocked core and memory as well as the additional BGA memory. It's clear that this card is directed at more of the gaming enthusiast that wants the absolute highest performance solution out of their graphics card, this being the highest performing graphics card that ATI makes.
While the AnandTech staff would unanimously select the All-in-Wonder Radeon 8500DV over the new 128MB gaming variant because of the $100 lower price tag, there is definitely a market for the card. It still comes with the same remote, software bundle and everything else that the 8500DV came with the 5 exceptions listed above. This means it has virtually the same strengths and weaknesses as the original 8500DV; flip back a few pages to find out what those are.