Final Words
The Intel NUC5i5RYK provided us with the opportunity to take a look at what Broadwell-U can deliver when coupled with a motherboard providing premium features. The migration from 22nm to 14nm has allowed for higher base clocks while maintaining the same power envelop. The performance delta over the Haswell-U-based D54250WYKH (particularly, on the graphics side) is noticeable. That said, while migrating from Sandy Bridge or Ivy Bridge is a no-brainer, there is not enough on offer to recommend migrating from a Haswell-based UCFF PC.
The BIOS in our pre-production review kit had some quirks and the QVL could do with some additions (particularly, support for 2133 MHz DRAM kits would be very welcome). Hopefully, these get fixed as the official market availability date (sometime in March) draws near. We also covered aspects such as replaceable lids for added functionality (NFC and wireless chargining, for example) and customization in our launch piece. Similar to the previous generation NUCs, we also have a kit with support for a 2.5" drive.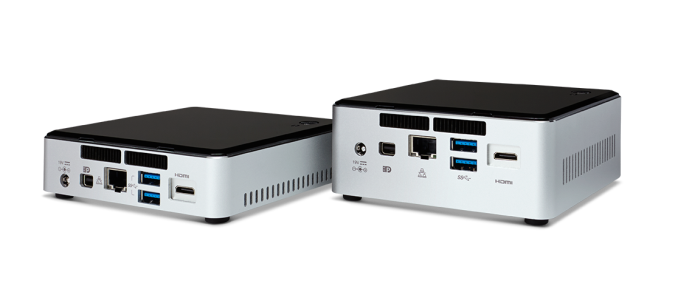 The NUC5i5RYK provides an admirable UCFF PC option due to three major aspects:
Availability of a M.2 PCIe 2.0 x4 slot for SSDs while retaining compatibility with M.2 SATA SSDs
Presence of an I218-V GbE controller compared to the Realtek-based controllers in other UCFF / mini-PCs
Upgrade to the Intel AC7265 2x2 802.11ac solution for the WLAN component
There is scope for improvement in terms of the overall feature set. For the home-consumer focused kits, it would be nice if a mini-HDMI to HDMI adapter were to be bundled. Even better would be a full-sized HDMI port - GIGABYTE, ECS and Zotac have shown that it is possible to cram in a full-sized HDMI port even in the NUC form factor. While M.2 PCIe SSD support is a welcome addition, it would be great to get Thunderbolt support back into the NUC ecosystem. For cutting-edge HTPCs, the absence of HDMI 2.0 and full hardware decoding for HEVC streams is a drawback. However, we know that those will definitely be getting fixed in the upcoming generations.
The final aspect we talk about today is the pricing. The NUC5i5RYK seems to be available for $376 on PCConnection as of today (even though Intel indicated a street price slightly north of $400). M.2 SSDs (PCIe or SATA) still carry a premium. For users wishing to keep the build cost down, the NUC5i5RYH model with support for 2.5" drives might be a better option.