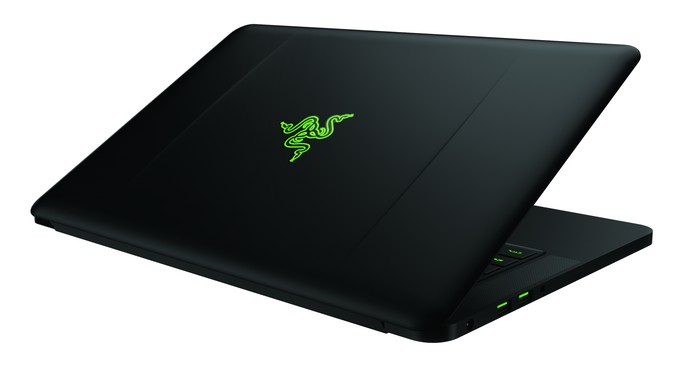 The 2013 Razer Blade was a great gaming system with a not so great display. For 2014, Razer outfitted the Blade with a Sharp IGZO 3200x1800 display, as well as a faster GPU. The GeForce GTX 870M was a pretty potent graphics card, and the improved display made the Blade one of the best Windows laptops around. But it was not without its faults. For a laptop that was over $2000, it came with just 8 GB of system memory, and although the GTX 870M was a powerful GPU for last year, it would struggle with framerates at the native resolution of the laptop. So for 2015, Razer is back with another updated version of the Razer Blade, hoping to rectify the remaining nits that we like to pick.
The first major upgrade is the GPU. The 2014 Razer Blade was outfitted with the Kepler based GK104 870M. With one SMX disabled, the 870M came in with 1344 cores. But in October 2014, NVIDIA released their new Maxwell 2.0 based GM204 chips, and they showed not only a performance boost, but much better performance per watt. In a desktop that equates into smaller, less expensive cooling solutions, but in mobile, the lower power draw of the new parts is even more important in unlocking performance. Laptops have been getting smaller and smaller, making it harder to keep a power hungry GPU cool. For the 2015 Razer Blade, the new GTX 970M is now pushing pixels, which should give a nice jump in performance as well as keep the temperatures in check while gaming.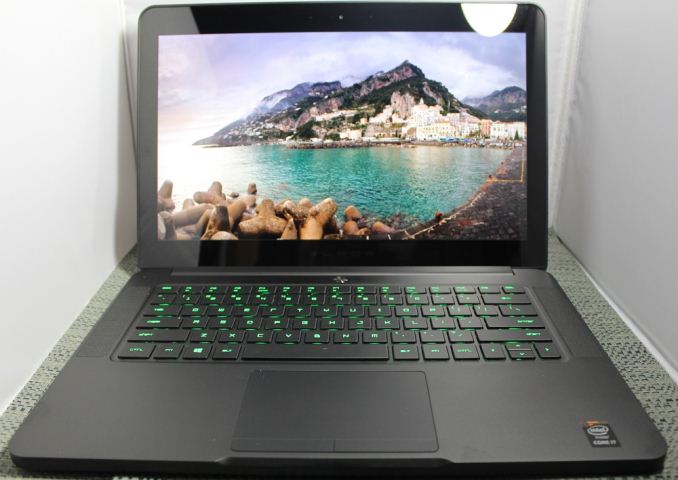 The next upgrade is the CPU. For 2013 and 2014, Razer outfitted the Blade with a quad-core Intel Core i7-4702HQ. This was a 37 watt Haswell CPU, with a 2.2 GHz base and 3.2 GHz turbo frequency. It offered good performance for day to day tasks on the Blade. However, for 2015, there is a substantial upgrade here as well. Although Razer has not said, it is likely that the decreased power draw of the 970M GPU allowed for more of the system TDP to be allocated to the CPU, so the new Blade comes with the Intel Core i7-4720HQ CPU, which is a 47 watt part. The increased TDP allows higher clock speeds, with 2.6 GHz as the base and 3.6 GHz as the turbo, and the ability to keep more cores at a higher frequency under load. It also allows for a higher boost frequency for the integrated HD 4600 GPU.
The last major upgrade is system memory, which is now 16 GB of DDR3L-1600 on the 3200x1800 version of the Blade. Here it is important to specify the model, because for 2015, Razer has introduced a different version of the Blade as well. They are now offering a 1080p version of the Blade, which will come with an anti-glare IPS display, a 256 GB SSD, and only 8 GB of system memory. With the 970M and updated CPU, this model should be plenty fast to run games at native resolution, and the lower resolution panel should help with battery life as well. We will try to get one in to test it against its 3200x1800 IGZO outfitted brother.
Razer Blade 14-Inch Specifications
2014
(Last Model)
2015
(New Model)
Processor
Intel Core i7-4702HQ
(4x2.2GHz + HTT, Turbo to 3.2GHz, 22nm, 6MB L3, 37W)
Intel Core i7-4720HQ
(4x2.6GHz + HTT, Turbo to 3.6GHz, 22nm, 6MB L3, 47W)
Chipset
Intel HM87
Intel HM87
Memory
8GB DDR3L-1600
16GB DDR3L-1600
Graphics
NVIDIA GeForce GTX 870M 3GB GDDR5
1344 CUDA cores,
941 MHz core
5 GHz memory clocks
192-bit memory bus

Intel HD 4600 Graphics
(20 EUs, up to 1.15GHz)
NVIDIA GeForce GTX 970M 3GB GDDR5
1280 CUDA cores,
924 MHz + Boost
5 GHz memory clocks
192-bit memory bus

Intel HD 4600 Graphics
(20 EUs, up to 1.20GHz)
Display
14" Glossy 16:9 3200x1800
Sharp LQ140Z1JW01 IGZO
Multitouch with LED Backlight
Optional
Anti-Glare Matte 16:9 1920x1080
LED Backlight non-touch
Hard Drive(s)
128/256/512GB
SATA M.2
256GB Only on 1080p model
Optical Drive
N/A
Networking
Intel Wireless-AC 7260HMW
Dual Band 2x2:2 802.11a/b/g/n/ac
Bluetooth 4.0
Audio
Realtek ALC269 HD audio
Stereo speakers
Combination mic/headphone jack
Battery
150 watt power adapter
70Wh Lithium-Ion Polymer
Front Side
-
Right Side
USB 3.0
HDMI 1.4a
Kensington Lock
Left Side
AC adapter
2x USB 3.0
Combination mic/headphone jack
Back Side
-
Operating System
Windows 8.1 64-bit
Dimensions
13.6" x 9.3 " x 0.70"
345mm x 235mm x 17.8mm
Weight
QHD+ Model:
4.47 lbs
2.03 kg
1080p Model:
4.19 lbs
1.9 kg
Extras
2.0 MP Webcam
Razer Synapse 2.0 Software
10-point Multitouch Display on QHD+ Model
Backlit anti-ghosting keyboard
Warranty
1 year limited
Pricing
$2199.99 for 128GB QHD+ Model
$2399.99 for 256GB QHD+ Model
$2699.99 for 512GB QHD+ Model
$1999.99 for 256 GB 1080p Model
That constitutes the majority of the changes over last year. One other minor change that is worth mentioning here is that the Samsung PM851 SSD has been replaced with the LiteOn L9G, but those hoping for a PCI-E based SSD in the Razer Blade for this year will be disappointed. This is still a SATA based model in M.2 form factor. LiteOn specifies the L9G model to have 520 MB/s sequential reads on all versions, and 310 MB/s sequential write speeds on the 128 GB model, and 440 MB/s sequential writes on the 256 GB and 512 GB models, and 85K read IOPS and 75K write IOPS at 4K random workloads. There has not been a degradation in performance with this year's model, and it even nudges past the PM851 on our PCMark Storage benchmark. We reached out to Razer to inquire about the SSD change, and was informed that they source from several manufacturers, so the PM851 in last year's model was possibly luck of the draw.