Final Words
The GIGABYTE GB-BXi7H-5500 provided us with the opportunity to take a look at what Broadwell-U can deliver. The migration from 22nm to 14nm has allowed for higher base clocks while maintaining the same power envelop. The performance delta over the Haswell-U-based GB-BXi7-4500 (particularly, on the graphics side) is notable. That said, while migrating from Sandy Bridge or Ivy Bridge is a no-brainer, there is not enough on offer to recommend migrating from a Haswell-based mini-PC.
From the perspective of the BRIX itself, the GB-BXi7H-5500 has two major downsides, and both of them are related to the networking subsystem. Considering that the i7 SKU is the 'premium' SKU in this lineup, use of a 1x1 802.11ac (Intel AC3160) card is disappointing. It would have been nice to have the AC7260 or AC7265. The Broadcom BCM4352 is even more preferable. In addition, GIGABYTE should have opted for an Intel LAN chipset instead of a Realtek one for this high-end configuration.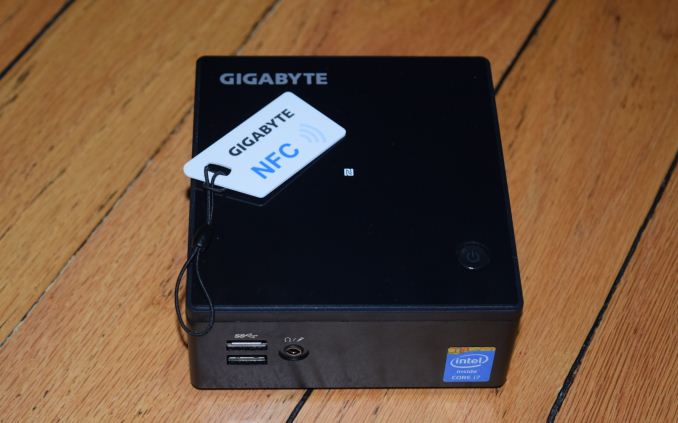 One of the interesting differentiating features is the availability of NFC. Along with the unit, GIGABYTE also supplied a NFC tag. The accompanying driver DVD has a NFC app (Windows program) which allows creation of profiles to link with the tag. These profiles could be associated with web addresses or files / programs in the system. Tapping the tag against the unit's lid activates the profile. Right now, this is a basic application. GIGABYTE indicated that they are working on bringing more functionality to the app and making it easier to use.
The pricing of the Core i7-5500U makes it attractive for high-end ultrabooks, but the BXi7H-5500 manages to get it to the consumer in a UCFF PC at a reasonable price ($509, when Intel apparently sells the CPU alone for $393). All in all, GIGABYTE has managed to deliver the right balance of price, power, size and thermal / acoustic design in the GB-BXi7H-5500. It remains to be seen what Intel is able to offer with the NUC lineup and how the NUCs will complement and/or compete against the Broadwell BRIX units.