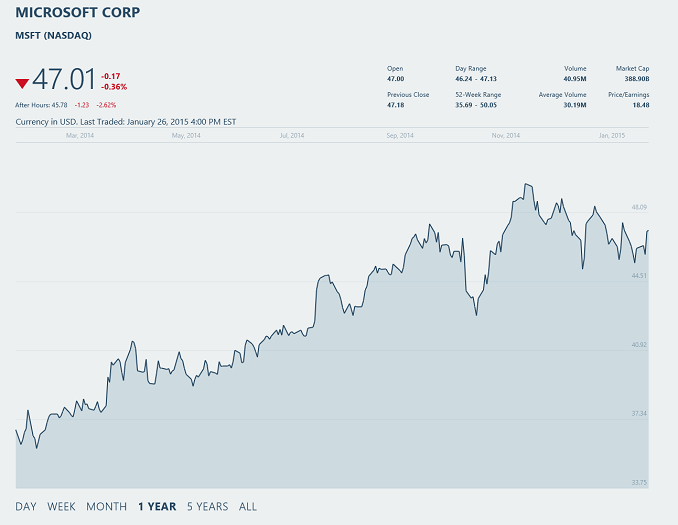 Microsoft released their second quarter results from fiscal year 2015 today. The holiday quarter saw an 8% rise in revenue over 2014, coming in at $26.47 billion last quarter. However the cost of revenue for the quarter was up almost $2 billion, so the operating income for Q2 2015 fell 2% year-over-year to $7.776 billion, from $7.969 billion a year ago. Net income fell to $5.863 billion, with an increase in total taxes paid due to an IRS audit adjustment, and restructuring expenses which totaled $243 million. Earnings per share was down 9% to $0.71, meeting analysts' expectations for the quarter, and $4.5 billion was returned to shareholders for Q2.
Breaking down the business, Microsoft has two main segments. Devices and Consumer (D&C) is the business line that focuses on hardware and software aimed at the consumer, and Commercial is the segment aimed at business and enterprise needs. Looking at D&C, it is further broken down into licensing, which includes Windows Phone licensing, Windows OS licensing, and traditional Office sales. Computing and Gaming Hardware is Xbox and Surface lines, Phone Hardware is the new Smartphone business purchased from Nokia last year, and D&C Other includes First-Party games, Xbox Live revenues, Online Advertising, and Office 365 Home, Personal, and Student revenues.
Microsoft Q2 2015 Financial Results (GAAP)
Q2'2015
Q1'2015
Q2'2014
Revenue (in Billions USD)
$26.470
$23.201
$24.519
Operating Income (in Billions USD)
$7.776
$5.844
$7.969
Gross Margin (in Billions USD)
$16.334
$14.928
$16.197
Net Income (in Billions USD)
$5.863
$4.540
$6.558
Margins
61.7%
64.3%
66.1%
Basic Earnings per Share (in USD)
$0.71
$0.55
$0.79
Taking a look at D&C Licensing, revenue is down 25% to $4.17 billion, with a gross margin down 22% to $3.88 billion. Both are slightly higher than Q1 2015, but there have been some major changes to Microsoft's licensing models which directly impact this segment. Windows Phone licensing revenue fell 61% year-over-year, mostly due to the fact that Nokia is no longer paying them for the OS since they have been acquired by Microsoft. In addition, Windows Phone has been moved to no cost licensing. Windows OEM revenue also declined 13%, which Microsoft attributes to a return of the business PC and Pro market returning to a pre-Windows XP end of support level, as well as new lower-priced licensing for devices sold to education institutes. Non-Pro revenue declined 13% due to low price point devices and the new licensing model for low cost products. To cap off the D&C Licensing segment, Office Consumer revenue declined 25% due to the move of users to the subscription based Office 365.
Computing and Gaming Hardware had an 11% year-over-year drop in revenue, down to $4 billion. Gross margin is much lower for hardware, but it did show a 12% gain over 2014, to $460 million. Xbox saw a 20% decline in revenue, however price promotions did drive strong Xbox One sales for the holidays. Xbox 360 sales declined. Surface on the other hand had revenue of $1.1 billion, up 24%, which was driven by Surface Pro 3 and accessories sales. Xbox had a gross margin decline, due to the higher platform costs of Xbox One over Xbox 360 at this point in the product lifecycle, and Surface Pro 3 drove a gross margin improvement.
Moving to phones, Microsoft cracked the 10 million smartphones per quarter number, with 10.5 million Lumias sold, which was up both year-over-year and quarter-over-quarter. The growth has been driven by low cost smartphones, which helps explain the myriad of low-cost devices announced in the past year. Almost 40 million non-Lumia phones were sold, declining over the previous year as the feature phone market dries up. Overall revenue for the quarter was $2.28 billion, with a gross margin of $330 million, or 14%.
The final D&C segment is "Other", and this division saw a strong gain, with a 30% increase in revenue over last year, up to $2.44 billion. Gross margin was up 42% as well, to $550 million. First-party games had a strong quarter, with revenue up 79%, driven by Minecraft, Halo, and Forza franchises. Xbox Live had revenues up 42%, which is attributed to higher Xbox Live transactions. Online Advertising had search revenue up 23%, due to higher revenue per search and increase search volume, but display advertising revenue declined. The Bing search engine has 19.7% US market share, up 150 basis points over last year. Office 365 continues its strong growth, with 30% more customers than just last quarter. The total number of Office 365 subscribers is now at 9.2 million.
The Commercial segments are next, with this broken into Licensing and Other, with Licensing including volume licensing, Windows Server, and Office, and Other is the cloud based services (and needs to be renamed). Total revenue for commercial grew 5% to $13.27 billion, with the gross margin coming in at a 3% gain to $10.83 billion. Licensing revenue was down slightly to $10.68 billion, a drop of 2% over last year. This was due to a 13% drop in Office commercial sales, a 7% increase in Server product revenue, and a 3% gain in Windows volume licensing. Other revenue was up 46% to $2.59 billion, with Commercial Cloud growing 114% driven by strong sales of Office 365 Business, Azure, and Dynamics CRM Online.
Microsoft Q2 2015 Segment Overview (in Billions USD)
Q2'2015
Q1'2015
Q2'2014
Percentage for quarter
D&C Licensing Revenue
$4.17
$4.09
$5.54
15.8%
D&C Licensing Gross Margin
$3.88
$3.82
$4.98
23.8%
D&C Computing and Gaming Hardware Revenue
$4.00
$2.45
$4.47
15.1%
D&C Computing and Gaming Hardware Gross Margin
$0.46
$0.48
$0.41
2.8%
Phone Hardware Revenue
$2.28
$2.61
$1.98
8.6%
Phone Hardware Gross Margin
$0.33
$0.48
$0.05
2.0%
D&C Other Revenue
$2.44
$1.81
$1.87
9.2%
D&C Other Gross Margin
$0.55
$0.31
$0.39
3.4%
Commercial Licensing Revenue
$10.68
$9.87
$10.90
40.3%
Commercial Other Revenue
$2.59
$2.41
$1.77
9.8%
Commercial Overall Gross Margin
$10.83
$9.91
$10.50
66.3%
Commerical is where Microsoft makes its money, with about 66% of their gross margin coming from the commercial segments. Microsoft is well established in the enterprise, and has been very successful at moving those customers to its cloud offerings. Office 365 has been very successful, and they have just announced the Office 365 Government cloud as well with special requirements that will appease that market.
All of the D&C segments have quite low margins except for their Licensing segment, but it saw a sharp decline. Continues price pressure on the operating system has changed the way Windows is licensed, and Microsoft needs to move people to its cloud services to keep the margins up. This has been successful with Office 365, which has gained quite a few subscribers every quarter. To see a 30% gain in just one quarter, at this stage in its life, is pretty strong growth.
On the hardware side, Xbox One has slimmer margins at this point in its life than Xbox 360, driving down gross margin. The 20% decline in revenue was pretty sharp, but last year's holiday numbers included the initial launch, which had a spike in sales that have not been seen since. Price cuts to the Xbox One have helped sales, but will further cut into the slimmer margins. Surface is a bright spot though, especially after the Surface RT write-down which caused many people to wonder if Microsoft was going to stick with hardware. The Surface Pro 3 can, I think, be called a success, after several iterations that were good devices, but not fantastic. It has had several quarters of strong growth now.
Microsoft missed a couple of analysts' expectations, with a smaller Unearned revenue and slow sales in China and Japan. They are seeing strong gains in their cloud infrastructure, and have had some success in hardware.
Source: Microsoft Investor Relations