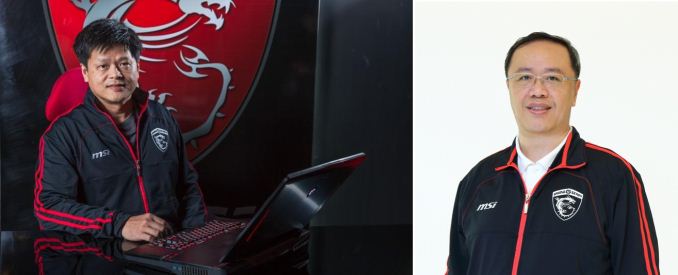 As part of a series of getting into the minds of those who run our industry, we were able to take the time at CES to interview two key figures from MSI's Notebook team who were visiting the show from the MSI headquarters in Taiwan. First up is Eric Kuo, Vice President of Notebook Sales and Marketing who has been with MSI for more than 17 years. Mr Kuo has been in charge of the MSI notebook sales and marketing since 2006, pre-dating the recent rise in laptop based gaming machines. This was a two-for-one interview, with Sam Chern, Senior Director of Notebook Marketing also alongside. Mr Chern has also been at MSI for over a decade. Time was short, but we were able to discuss events evolving at CES as well as a wider company vision from MSI.
Ian Cutress: We are at CES, and CES is a big show with lots of companies showing off exciting things. MSI is here for reason, so what is MSI's main purpose at CES this year?
Eric Kuo: The key reason is give tours to customers that MSI is focused on gaming products. So not only gaming notebooks, but also gaming AIO, gaming motherboards and gaming VGA cards. So lots of new stuff – we are at CES to show our progress.
IC: Do you have a particular product that you are most proud of this year?
EK: Of course! We have the very innovate GT80 Titan SLI. This is the first gaming notebook with an integrated mechanical keyboard and it also has SLI. As far as we're concerned, it's the most special product launched at CES this year.
Sam Chern: I think that the GT80 is one, but another is our GS30 Shadow with the Gaming Dock. I think it's an excellent product. It focuses on mobility and portability for the main unit, while you leave the dock at home with all its horse power.
IC: What are the intended price points and release dates for these?
SC: Right now in the US the GT80 Titan SLI pricing starts at $2699, and goes the way up depending on configuration. It should be on the shelves if not today, then shortly after CES.
IC: How many years have you personally been at CES?
EK: This is my seventh or eighth time. Since I started it has changed quite a lot – it used to be a very computer oriented show, but now it is a bit mixed. There is a lot more consumer electronics now. MSI has also changed a lot. We used to have a booth on the show floor, but now we are more and more focused on our audience so we have a suite (at the Aria for 2015).
IC: Is CES more important for media or meeting business customers?
EK: Both! We have an extensive meeting list not only with media such as AnandTech but also our distributors and partners as well as internal meetings with the regional offices.
IC: Is there any sort of product that MSI is missing from its portfolio?
EK: We have a roadmap, but of course we are not going to talk about it! I think Computex will be important this year, we are set to release further important products onto the market.
IC: I want to know more about what you do, day-to-day. Most employees work a regular-ish schedule, but for Vice Presidents and Directors, it can be different. What exactly does a person in your position do?
SC: We try to find out what our customers want, including gamers, but also examine what our competitors are releasing onto the market. We keep track of lots of gaming events, because of our gaming focus, so we need to know what gamers are thinking. We listen to feedback, and we learn a lot from media as well. We always read reviews for both professional as well as end-user feedback, to see what people expect from products such as ours.
EK: In my daily job, I focus on keeping track of feedback from different regions. We want to be able to take the data that we receive and come up with products and strategies that fit well in each different type of market. I want to be able to create products that gamers will appreciate and use, as well as provide our customers with something that will ultimately benefit how gamers play and live.
SC: I also think one of the most important thing to do is to play PC games. Eric and I, along with our product managers, all play games. Sometimes we even play together! We also have a company team that has battles on World Of Tanks. I think the fact that we all play PC games is important here at MSI, as it helps us to understand the feedback we get from the gamer's viewpoint. By both using a product as well as developing a product, it helps us internally to understand, even at the VP level.
IC: Ever considered hosting a VP gaming tournament?
EK: Perhaps we should take some pictures to show others! I like to play games, while some of our product managers are very much into competitive gaming and play every day.
IC: When it comes to gaming sponsorship, which teams are you involved with?
SC: Fnatic is our main team, but we sponsor at least 12 worldwide. But we plan to expand this to at least 20 teams in total through 2015. With the controversy about Fnatic at Dreamhack, we are working closely with them as we want to sponsor teams that play honestly so there is no grey area.
IC: When it comes to sponsoring teams, how far does your sponsorship go?
SC: I think we have different levels of cooperation. It starts with us providing hardware and equipment, then with bigger teams it goes on to monetary contributions from us, with feedback and exposure in return – large-scale partnerships.
EK: We ask for feedback and opinions on the products. The product manager will work directly with the teams to get this feedback in order to improve our products and suit their needs better. I think this is a good cycle, whereby we improve our products generation by generation. We have not looked into Boot Camps yet, as sending products to the team instead is easier right now.
IC: How do you gather feedback from regular gamers?
EK: We monitor the forums as well as social media. We watch these channels and attempt to match their requests. We mainly use our own forum as the platform, but we also read others focused on the notebook markets.
IC: When it comes to specific markets, such as China, South America or Europe, how do you cater the products differently?
EK: Usually in terms of buying power, such as the average selling price of the models in that region. In the US we focus on the high end models and in Europe while it is a high end market they care a lot more on the price/performance scale, so it is a bit different. Each market has a different character. For example we have some sales in Brazil, but not many due to the high taxes and barriers that encourage local production.
IC: What markets are your best right now?
EK: I think Europe, US and China we are strong right now with equally the same position.
IC: What is the most important innovation that MSI has made recently?
EK: I believe that our most important innovation comes in the shape of our GT80 Titan SLI and GS30 Shadow with Gaming Dock. The GT80 Titan SLI comes with a full mechanical keyboard integrated directly into the laptop allowing gamers to have the best performance input possible. The GS30 Shadow with Gaming dock is another innovation that we believe is very important. We provide end-users a solution that includes a powerful and portable notebook for the road, while being able to use the same system at home docked with the full performance of a desktop system.
IC: From the notebook side of the equation, who is more important: the end-user or the reseller, or the business customers?
EK: For the gaming market, the gamer is the top priority.
IC: A slightly different question here – if you were not working at MSI, where would you be instead?
EK: I would probably like to do more photography.
SC: DJ! I love music, particularly old rock and roll. I love Metallica, Guns N Roses, proper 80s rock and roll.
IC: Another question that comes up is about the advice you would give to a high school student to come to work at MSI. Any thoughts?
EK: It depends on which area they want to focus, if they want to focus on R&D, product management, sales or marketing – they all have different aspects. For marketing for example, it helps to understand the product areas. For MSI of course, because gaming is our focus, they really need to understand the gaming environment and the industry. When we interview, one of the questions we ask is if the interviewee plays games! If they're gamers, they likely stand a better chance of getting hired.
IC: Is it beneficial to move to Taiwan and learn Chinese (Mandarin)?
EK: I highly recommend it!
SC: There are some MSI people overseas who are gamers and they love PC games. They have passion as well as knowing the industry, the hardware and software, so they join MSI. This industry can be very good for them.
IC: Speaking of interviews, what is staff turnover like at MSI?
EK: I like to think MSI is a very stable company compared to others. We are actually hiring right now, because our business is expanding.
IC: To finish up – having been at MSI for over a decade each, has there been one particular day or moment/event that really stands out in your tenure?
EK: Last year I won a special award from the company for leading the gaming line. This was an important award internally!
SC: We had a big LAN party and event last year in Taipei for pro-gamers. I did not play but I did watch, and it was very exciting to see how far MSI has come within gaming.
IC: Any thoughts on MSI's future?
EK: MSI's direction is very clear now – we are focused on gaming and our departments are working in the same direction. It is my aim to provide the best possible products for gamers and we want MSI to be number one in gaming. This is our goal.
SC: MSI is not only the brand or the company to sell hardware – we actually want to build a community for two-way communication with our users and provide the best gear for the gamers.
I would like to thank Mr Kuo and Mr Chern for their time!