We made the annual customary visit to Diamond Multimedia's suite at CES. Last year, they had products on display marking their first foray into the networking market. Primarily known in the channel for their graphics cards based on AMD GPUs, their DisplayLink products (USB 3.0-based video adapters and docking stations) are also selling quite well.
At CES 2015, Diamond Multimedia demonstrated a Microsoft Surface Pro driving a 4K display using a DisplayLink-based USB 3.0 to 4K Display Port adapter. This adapter allows any PC / tablet with a USB 3.0 port to drive a 4K monitor (even if the internal GPU is not capable of 4K video output). The DisplayLink docking solution also got an upgrade with the DS3900 Ultra Dock with Dual Video Display.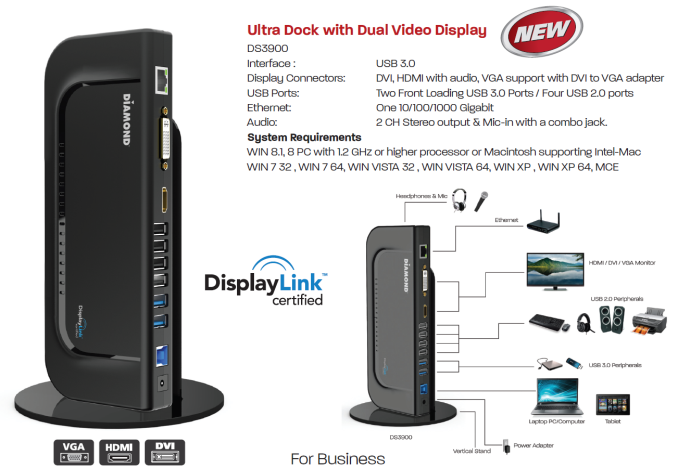 On the networking side, Diamond Multimedia is testing the 802.11ac market with a 2x2 AC1200 router and a AC750 range extender. There is also a USB 2.0 AC600 USB adapter as well as a USB 3.0 AC1200 USB adapter. 500 Mbps powerline kits as well as an IP camera with in-built PLC (power line communication capabilities) - HP500CK - round up the wireless / networking product stack.
On the TV / game capture side, the WPCTV3000 connects to a HDTV / display and allows screen mirroring from PCs or Macs from multiple users. The GC2000 1080p HD capture box is for console gamers wanting to record their gameplay and either stream it over the network / Internet or store it in a SD card in the box.
The BVU5500 4K display adapter (USB 3.0 to Display Port) was the most interesting product on display. The advent of USB 3.1 should make for some interesting DisplayLink products, not only due to the increased available bandwidth, but also the power delivery aspect. It will take a couple of more generations for DisplayLink to get there, but, in the meanwhile, manufacturers such as Diamond Multimedia continue to bring out business-focused products using their current chipsets.